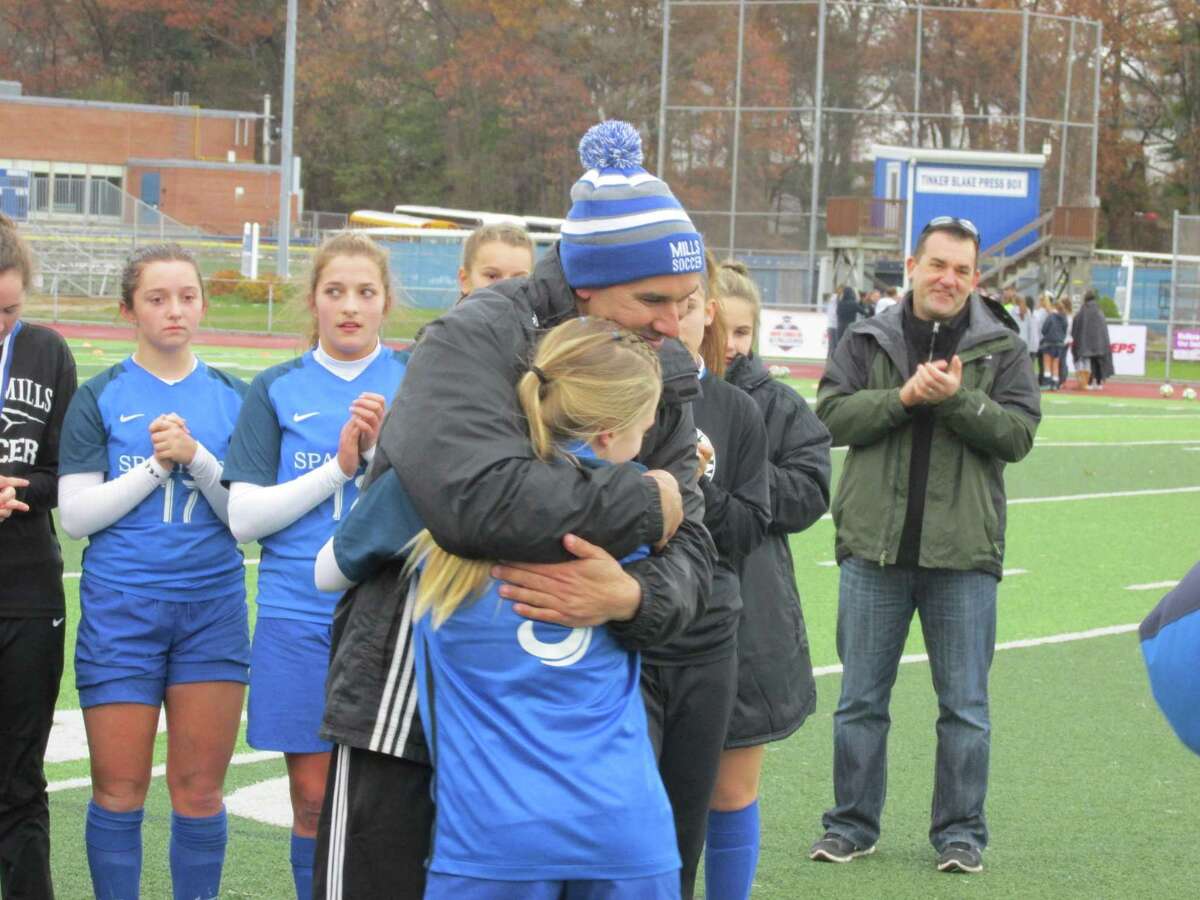 WEST HAVEN — After three straight trips to the semifinals, Lewis Mills took the next step Sunday afternoon, finishing the job with a 2-1 overtime win over Plainfield while tucking away an undefeated 20-0 season in the process.
"It was exactly what we expected the final to be. A state final is unlike any other game," Lewis Mills coach Jared Sheikh said.
The second-year Mills coach knew what to expect after guiding two other teams (Nonnewaug and Brookfield boys) to state championships in his high school coaching career.
Plainfield coach Jon Zielinski, in his 12th year with the Panthers, had less preparation.
"We made it to the second round a couple of times," Zielinski said.
Still, it was Zielinski's Panthers who scored the first shocker at West Haven's Ken Strong Stadium.
Seven minutes into the game, after Mills stopped Plainfield cold for the first six, Panther Kate Carelson had the ball alone in Mills' right corner. Carelson, one of four sets of sisters playing for Plainfield, fired a cross to Izzy Newbury, equally alone in front of the Mills net for the game's first goal.
"Our girls came ready to play, but I think that first goal caught them off guard. They let down a little bit after that," Zielinski said.
Then the special nature of a state tournament final came to the surface.
"The trouble with an early goal is there's lots more soccer to play," Zielinski said. "(The Spartans) never lost their confidence. They play a very, very offensive game and they're more physical than any team we've faced."
Mills, the tournament's No. 1 seed, allowed a few more first-half threats from the No. 3 Panthers, but out-shot them 7-4 for the half.
In the 26th minute, Abby Mills and Jazzy Szyler-Magee connected for the equalizer.
"We knew they would be good," said Sztyler-Magee. "It was a set piece off a corner kick that rebounded off a defender. Abby got it to me and I put it in."
As the Spartan offensive engine continue to rev, Panther goalkeeper Maddy Pearson (9 saves) made a great stop on a shot by Abby Mills to enter half-time with the tie intact.
Mills' offensive advantage mounted through the second half with a 6-2 shot spread and lots of possession, but Spartan keeper Resmije Bylykbashi (7 saves) equaled Pearson's first-half effort with a dive for Cassie Carleson's direct kick midway through the half.
Nevertheless, regulation ended with one goal apiece, heading for two 15-minute championship-game overtime halves.
"The whole team worked so hard all game," said Spartan Grace Buchanan. "Any team in the finals is going to be good."
Seven minutes into the first overtime half, Buchanan sealed it for Lewis Mills with a goal out of a scrum in front of the Plainfield net.
One more goal would have put the game out of reach, but the Spartans turned to stellar defense.
"We were looking for that goal on set pieces," said Sheikh. "And we were trying to save our legs. (110 minutes) of soccer is a lot to play."
Buchanan was named the game's MVP for her efforts.
Lewis Mills soccer now takes state titles for the boys (last year) and girls with them when they move from the Berkshire League to the Central Connecticut Conference next year.
No. 1 Lewis Mills 2, No. 3 Plainfield 1 (OT)
At Ken Strong Stadium, West Haven
LEWIS MILLS 2, PLAINFIELD 1
Plainfield 1 0 0 0 — 1
Lewis Mills 1 0 1 0 — 2
Goals: P — Izzy Newbury. LM — Jazzy Sztyler-Magee; Grace Buchanan. Assists: P — Kate Carelson. LM — Abby Mills. Shots: 20-9 Lewis Mills. Saves: P — Maddy Pearson 9. LM — Resmije Bylykbashi 7.
Records: Plainfield 18-2; Lewis Mills 20-0.