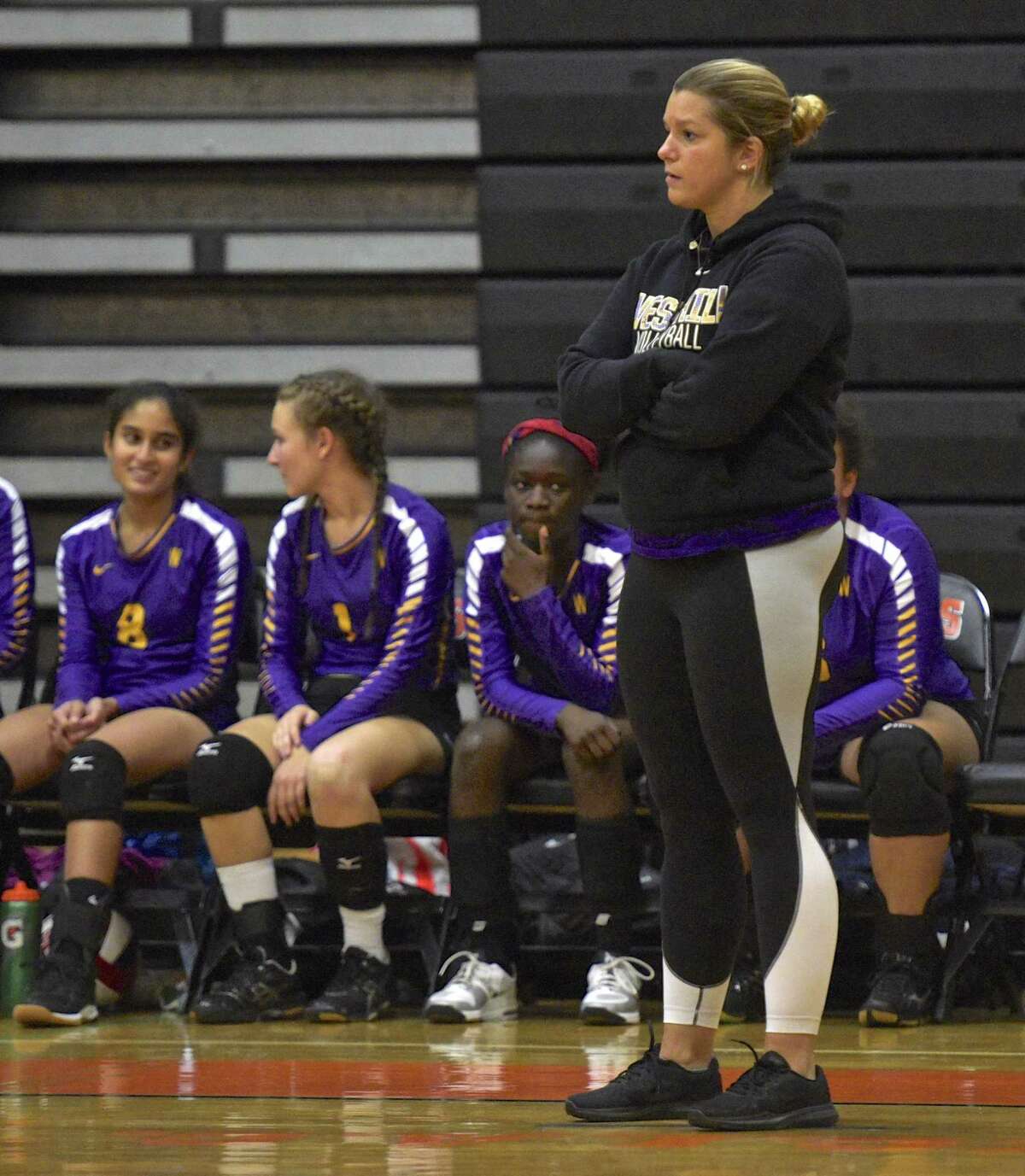 STAMFORD — It will be a compelling girls volleyball season in Stamford in 2018.
King School will be on the hunt for its fifth straight Fairchester Athletic Association (FAA) title as well as its fourth consecutive NEPSAC Class C championship.
In the FCIAC, Westhill High and Stamford High will battle for the city girls volleyball crown as well as qualifying slots for the FCIAC postseason.
Trinity Catholic High begins a new era under new coach Michael Martino.
KING
It's not a case of simply reloading for the Vikings. Tri-captains Alison Wheeler, Kelly Conheeney and Stephanie Costabile all graduated along with Abigail Price and Lily Davis from the 2017 squad that rallied to take the final two games to defeat MacDuffie School in five for the New England Prep School Athletic Council (NEPSAC) Class C crown in the Mustangs' gym.
King's core of senior returnees include hitters Ava Robinowitz and Christine Nelli along with Anne Michalski, Mallory Ehlers and Amelia Whiteley.
Running the offense as setters will be freshmen Norah Shattan and Nicole Salantry.
"There is a lot of fine tuning to be done. We have some new faces. We have people up from the junior varsity. Opportunities are there. The job is figuring out where all the pieces will go," said King's veteran coach Tung Tran. "Every year we graduate significant starters. Our tradition of excellence always helps. It sets a high bar for each team each season. A torch is being passed. The girls understand the significance of the challenge."
WESTHILL
The Vikings learned just how hard the postseason can be in 2017. Westhill was 13-7 overall, 9-7 in the FCIAC. It missed the FCIAC playoffs on tiebreaker criteria on the last day of the regular season.
The Vikings then lost 3-2 to New Canaan at home in the first round of the Class LL tournament.
The good news is Westhill graduated just two starters (Samantha Johns-Folkes, Gabby Veseli) from that 2017 squad.
Motivation should not be an issue for the host of returnees.
"I'm very happy with the team dynamic. I see more drive this preseason," Westhill coach Marianna Capomolla said. "They see what they can accomplish this year. And they are committed to the process that will get them there."
STAMFORD HIGH
Stamford High's veteran coach Mike Smeriglio saw four components from the Black Knights' 2016 FCIAC and Class LL championship team graduate in Gloria Mattioli, Brooke Kelly, Claire Dardis and Andrea O'Connor after last season.
O'Connor, the All-State hitter, is playing college women's volleyball at High Point University in North Carolina.
In 2017, Stamford was 13-10 overall but qualified for the FCIAC playoffs at 9-7. The Black Knights lost in the FCIAC quarterfinals to eventual league champ Greenwich. In Class LL, Stamford fell in the second round at No. 1 seed Cheshire High.
The 2018 roster has talent but lacks experience. Kim Magliari and Elodhie Joassin are the senior captains.
Among the players looking to seize the opportunity for playing time are softball standouts Jordan Rossi and Kim Saunders as well as Jasmin Malcolm and Liani Mercado.
"We have lots of talented girls who can start at the varsity level. But we have lots of youth. So scrimmages and repetition are the best teachers," Smeriglio said. "The key is the entire group has great attitudes. When you have that, the rest of it will come. These girls want to be here. They want to play and they want to win."
TRINITY CATHOLIC
Mike Martino moves over from boys soccer to begin his first campaign as Trinity Catholic girls volleyball head coach.
The Crusaders were 3-16 overall and 3-13 in the FCIAC in 2017. The good news is they graduated just one senior (Molly Murray) from that squad.
Sarah Jablonsky and Jessica Connolly are the senior co-captains for 2018.
"A good core nucleus has returned. Their enthusiasm and camaraderie are apparent. The girls are buying into the process as well as the goal of putting their best foot forward on the court," Martino said. "It's a family. Everybody has to support each other. When they have each other's backs it translates on the court. In the FCIAC, we might be a little dog in a fight among giants. But we will leave our mark. We will be competitive."