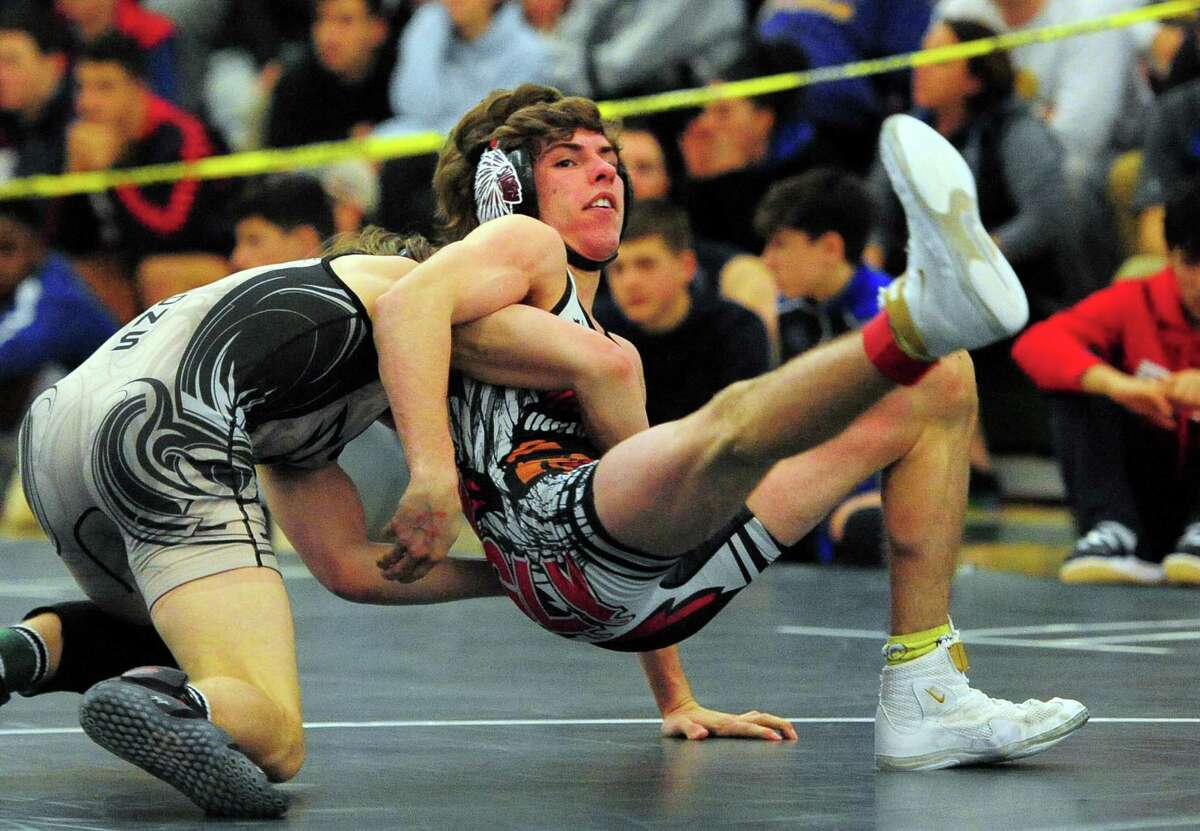 GUILFORD — Getting a response from coaches to the question which teams were best positioned to win a Class M championship brought about a litany of choices.
Defending champion Foran High and last year's runner-up Killingly High drew the most votes.
Avon, Ledyard, Waterford, Joel Barlow and Suffield/Windsor Locks were also in the mix, with other squads mentioned for boasting top notch grapplers.
By the time the finalists took the mat on Saturday evening, none of those conversations carried any weight.
Coach Rich Bowen's Redmen from Killingly had risen to the top.
With four matmen winning individual titles, Killingly led M's with 202.5 points.
Foran (161) was second, followed by Avon (151), Barlow (133), Suffield/Windsor Locks (132), Ledyard (130.5) and Waterford (124.5).
"The start of our season wasn't great," said Bowen, he of the 600-plus victories and now four state titles. "We struggled, things weren't going right. We lost to Ledyard and that woke us up. We went to work and were more committed. They began to understand that every day mattered."
The culmination of which were titles won by Dan Charron (106 pounds), Mike Charron (113 pounds), David Charron (126 pounds) and Derek Turner (170 pounds).
Senior Derek Turner becomes the 4th Redmen to win a state championship and that does it CLASS M STATE CHAMPS – there will be a police/fire truck escort down Main Street at app. 8 pm and a pep rally at the school following-be there!@WINYRadio @jzanorNB @CT_Sports_Now @GameTimeCT pic.twitter.com/gAXLHoHgTG

— Killingly Athletics (@kevinmarcoux9) February 16, 2019
"I don't know what we are going to without the Charron twins," Bowen said. "I've had them for two years, and with their older brother Matt that makes six. Luckily we have David back for another season.
"After that loss to Ledyard, our captains, with Derek Turner the catalyst, took over our next practice. It was much more vigorous, which I was excited to see. As a team they wanted to get better."
Turner said. " We had great leaders last year. This time it fell on our shoulders, the Charrons, Travis [Johnson], Greg Gosselin and me. We didn't like what we saw early in the room, and after that loss we tipped it over and picked it up. We started to like what we saw. Our mindset as a team went to wrestling above your seed: if you are a six be a four. As a family, we fight for each other."
Brother Mike Charron follows up with a win of his own at 113 – even closer to the title! Oh by the way, it's their dads birthday today!@CT_Sports_Now @ciacsports @GameTimeCT @jzanorNB @lkelleyNB pic.twitter.com/rAIT3CabnY

— Killingly Athletics (@kevinmarcoux9) February 16, 2019
Foran coach Dave Esposito had no regrets.
"We started out 6-0 in consolations, which is our recipe," said the Lion mentor who had led his team to a pair of titles in the past four years. "The top guys for Killingly are so good. We were going to need to win this thing from the backside (wrestlebacks).
"Our guys did their best, which win or lose is good enough for me. I don't hope other team's wrestlers lose on other mats. I leave it up to the wrestlers to decide."
The Lions' Nolan Bannon won the 220-pound title and Umer Khan was second at 170 pounds.
"We practice only from 2:10 to 4, but we're working from 2:10 to 4," Bannon said of wrestling for coach Esposito. "The coaches are strict with that time and how we handle that time. We get it done in the room. They want us to have time for homework and time for being a student."
Khan said, "I just wanted to give it my best shot and make my teammates proud. The best of being a Foran wrestler is rooting for your teammates, seeing them grow. It's awesome."
BEST OF THE BEST
Sean Johnson has gone where no one from Ellis Tech, and few from the state, have gone when the senior captured his fourth consecutive Class M championship with a 17-6 victory over No. 2 seed Eric Zane from Waterford at 138 pounds.
"I started young and to get from where I started to where I am, I have to credit my coach [Rafael Calixto] and my family," said Johnson, who will bring a 165-14 career record into the State Open. "I love wrestling because anything can happen. It is such a grind."
Leading Zane in his final 9-2, Johnson found himself in trouble. "I was like…He threw me what happened…You can't take anything for granted."
Johnson, a two-time Open finalist, scored 8 of the next 10 points.
MATCH OF NOTE
East Haven's No. 3 seed Victor Garcia defeated Suffield/Windsor Lock's No. 4 seed Zachary Johns, 9-7 in the consolation finals. Wrestling for third with a guaranteed spot in next week's State Open, did nothing to slow the pride and poise brothers from putting on a show.
Johns scored seven points in the final 25 seconds of regulation to tie things. In the extra session, Garcia fought off a takedown attempt and got the two points himself with time winding down. The senior had a hug for Johns before having his hand raised. Good show — and Johns is only a freshman…
BROTHERS
Danny Charron wins the state championship at 106, Redmen inch closer to the team title @ciacsports @GameTimeCT @jzanorNB @lkelleyNB @jeffjacobs123 pic.twitter.com/vze13ZD0IE

— Killingly Athletics (@kevinmarcoux9) February 16, 2019
After his twin brothers Dan (at 106 pounds) and Mike (at 113 pounds) battled to win their weight classes 5-1 and 5-4, respectively, junior David Charron extended a 2-0 lead to win his 126-pound final 8-0.
HIGH SEEDS
Bethel High's Eamon Toland Matos was the highest seed to get to the final, where the No. 7 seed at 132 pounds defeated No. 4 seed Alec DiVito from East Haven, 12-4.
Killingly High's 132-pounder Trevor Johnson was fresh off upending top-seeded Tyler Miller from Ledyard, when the senior tried to explain how as the No. 9 seed his was the highest ranking to advance to the semifinal round.
"Honestly, it's a very tough class," said Johnson, who wrestled back to place fifth with a 7-1 win over Ellis Tech's No. 3 seed Caleb Ferland. "I've lost some close matches."
Johnson used this past spring to compete in Greco tournaments in Europe. He returned home with more knowledge and some injured ribs.
"I did get banged up, and they were hurting (during the season), but I'm fine now," he said.
Johnson was only one of coach Rich Bowen's seniors looking for redemption of sorts.
"Foran had just an unbelievable Class M, with every guy finding a way to win," he said of the Lions, who placed 12 wrestlers to garner the title over the Redmen a year ago. "Last year we won ECC's by half a point, and we won it again this year by a larger margin. We have great guys in the room and they were all focused on winning M's."
NOTEABLE
"I believe this is the third straight year, the numbers of bouts have gone up," Tournament Director Bob Swan said. "We had 31 teams competing and had 495 bouts (with 317 wrestlers). The classes are evened out (by boys enrollment), but it seems we keep getting more bouts."
The 132-pound weight class had the most wrestlers with 28. The heavyweight division brought 18 competitors to the mat, with a high weight of 281 pounds and a low of 214.
CLASS M WRESTLING CHAMPIONSHIPS
at Guilford
Team Scores
1. Killingly 202.5; 2. Foran 161; 3. Avon 151; 4. Joel Barlow 133; 5. Suffield/Windsor Locks 132; 6. Ledyard 130.5; 7. Waterford 124.5; 8. East Haven 121; 9. Branford 102; 10. Guilford 96; 11. Platt 86.5; 12. Ellis Tech 84; 13. Berlin 82; 14. New Fairfield 75.5; 15. Bacon Academy 73.5; 16. Lyman Mem/Windam Tech 69; 17. Brookfield 61; 18. Masuk 59; 19. Bethel 52.5; 20. Jonathan Law 48.5; 21. Weston 40; 22. Tolland 34; 23. East Lyme 32; 24. Bunnell 31; 25. Abbott Tech 30; 26. St. Bernard/Norwich Tech 22; 27. Harding 14; 28. Watertown 11; 29. Stratford 9; 30. Torrington 8
PLACERS
106 LBS
1st Danny Charron (Killingly) DEC Josh Brault (Joel Barlow), 5-1; 3rd Mason Concascia (Waterford) DEC Connor Doran (Ledyard), 13-6; 5th Matty Carrozza (Brookfield) DEC Jake Defonce (Abbott Tech), 7-4
113 LBS
1st Mike Charron (Killingly) DEC Logan Smith (Waterford), 5-4; 3rd Victor Garcia (East Haven) DEC Zachary Johns (Suffield/Windsor Locks), 9-7 SV; 5th Charlie Prather (Joel Barlow) F Tanish Joshi (Foran), 0:35
120 LBS
1st Braeden O'Brien (Bacon Academy) DEC James Rondini (Platt), 5-0; 3rd Abhi Bhabad (Avon) DEC Johnny Cerquiera (Abbott Tech), 6-2; 5th Julian Soares (New Fairfield) DEC Cooper Morissette (Killingly), 10-5
126 LBS
1st David Charron (Killingly) MD Hunter Chin (New Fairfield), 8-0; 3rd Isaiah Ross (Platt) DEC Jackson Archer (Lyman Mem/Windham Tech), 9-8; 5th Ghassan Saleh (Suffield/Windsor Locks) F Jordan Lang (Foran), 4:14
132 LBS
1st Eamon Toland-Matos (Bethel) MD Alec Divito (East Haven), 12-4; 3rd Keldon Larose (Guilford) DEC Tyler Miller (Ledyard), 4-3; 5th Trevor Johnson (Killingly) DEC Caleb Ferland (Ellis Tech), 7-1
138 LBS
1st Sean Johnson (Ellis Tech) MD Eric Zane (Waterford), 17-6; 3rd Cole Dirico (Ledyard) F Louis Stabile (Brookfield), 1:23; 5th Matthew Raine (Suffield/Windsor Locks) FOR Isaac Bean (Killingly), 0-0
145 LBS
1st Daniel Veleas (Berlin) DEC Alex Klein-Wassink (Joel Barlow), 7-1; 3rd Curtis Fedorko (Masuk) DEC Everett Minevich (East Lyme), 4-2; 5th Ethan Edmondson (Foran) M FOR Vincent Mascola (Guilford), 10-4 2:56
152 LBS
1st Hunter Adams (Suffield/Windsor Locks) F Shayne McCourt (Jonathan Law), 0:55; 3rd Ryan Powers (Lyman Mem/Windham Tech) MD Brayden Grim (Ledyard), 10-2; 5th Breon Phifer (Weston) DEC Zahir McLean-Felix (Brookfield), 8-6 SV
160 LBS
1st Michael Angers (Tolland) DEC Miguel Gonzalez (Suffield/Windsor Locks), 3-1; 3rd Jack Colman (Avon) DEC Frankie McNeary (Joel Barlow), 2-1; 5th Zachary Minch (Masuk) DEC Danny Jarrin (East Haven), 3-2
170 LBS
1st Derek Turner (Killingly) F Umer Khan (Foran), 5:26; 3rd Sebby Malespini (Berlin) DEC Colman Doucette (New Fairfield), 5-3 SV; 5th Jacob Gannotti (Waterford) DEC Adam Crawford (Ledyard), 6-4 OT
182 LBS
1st Carson Licastri (Joel Barlow) DEC Justin Osler (Branford), 8-4; 3rd Pat Brogan (Foran) DEC Ryan Greene (Platt), 6-4; 5th Leonardo Amaro, Jr. (Bacon Academy) DEC Austin Pompa (Masuk), 10-8
195 LBS
1st Nolan Bannon (Foran) DEC Josh Rao (East Haven), 7-2; 3rd Cody McHenry (Branford) MD Andy Flores (Platt), 15-3; 5th Amir Johnson (Avon) FOR Andrew Allen (Ledyard)
220 LBS
1st Chris Gens (Avon) DEC Max Schlein (Berlin), 7-4; 3rd Minsok Lee (Branford) DEC Billy Ives (Foran), 4-1; 5th Adam Frame (Brookfield) DEC Jeremiah Harshberger (Waterford), 3-1 OT
285 LBS
1st Henry Schrecengost (Avon) DEC Hayden Minski (Ellis Tech), 7-2; 3rd Rene Bernier (Killingly) DEC Roark Ryan (St. Bernard/Norwich Tech), 8-1; 5th Armando Castaneda (East Haven) F Anthony Martinez (Joel Barlow), 1:35