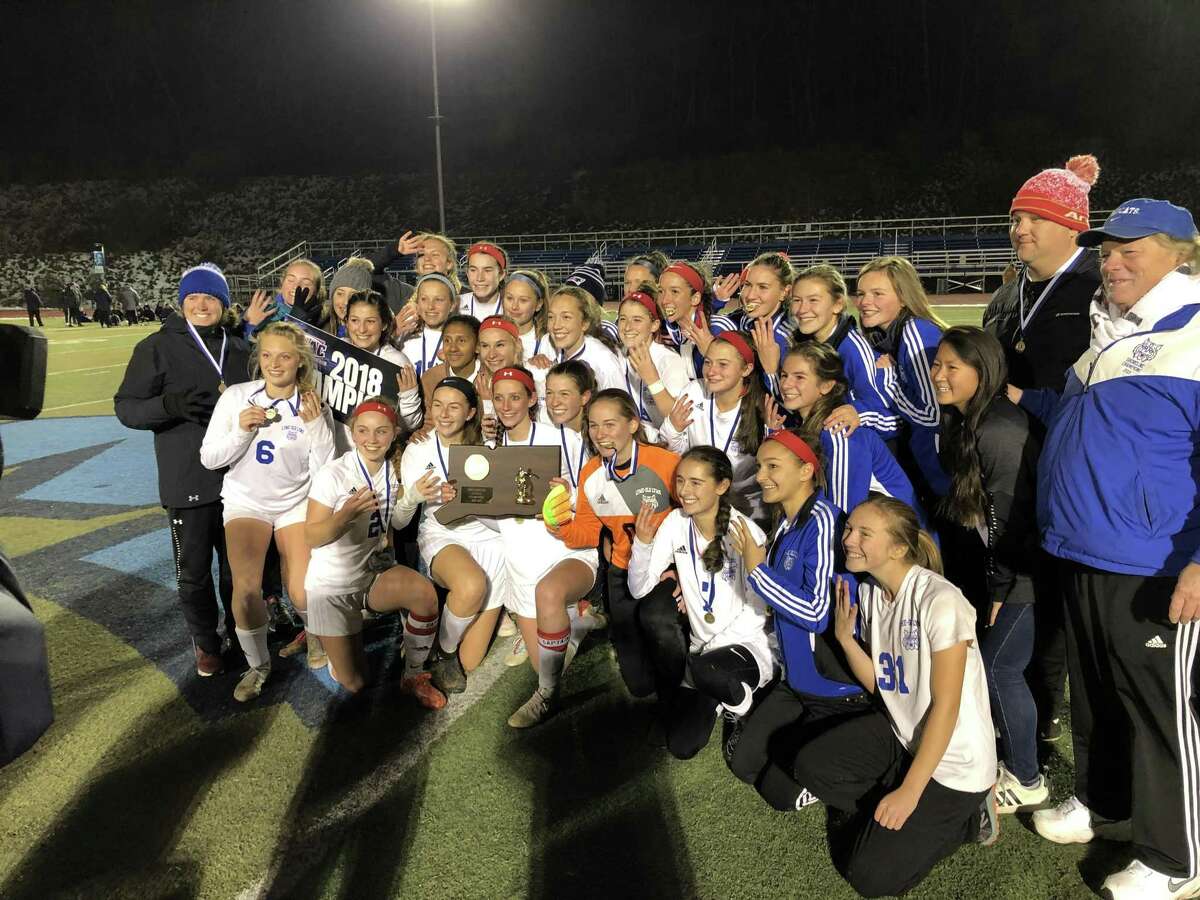 MIDDLETOWN — Immaculate marked and shadowed Old Lyme striker Mya Johnson for 75 minutes Sunday night, and yet a sliver of opportunity was all that the senior needed to give the Wildcats to another state championship.
Johnson scored twice for Old Lyme, the latter goal coming inside of six minutes left in the match to give Old Lyme a 2-1 victory over the Mustangs in the CIAC Class S final at Middletown High's Rosek-Skubel Stadium.
Johnson's scores were the 100th and 101st of her illustrious career and the championship was the fourth-straight overall and third straight outright title for No. 14 seed Old Lyme (13-4-4), which also won a share of the 2015 crown.
This year's title was the most rewarding, she said.
"We had to work for it," the game's MVP said. "We were the underdog all season. We didn't have the best of (regular) seasons, but tournament season came and we played hard, and we deserve every minute of this. All our seniors deserve this."
Hear from Mya Johnson, who scored twice to lead Old Lyme to its 4th straight Class S state championship! @HilheckAD #ctgsoc pic.twitter.com/R1Bkci5P1C

— CT Sports Now (@CT_Sports_Now) November 19, 2018
On the decisive play, Johnson, who will play at Connecticut College next fall, was floating into the middle in her end when Immaculate left her free. The Mustangs tried to recover, but by that time the ball found her left foot, the shot was off and she buried it past keeper Aimee Cirella inside the far post.
"I remember it just being a perfect ball to Britney DeRoehn's feet, and I just kind of saw it at her feet and I was like, I have to run off of this," Johnson said. "I knew I had two players on my back and I was in the moment, and those are the best goals — when you're not thinking about it and you're in the moment."
"She's quick, she's fast and the ball's great on her feet. You give her that little bit of space and she's going to take it on you," Immaculate coach Nelson Mingachos said. "Big-time players show up in big-time games, and Mya is a big-time player."
No. 4 Immaculate, which this year moved down from Class M, where it was co-champions in 2016, finished 15-4-1. The Mustangs were not scored upon in the tournament until meeting up with Old Lyme.
Make it 4 championships in as many years for Old Lyme! The WIldcats win yet ANOTHER Class S championship with a 2-1 victory over Immaculate! @HilheckAD #ctgsoc pic.twitter.com/Cq6bltguKf

— CT Sports Now (@CT_Sports_Now) November 19, 2018
Two minutes after Johnson's go-ahead score, Immaculate senior Hailey Dubbioso worked around a defender deep in her end and had a clear shot on net, but she sent a blast directly into the waiting arms of Samantha Gray from about 10 yards.
"Hailey's beating herself up over that. She knows she should have had it. But you know, the soccer gods weren't on our side today," Mingachos said.
Gray, a sophomore who had six saves, just wrapped up her first season in the sport.
"I'm going to give a huge shout-out to Sam Gray. She did awesome this year," Johnson said. "She's been such huge motivation for me. If you have a goalie who's never played before and has worked this hard, everyone has to come out and work as hard, especially if you're a senior."
How close Old Lymes Mya Johnson came to scoring goal No. 2 against Immaculate. #ctgsoc pic.twitter.com/AZySXXpGhJ

— Joe Morelli (@nhrJoeMorelli) November 18, 2018
Immaculate set the tone 3 minutes, 30 seconds into the match with the first score. Morganne Cartee gathered a batted-around ball and passed to Maddie Borque, who one-timed it to the upper-left corner from about 10 yards. Johnson tied the match later in the half off a free kick.
A minute later, the Mustangs appeared to score the go-ahead goal via a Cartee corner kick.
"I just about fainted on that corner kick," Old Lyme coach Paul Gleason said. "Luckily, one of their players was holding our goalie at the time," and the goal was waved off.
Some 20 minutes later, Johnson put the Wildcats on top.
"Like Geno Auriemma said about 15 years ago when someone asked him about Diana Taurasi, he said, 'Well, I have Diana and no one else does,' " Gleason said. "Well, we have Mya and no one else does."
Said Mingachos: "Mya Johnson's a great player. She got through and she had a great goal. You tip your cap to them. I said it from day one, Old Lyme's a really good team."
OLD LYME 2, IMMACULATE 1
OLD LYME 1 1 — 2
IMMACULATE 1 0 — 1
Goals: Immaculate (Maddie Bourque, Morganne Cartee assist, 3:22); Old Lyme (Mya Johnson unassisted, 19:33); Mya Johnson, 72:05). Saves: Immaculate (Aimee Cirella 6); Old Lyme (Samantha Gray 6).; Corner kicks: Immaculate 4; Old Lyme 2.