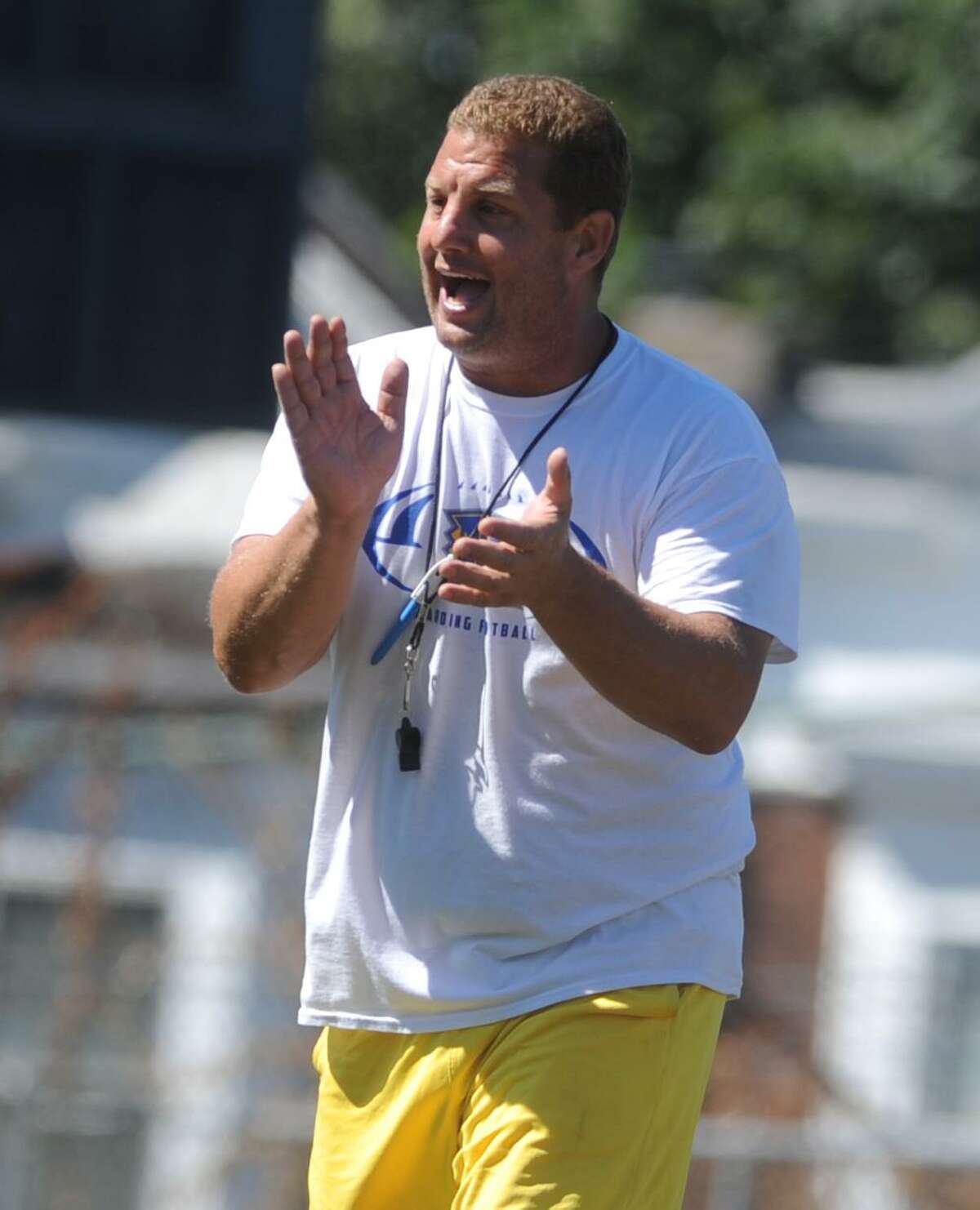 KILLINGLY — In the growing darkness of an early September evening, up in the state's Quiet Corner, a familiar voice began counting.
"One Mississippi! Two Mississippi! Three Mississippi!"
Here was Jack Cochran, perhaps the brightest mind Connecticut high school football has known, helping senior quarterback Luke Desaulnier time pass routes. Precise. Nuanced. Creative. Passionate.
There are reasons why Chad Neal, the 2017 Walter Camp and New Haven Register state coach of the year, has added Cochran to his staff as a volunteer assistant. For one, Neal has known Cochran for many years. For another, Neal does not want to stop challenging himself and his program.
There was no better Connecticut football story than Killingly last autumn. Unranked until the season-ending poll, undervalued around the state, the Redmen ran off a 13-0 record. They turned a perfect season into the perfect ending when Vasileios Politis, who had overcome cancer to rejoin the team, caught a touchdown pass in the Class M state championship victory.
Spencer Lockwood headed off to Trinity after being named both Gatorade and Camp state player of the year. Neal, a good man, a solid man, began to make plans for 2018.
"Jack was up here one day in the spring, umpiring baseball," Neal said. "He gave me a call. We sat down. He mentioned he wanted to get back into coaching. When I coached at Putnam in the late '90s, Bloomfield was in Class S. He took over in New London and even though we didn't face off against each other (in the ECC), I knew him a little there.
"I worked some of his camps, the Dwight Freeney camp. We'd be in contact. I'd give him a call sometimes. Give me an idea on this, help me out with that. When he had the restaurant, I'd stop and have a pizza with my son."
In September 2015, Cochran bought a New London restaurant aptly called the Recovery Room. It helped give Cochran, who has won eight Connecticut titles and made 14 trips to the state finals at three high schools, room to recover from a wildly successful and often tumultuous two-decade coaching ride.
"It was something I wanted to do," Cochran said. "Actually, I just wanted to make some money. I was broke. It was a challenge. It's something I'd never done. I took over the entire restaurant, accounting, bookkeeping, schedules, food ordering. I dove in and was able to do it."
Did you like it?
"Like I said I liked the money," Cochran said, breaking into a laugh.
He sold the restaurant in January.
"I started football in the fourth grade," said Cochran, whose career record is 160-24-2. "It has been my life. It has been my passion. I was out really since 2008, except for the short stint at Bridgeport [Harding], very short. I was sick. I'll leave it at that.
"My goal is to get back into teaching. Hopefully, that's the last thing I'll do and then retire. Stay in coaching somewhere."
A tortured genius. That's what I have called Cochran. I wrote about him at Bloomfield. I wrote about him at New Britain and New London. He wants it. He needs it. He lives it. He bleeds it. He did remarkable things by his early 30s. He also has worn out his welcome. He was extremely generous with his time and his money. And then he'd be accused of stupid things, cutting corners here, taking something there.
He lived at the intersection of healthy excellence and unhealthy obsession. He ran up such massive scores the CIAC instituted a 50-point rule. Everybody from Thompson to Greenwich called it the Cochran Rule.
Freeney, an NFL great, swears by him. Andrew Pinnock, who played at South Carolina and in the NFL, swears by him, even went to Killingly to speak to the kids recently. Yes, players swear by him and many administrators have wanted to swear at him.
Does he want to be a head coach again?
"No, no, no, no, no, no," Cochran said. "With my personality, if I were to coach, I'd do the 14-15-16 hours a day. I just can't do that (at this) stage of my life. Physically, mentally, I just can't put the time in that I always put in. You get to a point where your body and your mind can't do it anymore.
"I'd love being an assistant. It's fun. There's no stress, to be honest."
Except for that brief run at Harding, he has been away from the spotlight for a decade. Much has happened. After his son Casey won a state title as a freshman with Jack at New London, Casey went to Masuk High, became Gatorade player of the year and played at UConn. He emerged as a starter for Bob Diaco and then abruptly retired from the sport in 2014. Casey estimated he had suffered 13 concussions.
"You always blame yourself," said Cochran, initially fighting for words. "Football, when I grew up, you got a concussion, you'd go back in the game. The coach put you back in. The trainer never looked at you. You got your bell rung. You saw stars. Was it a concussion? Wasn't it? There were no protocols back then.
"With Casey it was youth, high school and then UConn. They just kept adding up. If I had to do it again, I would have pulled him out a lot sooner. I just didn't do it."
Jack said Casey is working at Mystic Seaport, helping to restore Mayflower II. That's right. Casey Cochran is a shipbuilder.
"He loves it, loves being outdoors," Jack said.
Cochran said Casey saw Dr. Robert Cantu at the Emerson Health Center in Concord, Mass., three days a week for 18 months. In a powerful ESPN piece a few years ago, Casey said he was diagnosed with depression, anxiety and PTSD. Jack said he was found to have whiplash. He said Casey was urinating day and night and urologists couldn't figure out why. Scar tissue finally was found on his urethra from hit he had absorbed and he was successfully treated. Casey has spoken around the country about the effects of head trauma. In the process Jack began to understand the effect concussions he suffered when he played has had on his life.
"Being back coaching, I'm getting my memory back, things are flying back," Cochran said. "There were times when I was at the restaurant, I'd get in the car, start driving. I forgot where the hell I was going. I wasn't using my mind, I think that was part of it. Fatigue, too. And I did have a lot of concussions like my son."
So here was Chad Neal standing next to Jack Cochran on this warm September night, calling him a man of experience and knowledge.
"He's very passionate and very prepared," Neal said. "He brings that intensity to the kids in a positive way. They respond to him. He's a great coach. I trust him."