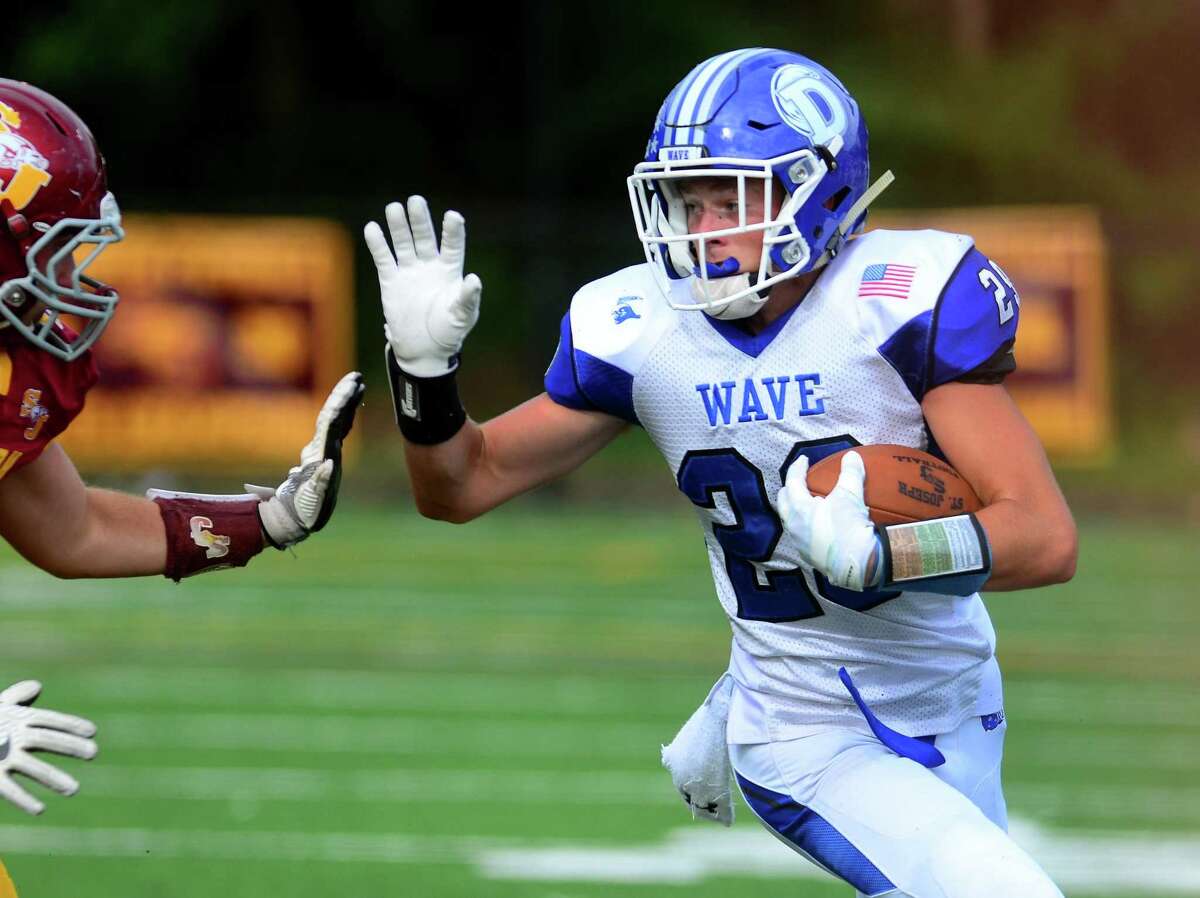 TRUMBULL — This may not be Darien's greatest football team. Yet make no mistake: Darien is the state's best football program.
There were a number of reasons for the Blue Wave not to be ranked No. 1 in the GameTimeCT Preseason Football Top Ten Poll. One of them was New Canaan and its four FBS recruits. Another Greenwich. Another St. Joseph of Trumbull.
Still, most of the reasons fell with the blue wave of diplomas handed out at graduation last June.
Darien lost All-State offensive/defensive lineman Michael Neary. Darien lost All-State defensive back Connor Tienken. Darien lost starting quarterback Jack Joyce, wide receiver/safety Brian Minicus and All-State running back Mitchell Pryor. Only two starters are back on the offensive line and one on the D line, yeah, Darien graduated a ton of talent.
Yet in the Blue Wave's 22-7 thumping of No. 1 St. Joseph Saturday, some matters became increasingly clear. Individual players do not define a program. Individual players — and a bunch played terrific on this afternoon — don't make the system work. The system helps make the players excel.
"We believe in our program and that's really all we need," said All-State linebacker Connor Fay. "No matter how many guys graduated (it's), 'They're not going to be as good.' We don't listen to any noise, whether they believe us or not."
The Blue Wave play poised. The Blue Wave are prepared and disciplined. The Blue Wave gang tackle. The Blue Wave is physically smaller than last year's No. 1 team, but their hearts remain the same size. Heck, the hearts on this team may even be bigger.
"We had the best week of practice we've ever had," Fay said. "And I've been on this team three years. We knew how good a team they were."
Notice to my Hearst bosses and my buddies over at The Day of New London, who run the coaches poll: Forget calling it the GameTimeCT Top Ten Poll or The Day Football Coaches Poll. Until further notice, it will be known in this space as the DarienCT Top One poll. Darien has matched Cheshire (1993-1995) and Xavier (2010-2012) as the only teams to finish as the state's No. 1 team three years in a row.
Hey, I got an idea. When the Blue Wave win it all this year, let's vote them totally out of the Top Ten next September.
The Blue Wave has been disrespected! Dissed! Belittled! Disparaged! Slighted! And insulted for too long!
OK, it has only been three weeks. But it happened last year, too. Yep, Deja-rien all over game. New Canaan entered No. 1 with 19 first-place votes and Darien didn't take over the top spot until after St. Joe's beat the Rams in the opener.
When the initial poll came out this year Darien was ranked fourth and only five of the 31 media voters had the Blue Wave No. 1. The reasoning by the Genius Five was fairly obvious. Until the king gets knocked off, the king deserves to be No. 1. Some of that thinking was pooh-poohed and too much of it was.
"Obviously we're going to use it as motivation," coach Rob Trifone said. "Quite honestly, coming into today, I thought St. Joe's was the No. 1 team in the state. I thought they deserved to be ahead of us. We play them again next week and who knows?
"I use all that media hype to my advantage. I love it when (Sean Patrick Bowley of GameTimeCT) tells me we suck and are not going to win. Here's the answer and the boys know this: It only matters on Dec. 10 (at the end of the year)."
Darien whipped Ridgefield 30-6 in the opener, allowed only 71 yards of offense to McMahon in a 35-0 win in Week 2 and now stifled St. Joe's, which had wiped out New Canaan, 28-0, in Week One. That's a cumulative score of 87-13. Except for an early gaffe on the 28-yard touchdown pass to Jaden Shirden coming out of the backfield, Darien's defense made few mistakes.
"We were in man-coverage and our middle linebacker didn't get the call," Trifone said. "He's responsible for the back. Shame on us that we didn't get the call in earlier. We didn't echo in."
No more shame will be apportioned. You hold David Summers and St. Joe's scoreless after that opening 15-play, 70-yard touchdown drive, well, that, my FCIAC and state friends, is the most impressive performance of the young football season.
Trifone said he was most surprised by the low-scoring. He thought it would be a 35-28 game.
"I certainly didn't think — not to take anything away from our defense — we'd hold them to seven," Trifone said. "You look at them on tape and you're like, 'Oh my God.'
"Outside of that one blown play, our defense played lights out against Summers, who's as good as it gets going to Maryland, and Shirden is one of the best backs in the state. They're big up front and we're not. We're quick up front. Our men rose to the challenge."
As Trifone pointed out, his team is blessed with a number of fine wide receivers like TJ Cornacchia and Tyler Herget. Frankly, St. Joe's couldn't cover them all, yet it also was Darien and not St. Joe's front that put pressure on the quarterback. Cooper Hancock, who replaced Joyce this season, did a really nice job of distributing the ball. And the rest was left to the Darien student section to chant, "Over-rated!" as its counterparts.
"We definitely came into this game thinking we've got to beat them right now because they're No. 1," said Hancock, who threw for one touchdown and ran for another. "That's where we want to be. After that game, I think we showed people that we should be."
The Blue Wave did. Look, I'm going to put aside what happened at the end of last year after some arrests and suspensions, etc. New year. New slate. Let's talk football. That Darien defense got pressure on Summers, didn't let receivers get behind it and swarmed like crazy to the ball.
"We did everything he needed to do," Fay said. "We graduate guys it's next man up. Our program and our coaches prepare us well for that. When I graduate, I guarantee someone will come and fill my spot."
The difference from last year?
"Honestly not a lot," Fay said. "I could say we have more doubters but we had doubters before. I would say the biggest difference is our size. We find a way to overcome that and we have to keep finding ways."
The GameTimeCT football podcast has been struggling to find a name to call itself. Here's an idea: "This Is Darien's World & We're Just Renting."