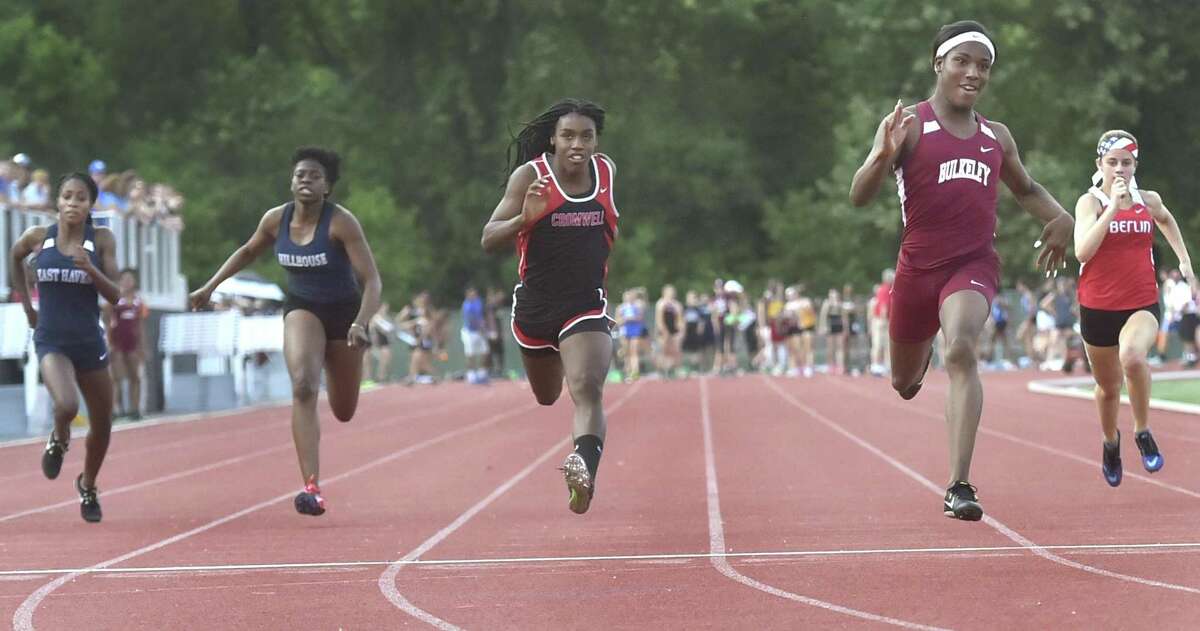 The transgender issue in sports is a sensitive one, a complex and controversial one. Kalli'Ana Botelho approaches it with the care and precision with which she approached each hurdle on her way to the New England championship.
Before she graduated in June, Botelho proved to be the most versatile female high school track and field athlete in Connecticut. She won the CIAC heptathlon as a junior at Griswold High. For an encore, she reached deep within herself in the 800-meter run, the final event of her decorated career, to repeat as champion.
Botelho is settling into life these days as a college freshman at Quinnipiac. Her aspirations are high. On the college track to be sure, but she also wants to be a surgeon one day.
After reading a Norwich Bulletin story over the summer, it struck me how Botelho is in a unique place to comment on transgender participation. No issue in Connecticut high school athletics has brought more scrutiny, our debate carrying as far as the European media. With the doors to state schools opening again, it seems an appropriate time for different voices to advance the discussion.
For the unfamiliar, Andraya Yearwood of Cromwell began competing in girls events in 2017 and Terry Miller of Bulkeley-Hartford began competing this past spring. Both were assigned male at birth and now identify as female. In the Class M state meet this year, Miller and Yearwood finished 1-2 in the 100 and 200, while Miller also won the 400. That same day, Botelho, who has captured numerous class and state titles since her freshman year, finished first in the 300 hurdles and long jump and second in the 100 hurdles.
CIAC rules, which point to applicable state and federal laws, are clear. If a student identifies as a girl and the student's school district identifies her as a girl, the student can compete as a girl. Ranging from self-identification to absolute birth certificate designation, different states have vastly different rules. At the high school level, there is zero national clarity. Two petitions have started in Connecticut to change the CIAC rules.
Botelho, from Voluntown, started running track in the sixth grade. She gravitated to the sprints. Early on at Griswold High, she said her coach Chris Morth asked her to explore other events. She took on the high jump.
"He saw potential in me that I didn't see in myself," Botelho said. "Sophomore year I kind of went through a diva phase. I thought I was better than everyone, didn't work at it and went through a slump. Coach made me realize I needed to work hard to get what you want. I began to see there was a big playing field out there."
Botelho began long jumping as a sophomore. As a junior, she started to do 300 hurdles along with 100 hurdles outdoor and 55 hurdles indoors.
"Looking at the transgender athletes having so much success in the 100 and 200, we looked at it and said we needed to change what we were doing," Morth told the Norwich Bulletin. "We needed to get out of those events. I had wanted Kalli'Ana to be a hurdler for while. She's a great athlete."
So Botelho left the 100 and 200 behind.
"I grew attached to the hurdles, it became a part of me," she said. "The 300 hurdles, it is a killer. Mentally and physically draining. That's the event when you find out your strength as a person."
And so she did. In June when Miller won the 100 and 200 at the New England Championships, Botelho won the 300 hurdles with a personal record of 44.19 seconds.
"To win New Englands and PR the same day in an event I had done only two years? Insane," Botelho said.
Yes, the switch from sprinter to hurdler, precipitated by the presence of transgender athletes, pushed Botelho to a higher level. Morth told the Norwich Bulletin it was a blessing in disguise.
"My coach is very persuasive," Botelho said. "He probably still would have persuaded me to try something different. I probably wouldn't have wanted to.
"But when I saw Andraya come out, I was like, this is going to suck. I'm going to be as respectful as possible. I have looked at her Instagram. She has wanted to be a girl, how she wants to identify herself, for the longest time.
"The newest transgender, I'm not as fond of the situation. In the indoor season (Miller) ran as a boy, practiced, competed as a boy. And then decided to change gender to a girl for the outdoor season, which really put a toll on the girls who worked maybe four years and had it ripped away from them."
Botelho does not embrace her blessing in disguise as a universal blessing.
"What about the girls who are great sprinters but don't have the ability for other events?" she said. "Connecticut track, even though we compete with each other, we're like a huge family. We're all close. No matter what, we're going to respect each other. But this is about how fair the situation is on the track."
It's not fair to the girls, Botelho said, "and it's not so fair for the transgenders because they can't go through the treatment at the time (because of minimum age requirements). They can identify as a girl, but the thing is if they're going to be girls they need to have fully gone through whatever treatment they need to go through. They still have all the components a man would have. It's still like having a man run against a girl."
Toward the end of her sophomore year, Botelho got a letter from Cornell. For the longest time, she said, she was in love with the idea of going there.
"Division I athletics, Ivy League, I began to see what a huge toll it would be on me," said Botelho, who will major in health science. "I wanted to challenge myself, not kill myself."
She considered High Point, UMass Lowell, Assumption. She found a letter she had received from Quinnipiac. She went to Hamden for her overnight visit. She loved it.
"Quinnipiac is the surprise of my life," she said.
She will run and she will study. What she will not do is compete against someone of Miller's or Yearwood's current status. The NCAA rule is that transgender athletes can compete one full year after completing testosterone suppression treatment.
"There has to be some kind of rule in Connecticut," she said. "Transgenders are still allowed to compete in New Englands and I don't think that is right. They are not allowed to compete in nationals. I feel the people in our state who are running the training, who are working hard in the sport, should have a say in this.
"So much goes into gender identity, and I understand and respect where they are coming from. But I feel bad for the girls who are younger than me. They're going to have to shape around the new track and field landscape. Nothing is getting changed. That's that. It's not fair to them."