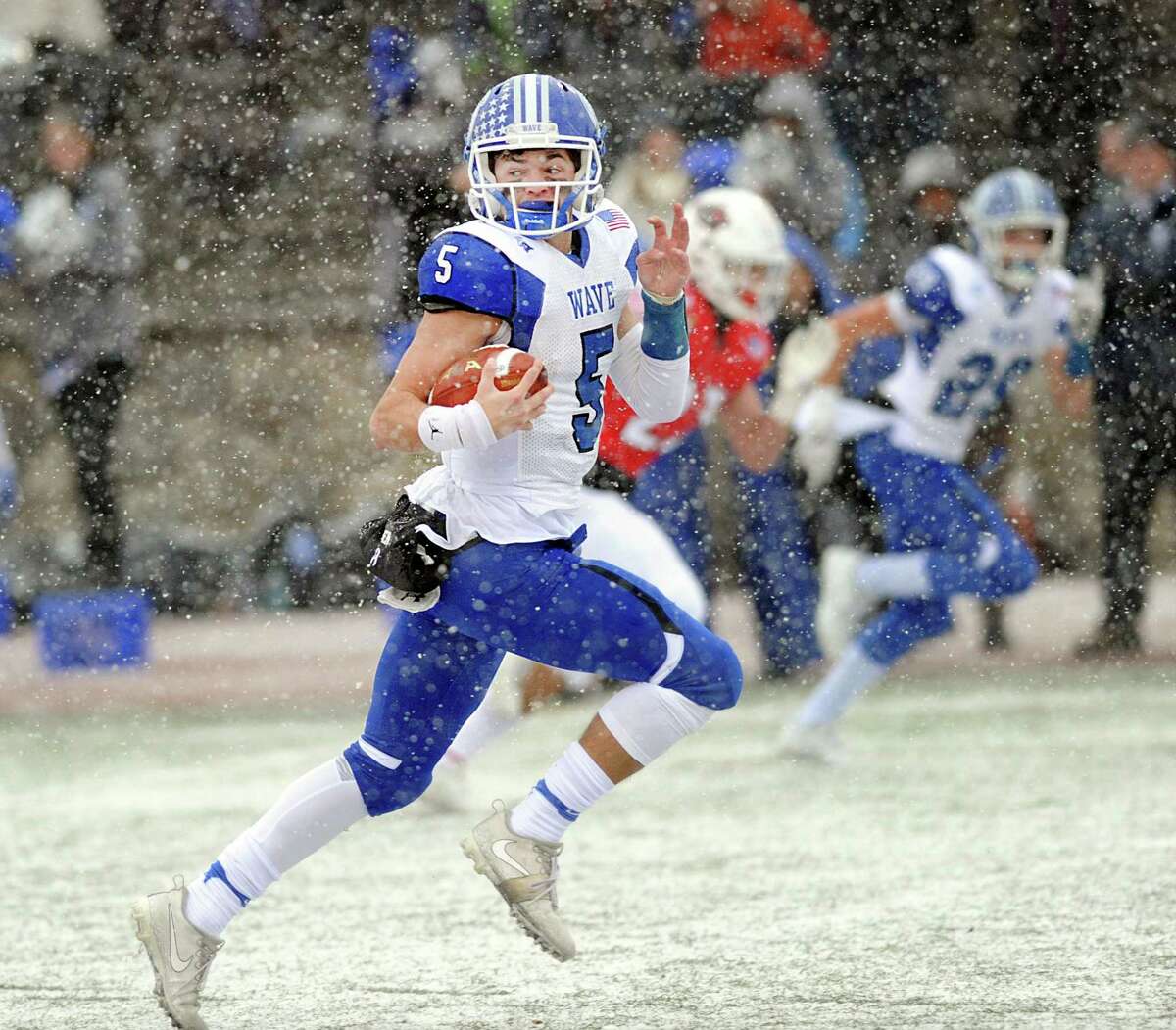 "Baboon."
"Clown."
"Empty head."
"Know your place."
The column did not invite a favorable response from those invested in the Darien football program. Roses at the doorstep and thumbs up emojis via social media were not expected.
That column in The Hartford Courant in December had a simple premise yet held a determined view. Darien High did not deserve to be voted the top team in the state in either the coaches or media final football poll.
Not because the Blue Wave were not the best team on the field. Ultimately, as Class LL champions, they proved to be.
The argument was that playing high school sports is a privilege, not a right, and schools have codes of conduct that must be honored. When a group of Darien football players decided to drive to New Canaan for what was sure to be a confrontation, rather than turn around, they made a decision to put that privilege and their futures at risk. Three of them would be arrested. After one Darien player allegedly held down a New Canaan teen and Darien defensive back Brian Minicus allegedly punched him in the head a dozen times, the argument was none of those three should have played the rest of the season.
Two did not. Star quarterback Jack Joyce, charged with disorderly conduct and interfering with a police officer, did. Without him, Darien lost to New Canaan in the Turkey Bowl. Joyce returned for three playoff games and led the Blue Wave to the state title. The argument was that lots of coaches and administrators around this state would have had the ethical strength to dismiss all three. Because Darien did not, it did not deserve to be No. 1.
The argument in The Courant was mine. Nine of the 13 coaches and 16 of the 24 media members did not agree. They voted Darien No. 1.
The vote was not unexpected. Nor was much of the response I received from adult Darien supporters.
Over 40 years as a sports writer, covering pros to Little League, I have seen and heard just about everything. By letter, by email, by phone call, by Twitter, nobody is braver than an anonymous sports fan. Been called lazy, stupid, unethical and every vulgar term. Heck, even got a death threat.
Yet never had I received emails from high school students, clearly identifying themselves, so easily, breezily blistering a professional adult. It fascinated and rattled me. Is this the way it is in Darien? Or in 2018? Or both?
"Baboon."
"Clown."
"Empty head."
"Know your place."
Three of the emailers identified themselves as members of the football team. One, using his Darien high school account, could be identified as an athlete not on the team. A fifth identified himself as a class officer.
"You are an irrelevant man who knows nothing about Darien or what occurred. Please stay in Hartford you baboon, no one likes you."
Given the demographics of Darien and Hartford, whoa, that doesn't come across well.
"You are a clown. I find it very interesting as to why you would include non-football information when discussing rankings. What kind of imbicil (sic) would do that?"
Evidently this imbecile.
"Know your place before you start busting out lies from the past."
Given the perceived entitlement of Darien and some Fairfield County towns, that doesn't come across well, either.
"… the arrests were based on a lie and enforced by a corrupt NC police dept."
For good measure, why not take the fact the New Canaan police chief has a son on that town's team and turn it into a case of corruption? That email, which contained the "empty head" comment, led to an email by me asserting that a professional adult with 40 years of experience deserves more respect.
The reply?
"You deserve no respect, after 40 years of 'experience' you write an article trashing high school kids … You are despicable."
The students, given an opportunity to apologize for their inappropriate words and did not respond, will not be named here. That's not the point of this piece.
The point is to generate debate on how young people, through social media, through direct online contact, feel they can address adults to voice strong opinions and/or evoke change in 21st century situations.
It is important to give them a voice. So how do you promote healthy interchange? Yet stop from exposing them as abusive in public? And how does this all reflect on a school and a community?
The students' emails were abusive and immature. And if any of their coaches or parents or teachers think otherwise, they are abusive and immature, too.
Recently named the sports columnist for Hearst Connecticut Media, I am one of you now and want to hear from Darien and Greenwich and New Canaan and Bridgeport and Stamford and New Haven.
I purposely waited until the court cases involving Minicus and Joyce were adjudicated. Neither were involved in the emails. Both received accelerated rehabilitation, essentially record-clearing probation, which seems reasonable. Minicus got 40 hours of community service and Joyce got 34.
After the victim said in court in January he was still "pissed off," judge Alex Hernandez had continued the case until March 8 to give him more time to think. With the victim amenable to AR, according to Minicus' lawyer, Minicus and Joyce had the disposition of the case moved up to Feb. 7. This enables the two to facilitate their college applications, which, let's face it, is a favorable ruling for them.
Folks in Darien understandably are eager to put this all behind them. From the start, they circled the wagons, seemingly intent on protecting their own and having the means to do so. The rationalizations that it was a little milk-and-cookies disagreement, the finger-pointing at the New Canaan police and the media, Darien came off … OK, I'll say it. Entitled.
The students' emails do not argue against that view.
Last week, I reached out to Darien High principal Ellen Dunn in a long, polite letter of explanation. Ultimately, I wanted to give her any opportunity to dispute the validity of these emails — she could talk to those students — and to give her a chance to comment on the content of the emails. I also sent an email to Superintendent of Schools Dan Brenner. Both declined comment.
Baboon, clown are not words my son, who recently played high school sports, would be allowed to call journalists on any issue. And if he did tell, oh, Sean Patrick Bowley or Scott Ericson or Joe Morelli or David Fierro to know their place, he'd know his place wouldn't be on a basketball court anytime soon.
But maybe I'm a baboon for thinking that way. Maybe I'm a clown.