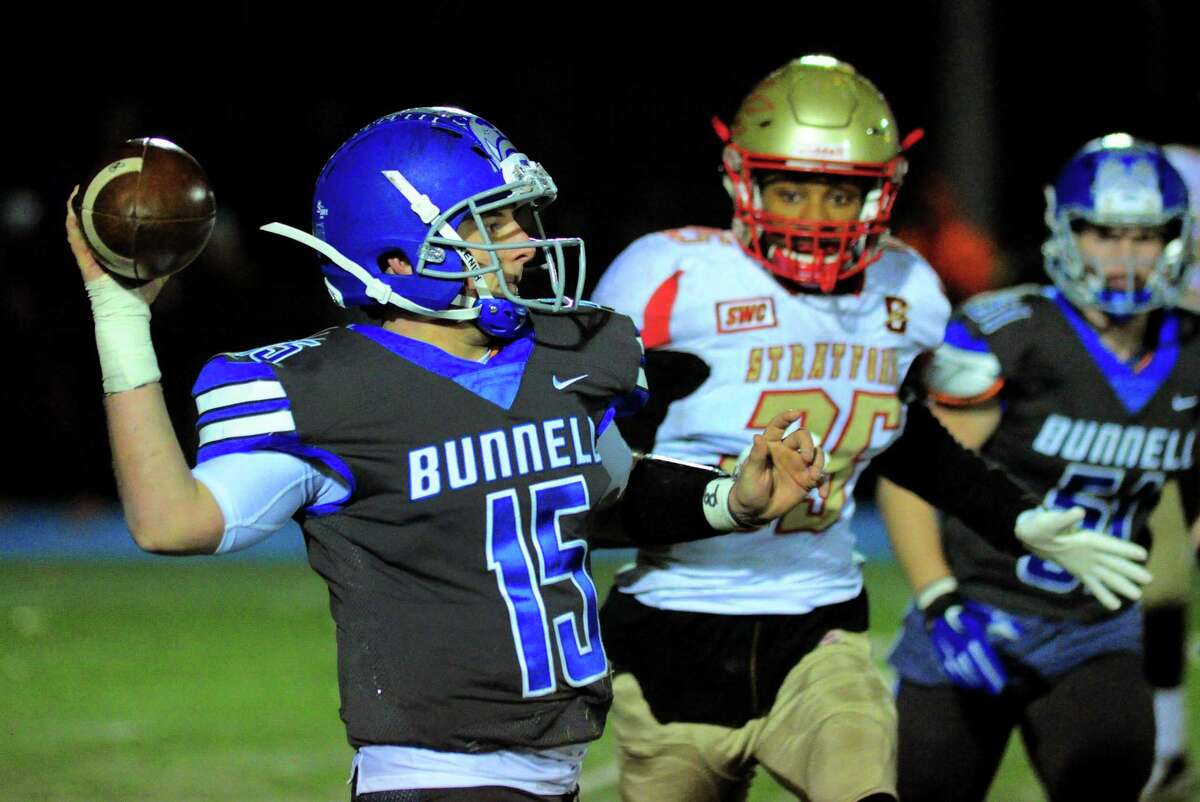 STRATFORD — Jason Carrafiello, who coached his only son since the day he could walk, loved to remind him how Stratford High dominated Bunnell when he played.
"Oh, yeah, he'd tell me all the time how they beat us all four years," Brian Carrafiello, Bunnell's junior quarterback, said. "I was like, 'Dad, it's not happening.' "
They had one of those unshakable bonds, these two, a father and son, a passion for sports that can make a family one. They called him "Carf," and he was a basketball coach and athletic director for St. James elementary. He was a freshman basketball coach at St. Joseph's. He coached with Shelton youth football.
He was a Stratford fireman.
"My dad just loved being around a team," Brian said. "The fire department became his team. I've learned how it was a big part of his life, showing how to have each other's backs and work together to get the job done."
When it came to Carf's only son, well, let's allow his wife and Brian's mom to explain it in her words.
"Oh my God, they were close," Jessica Carrafiello said. "He has been coaching him for basketball, football, every sport, all of Brian's life. He has been a huge part of his life. My son definitely respected him.
"And with my husband and I growing up in Stratford, Stratford-Bunnell has been something talked about in our house since Brian was little. He grew up with the town rivalry, and my husband would make it very clear his four years he never lost once."
Jessica and Jason met at Stratford High, married and started a family early. Jason had been named an Academic All-American football player in 1996. He had a plan for his life. Brian started playing football at 6 and long before that, as soon as he could stand on two feet, the sports mentoring began.
"He could be hard," Brian said. "It was do great, try to be the best, give 100 percent. He was aggressive as an athlete, fast, all over the place. He showed me stuff, the words, drills, that I still use today to get better. Yeah, we were really close."
The family was all home on Dec. 26, 2016, when chest pains overwhelmed Jason. A big man, a strong man went down with a heart attack. Jessica had just broken her ankle and Brian raced into the room where Jason was. He held his dad's head, making sure he wouldn't choke, screaming, "Dad, stay with me!"
Jason Carrafiello was 38 when he died.
"Brian was 15 when it happened, a freshman," Jessica said softly. "He has been through a lot."
Jason not only had coached his son and his daughter, Caitlyn, he had coached so many other sons and daughters, fought fires and played on Stratford's athletic teams. And when they held the wake, a town would come to understand his impact. There was a 2 1/2-hour wait outside the Dennis & D'Arcy — Abriola & Kelemen Funeral Home on Main Street. After the funeral, 300 people would go to Vazzano's Four Seasons.
"I think the kids found some comfort in that he was that well-known and respected," Jessica said.
Nearly two years later, mom said, some days are better than others. Jason died the day after Christmas, so the holidays are not easy. Thanksgiving pulls closer on the calendar and you wonder how and why the Carrafiello family would want to give thanks.
And then they tell you.
The enormous support of friends and family, that's why, Jessica and Brian said. The Stratford Fire Department that has adopted them and shown so much love and support. That's why.
Son and daughter are thankful for the strength their mom has shown. Caitlyn is a junior at Manhattan College and Jessica calls her "my best friend."
"Mom," Brian said. "Day 1."
And that's all anybody needs to know.
And when they are finished, you know the old man would be proud of them.
"The coaches, the players of the team, to have your brothers by your side is definitely a big support," Brian said. "It keeps you distracted in one way and focused in another."
When Brian was a freshman, Jason had filmed the varsity games for the team. Head coach Sean Mignone also coaches the quarterbacks so he got to know Brian a little as a ninth-grader.
"He suited up varsity end of that season," Mignone said. "I worked with him a little. I didn't know him really well at that point beyond knowing he was a good kid. When his father passed away we were all shocked.
"Brian has handled it as well as you could expect. It was and still is very tough for him. Every now and then stretching and getting lose, he'll say my dad said this or say that. It's good to hear. Whenever he wants to talk about it, we will do it on his terms."
So the Bulldogs, whose only loss was to Newtown on Oct. 26, went into their final regular-season game Wednesday night against Stratford knowing that a win assures them of a state Class L playoff berth. Brian fractured his wrist early in that Newtown game.
"I landed right on it and three dudes fell on me," Brian said.
"Right after it happened, he actually threw the best pass I ever saw him throw, like 40 yards," Mignone said.
"The next pass was like 3 yards and it just wobbled," Brian said.
Carrafiello was gone.
"It fractured the growth plate, we were told he was done for the season," Mignone said.
There would be three weeks in a cast. The healing, however, went quicker than expected. A nifty sort of sleeve brace was built for him. The other day he was given clearance to play again.
And so he did Wednesday night, in the game the Carrafiello family has cherished for decades. Brian threw two touchdown passes, helping lead the Bulldogs to a 26-8 win and a spot in the Class L playoffs.
"Sitting out only made me want to play more," Brian said. "Hearing the stories about my dad playing in the Bunnell-Stratford game makes me more excited because now it's my turn to help create some history."
"In the last few years, Brian has come into his own," Jessica said. "He has become a leader. He has his confidence back. I've watched him grow and mature. Some days I have wondered where he finds his strength. But you know what? I think he finds it in them being so close. He'll tell stories, often little things, about a jersey or something. He finds comfort in telling stories and that he knew him as long as he did."
On Thursday the family will head to Jessica's mom's house for Thanksgiving meal. First, though, she would take us inside a most private conversation with the love of her life.
"I know my husband would be in his glory watching Brian right now," Jessica said. "We got into a fight the other day. I was saying, 'Why are you making me go to this game by myself? Our son is the starting quarterback and you're making me do this?' I was totally mad at him, but you've got to keep your ship moving in life. And I know this was exactly what he wanted for Brian."
jeff.jacobs
@hearstmediact.com; @jeffjacobs123