Week 5: No. 2 Greenwich (3-0) at No. 7 New Canaan (3-1), Saturday, 7 p.m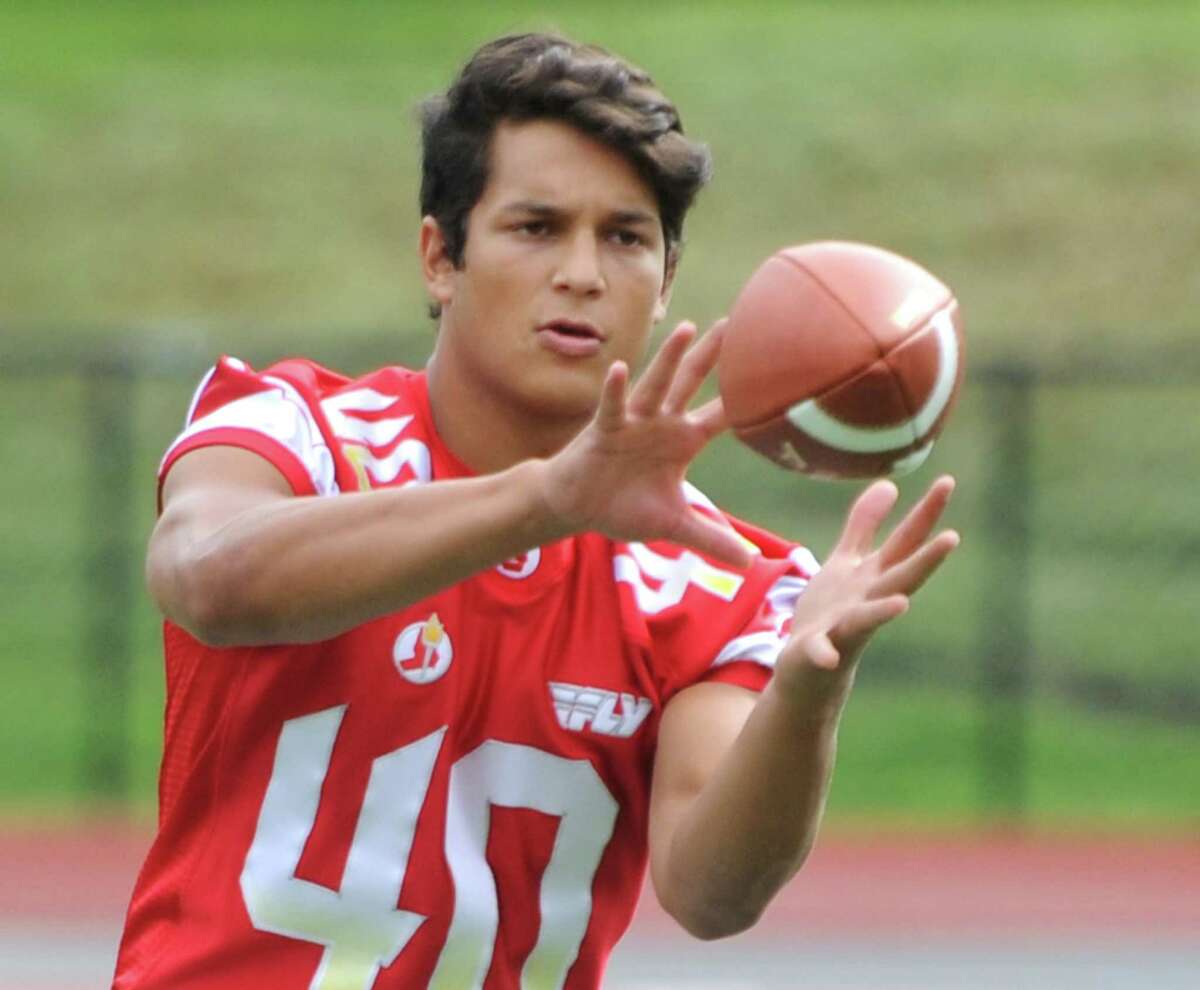 GREENWICH — Lightning would delay their practice Tuesday, but it would not delay their mission. The mission will take them 15 miles northeast to Dunning Field in New Canaan on Saturday night for their biggest game to date, a first statement on whether the Greenwich Cardinals will end this football season as the No. 1 team in Connecticut.
As lightning reappeared and practice ended at 6:45 p.m., more than 100 players in the Greenwich program headed toward the locker room. Wet footprints in the drizzle would appear and disappear. Three sets of footprints, though, were following more than the ones left by teammates and coaches.
Tysen Comizio, A.J. Barber and coach John Marinelli were following the football footprints of their dads. Three sons. One fascinating week of Cardinal football.
Hours earlier, Comizio, a senior running back, announced his commitment to the University of Pennsylvania. His dad, Richard, was the Ivy League Rookie of the Year there in 1984 and, as a senior, he rushed for more than 1,000 yards. Tysen's two older sisters attend Penn. And as we stood there laughing about parents' sometimes annoying penchant for taking bunches and, yes, bunches of pictures of their kids, in walked Barber.
The son of the former New York Giants running back, the sophomore wide receiver has quickly emerged as a growing force for the unbeaten No. 2 team in the state polls. After he caught three touchdown passes in the opener against Trumbull, Marinelli called Barber a player who is "going to be great for us." Now he was reminding us how young he is.
"A.J.'s first real interview," Marinelli said. "He's a little nervous."
The same might be said of his coach this week. John Marinelli is facing the man who has won a dozen state titles in 38 years at New Canaan. He played for his dad, Lou, before completing his college career at Trinity and later served as Lou's assistant.
This is their fourth meeting since he took over at Greenwich in 2015 and John says he's not so freaked out thinking about what Lou may game-plan. He laughs about the texts and emails he has gotten. There are jokes and prank calls from his friends and Dad's friends. He also knows he cannot let the game become too much of an event.
"Because of my dad and my relationship with New Canaan, I will say it's harder for me to play up there," John, 32, said. "I was a Pop Warner kid and scored, if not the first, one of the first touchdowns on Dunning Field.
"People don't realize I wasn't even born, and he was the head coach at New Canaan. He has been there forever. I was born with New Canaan in my blood. Now I'm in Greenwich and it's wild."
The first year the two didn't talk game week.
"My mom hated me and my mom hated him," Marinelli said. "Now we talk a little more, but never football. It's weird. As much as we want each other to win and have success, not this week."
There is added pressure this fall. After New Canaan, ranked No. 1 in the preseason polls, was beaten by St. Joseph and with No. 1 Darien on Thanksgiving, Lou has precious little wiggle room for making the Class LL postseason.
"If we beat them, they could end up out of the state playoffs," John said. "I don't want to be the guy that ruins their season, especially as a New Canaan graduate.
"Also, when they were moved up to LL (this year), we looked at each other and went, 'Oh boy.' The thought of us playing Staples and them playing Darien on Thanksgiving and us getting together as a family later and having to play each other five days later. How's that for a Thanksgiving dinner? It's a realistic possibility."
A playoff possibility he'd rather not consider this week. So he talks about Comizio.
"His overall work ethic sets him apart from everybody," Marinelli said.
Comizio won an All-American Athlete of the Year Award from the National Strength and Conditioning Association, Marinelli says his captain never misses a practice. He also calls his captain an understanding leader.
Tysen Comizio goes over the top to make it 42-7 Greenwich to end the third quarter.
I think we're done here #cthsfb pic.twitter.com/Yn0WrrOo8N

— Sean Patrick Bowley (@SPBowley) September 8, 2018
Comizio visited Ivy League and Patriot League schools, even Vanderbilt. Penn was always on his mind. He has been on the Philly campus many times. He knows the coaches. They stuck with him.
"On one side it's exciting to go to school where some of my family has gone," Comizio said. "On the other, I kind of wanted to write my own story. At the end of the day it's where I know I'm going to be happy for four years.
"My dad and I both kept an open mind through the process. Obviously, he's really psyched."
A portfolio manager at Weiss Associates, Richard played at New Fairfield before Penn and graduated from its Wharton School of business.
"He has been a great role model for me my whole life." said Comizio, who ran for nearly 1,400 yards last year. "I've been playing football since kindergarten. My dad would tell me stories about running the ball and as a little kid I'd think, 'That's what I want to do.' I've seen very little of him play, a couple of black and white YouTube clips.
"He kind of relives his football experiences through me sometimes, it's OK," Comizio said. "He's so supportive. Every game, taking pictures, always motivating, not too hard on us. I want to fill his shoes in college."
A.J. Barber has a more immediate goal in mind.
"Get bigger," he said.
At 5-foot-9, he weighs 155. Hey, he was 145 as a freshman. His dad played pro at 5-10, 205. His goal is 180 by graduation. A.J.'s brother Chason, a freshman, already is 6-2, 180.
AJ Barber scores his third TD of the day, making it 28-7 Greenwich over Trumbull just before the half. #cthsfb pic.twitter.com/TyL6PtnfbC

— Sean Patrick Bowley (@SPBowley) September 8, 2018
"A.J. is a high-GPA student," Marinelli said. "He's a great person in the locker room. As a sophomore, to maintain that relationship with his classmates along with juniors and seniors, it isn't always easy in a big program. No ego. Doesn't take a single rep off."
Comizio is amazed how quickly Barber's game has accelerated from his freshman year.
"I'm a little surprised, too," Barber said.
"He's very talented, but he doesn't take talent as his only attribute," Marinelli said. "His maturation process is way above his years."
Tiki Barber is divorced from A.J.'s mom, Ginny, and A.J. said he moved to Greenwich in the sixth grade. He remembers sitting in box seats at Giants games. Dad ran for nearly 10,500 career yards.
"I was only 4, 5, not really knowing what was going on," Barber said. "Watching his highlights now, I'm like, 'I can't believe my dad was actually in the NFL.'"
Believe it.
"Dad has been around at times," Marinelli said. "He works a lot (in the media and with business connections). Mom is fantastic. If he screws up in school, she'll pull him from practice. She's strict. Dad keeps his distance. He lets us do our thing. He lets A.J. and Chason do their thing."
A.J.'s thing?
"I want to play at a good D-I school," he said.
That's a family story for another week.