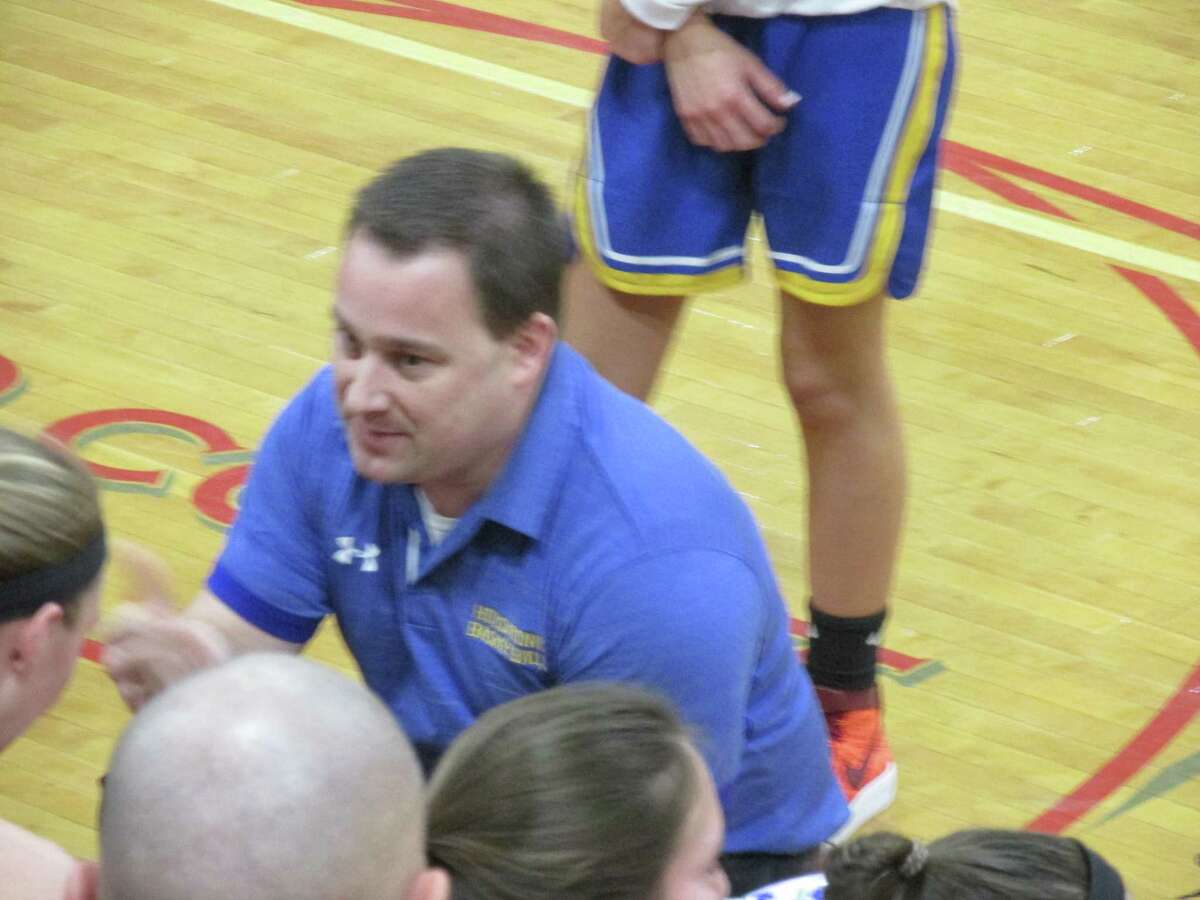 WINSTED — Housatonic's girls basketball team put a jewel in their Berkshire League crown with an emphatic 41-20 win over second-place Northwestern to clinch the title at Northwestern High School Monday night.
The Highlanders (17-2; 15-2 BL) came into the game with high hopes of sharing the championship after just a single loss in their season in a close game at Housatonic (18-1; 17-0 BL) on Jan. 2.
The first quarter kept their hopes alive.
Both teams pride themselves on in-your-face defenses. A 6-4 Housatonic advantage after the first period reflected eight minutes of steals, blocks and forced shots and passes as a result.
"Defense has so much to do with the game of basketball," said Mountaineer coach Steve Dodge. "When you can instill this in the girls and get them to play it together, then you've done something."
Northwestern coach Fred Williams has done that for decades with his Highlander teams, but the second quarter showed an extra dimension for Housy's defense.
"They're quick, but composed," said Williams. "They get up and down court as one unit."
"Defense is definitely what keeps us in the game," said 5-foot-11 Housatonic center Sydney Segalla, who blocked shot after shot under the basket while turning in 11 points at the other end.
"It teaches us to work together," said senior guard Christina Winburn, leading fast breaks and all scorers with 17 points.
Midway through the second period, Housy's intense unity pulled them away from the two-point advantage they held through the first four minutes.
Frustrated on offense in the first period, Segalla, a freshman, asserted herself with her first basket under the hoop.
"She's come a long ways," said Northwestern coach Williams. "She started as an athlete; now she's an athlete who knows how to play basketball."
In a physical game on both sides, Northwestern's efforts to combat Housy's quickness brought Segalla and Caroline Hurlburt to the line for three points; Winburn finished two fast breaks in a row; and Segalla hit an eight-footer in an 11-0 Mountaineer run that put Housatonic up 21-10 at the half.
"We stepped in a hole and couldn't get out of it," Willliams said. "Instead of making a run, like we did at Housatonic, they kept pouring it on."
A big part of the Housy fuel came from senior point guard Sierra O'Niell, matched up against Skylar DiMartino, one of the quickest guards in the league, in a Northwestern press aimed at digging them out.
"I just had to keep my speed up," O'Niel said.
Segalla worked for six more points in a 10-9 third-quarter Housatonic advantage. Then the Mountaineer defense finished its work in the fourth, limiting the Higlanders to a single point in a 10-1 run.
"When you keep Northwestern to 20 points, you've gotta tip your hat to the defense," said Coach Dodge.
"They're definitely the best team in the league," Williams said.
Natalie Lederman led the Highlanders with nine points.
Housatonic 41, Northwestern 20
Housatonic 6 15 10 10 — 41
Northwestern 4 6 9 1 — 20
Housatonic (41)
Caroline Hurlburt 2-3-7; Sierra O'Niel 1-2-4; Sydney Segalla 4-3-11; Christina Winburn 8-0-17; Madelynn Olownia 1-0-2; Totals: 16-8-41.
Northwestern (20)
Skylar DiMartino 2-0-4; Emma Propfe 2-1-5; Natalie Lederman 3-3-9; Jana Sanden 0-2-2; Totals: 7-6-20.
3-point goals: H — Winburn.
Records: Housatonic 18-1; 17-0 Berkshire League. Northwestern 17-2; 15-2 Berkshire League.