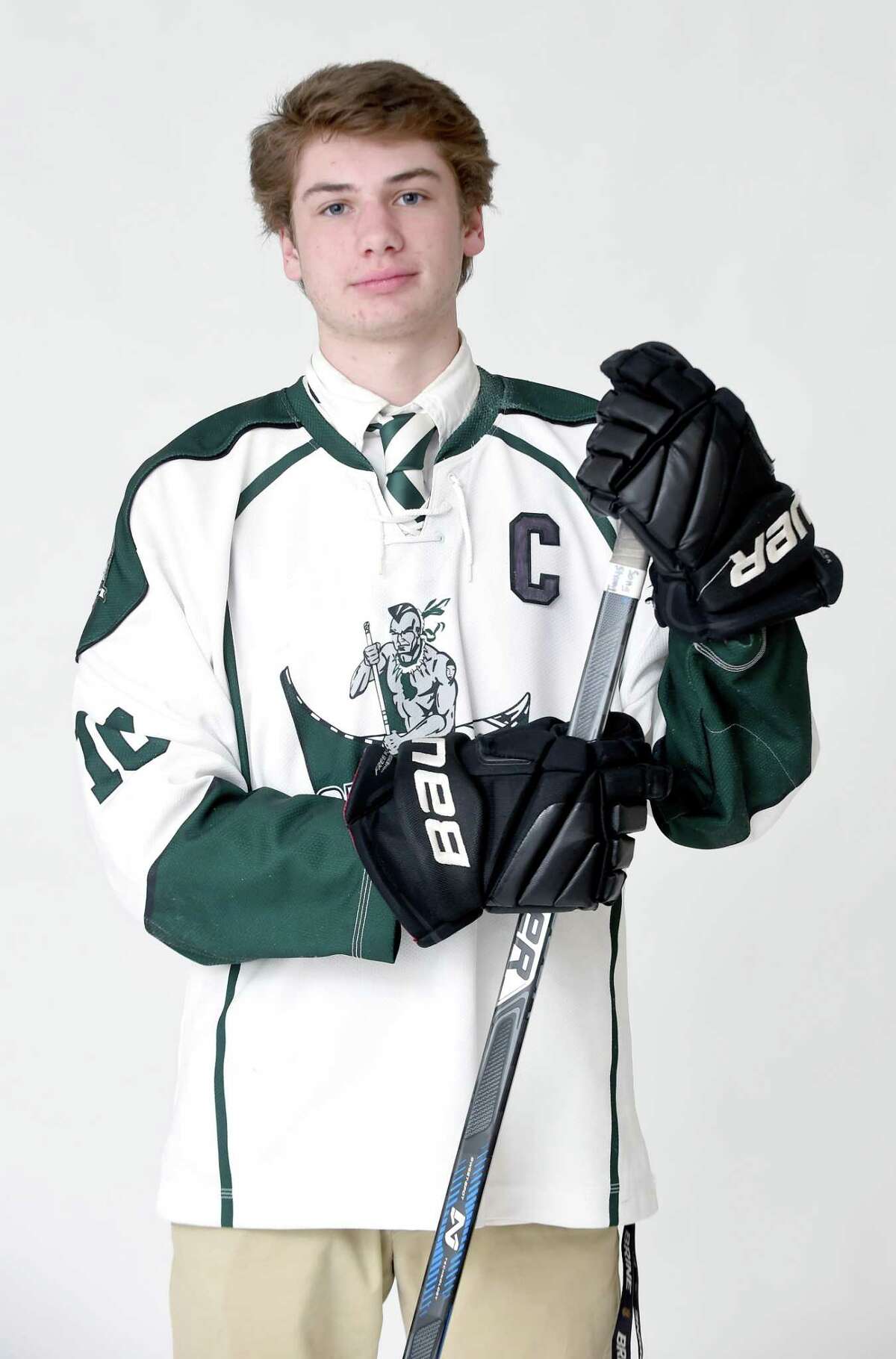 Fine performances
Michael Bunovsky, Masuk: The junior's first career goal started off a 5-2 win over Wilton.
Will Cannella, Eastern CT Eagles: Two goals, including one early in the game, and an assist in a 7-1 win over Woodstock Academy.
John DeLucia, Guilford: Second goal was the winner in overtime as Guilford beat Farmington Valley 6-5.
Gavin Dolan, Westhill/Stamford: Scored 1:06 into overtime to beat Fairfield 5-4.
Luke Festa, Sheehan: Two goals in a 5-1 win over LHK.
Tatum Fitzmaurice, Hand: Scored with 2:58 left to give Hand a 3-2 win over New Milford.
Aidan Gaudet, Cheshire: A goal and an assist in a 5-3 win over Guilford.
Ryan Ginnett, Glastonbury: Scored goals 1:11 apart to put the Tomahawks ahead in a 5-1 win over West Haven. Also had an assist.
Danny Godlewski, North Haven: Made 27 saves and had an assist in a 2-0 win over NFI.
Sean Gordon, Ridgefield: Made 22 saves in the Tigers' 2-1 win over Fairfield Prep.
Logan Hamilton, East Haven: Made 43 saves, shut out Hall/Southington 1-0.
Mike Kaliff, Northwest Catholic: Stopped 35 shots in a 1-0 win over Hamden.
Ashton Lewis, Fairfield: Scored two goals, including the winner, as the Mustangs beat Trumbull 5-4 in a key FCIAC game.
Jack Manware, Branford: Two goals, including the winner, in an 8-5 win over LHK.
Bennett McDermott, Darien: Scored the winner in a 4-2 victory, 40 seconds after Greenwich tied the game at 2.
Sean McKee, North Branford: Scored 1:29 into overtime to beat Amity 6-5.
Ethan Ranger, Newington Co-op: Two goals and two assists in a 7-5 win over the Eastern CT Eagles.
Mike Shuman, Tri-Town: Five points in a 9-5 win over Enfield, going over the 100-point mark for his career.
Connor Smith, Notre Dame-West Haven: Made 39 saves in a 4-0 shutout over West Haven.
Owen Stacey, E.O. Smith: Scored twice and set up the winner in a 3-2 win over the Newington co-op.
Ethan Utermarck, East Catholic: Stopped 38 Simsbury shots in a 2-1 win.
Wes Zolin, Greenwich: Two goals and an assist in a 6-2 win over St. Joseph.
Games to watch
Northwest Catholic at Xavier (Wesleyan), Wednesday, 4 p.m.: Xavier's one loss in the past six is to the Lions, last week. Every team with a chance to catch Northwest Catholic for the second seed in Division I picks up three points if Xavier wins this game. Then again, so do the Lions, because of last week's win, but six would be better.
Guilford at Westhill/Stamford (Conners), Wednesday, 6:50 p.m.: A win would help Guilford's case for the top seed in the CIAC Division II tournament, but they'll have to go through a Westhill/Stamford team with three wins against Division I teams.
West Haven at Hamden, Wednesday, 7 p.m.: A Hamden win secures a berth in the SCC/SWC Division I championship game against Fairfield Prep. A West Haven win avenges a 10-2 loss earlier in the year. A tie … is less newsworthy.
Fairfield Prep at Catholic Memorial (Mass.) (Warrior Ice Arena, Boston), Thursday, 1 p.m.: The last out-of-state game for a Connecticut team this year. The Jesuits are 2-3 when actually playing outside the state this season.
Notre Dame-West Haven at Darien (Darien Ice House), Thursday, 6 p.m.: These teams played a back-and-forth 6-4 affair Jan. 2 at Bennett Rink. Let's see if they can up the entertainment level even further. It's Darien's regular-season finale.
NFI at Notre Dame-West Haven (Bennett), Saturday, 1 p.m.: Green Knights coach Larry Vieira meets his former program.
Fairfield Prep at Hamden, Saturday, 2:30 p.m.: They could meet again six days later in the conference final. The Jesuits won the first go-round, 4-2 at Wonderland, on Jan. 26, one of the bigger wins of their season.
Sheehan at Hand (Northford), Saturday, 8 p.m.: Another likely playoff preview; a win for Hand or a tie would actually secure that matchup in the SCC/SWC Division III semis. They're the two top teams in Division III overall, so maybe they meet again in a few weeks.
FCIAC quarterfinals, Saturday, TBA: New Canaan and Westhill/Stamford (both hosting) and Greenwich will be there. Either Fairfield or Trumbull joins them. Matchups to be determined, potentially by chance. Seriously.
JBWA at New Milford (Canterbury), Monday, 7 p.m.: The final SCC/SWC Division III playoff spot could be on the line. JBWA would need to win.
Nutmeg Hockey Conference semifinals: SGWL at Eastern CT Eagles (Conn. College), Monday, 8 p.m.; Tri-Town at Woodstock Academy (Pomfret), Tuesday, TBA: The final is likely Feb. 28 at Cromwell. The Eagles are the defending champions.
— Michael Fornabaio