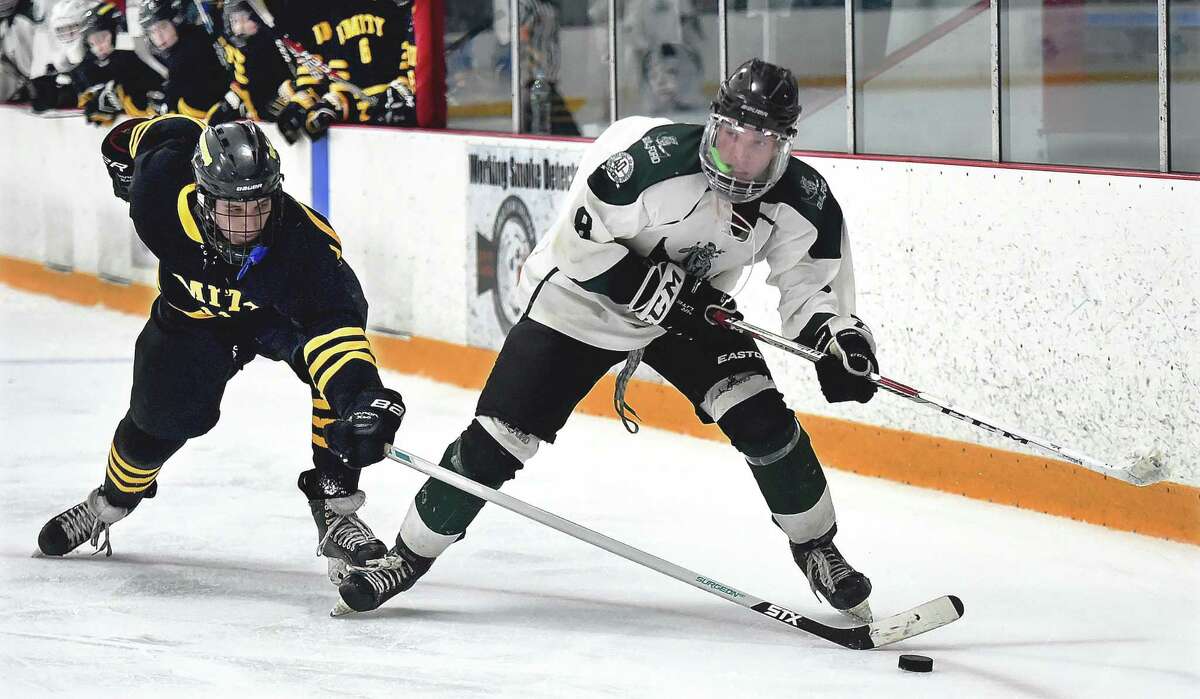 WEST HAVEN — Jake Watrous and his Guilford teammates are well aware of their roles on the team. With most of the attention focused on the top line of Jack Ring, Jack Dacey, and John DeLucia, Watrous and company know they too also play an important role in the success of the Indians.
Sparked by the energy and first period goal by Watrous, top-seeded Guilford defeated fourth-seeded Amity 6-3 in the opener of the SCC/SWC Division II semifinals at the Edward L. Bennett Rink in West Haven on Thursday .
"I thought Jake Watrous played an exceptional game tonight," Guilford coach Ralph Russo said. "He had great legs and had high energy. He got us going."
Guilford (18-3) will get to defend its league against second-seeded Watertown-Pomperaug, a 4-0 winner over third-seeded North Branford in the second semifinal contest, Saturday at 4 p.m. in the SCC/SWC finals, also at the Bennett Rink. The Indians defeated East Haven in overtime in the title game a season ago.
"I think you realize how many championships you get to play in," Russo said. "You may not get that chance again. You want to make the best of it. But, win or lose that game, it is a nice accomplishment to get there."
The top line of the Indians accounted for three goals and added two assists, and came up particularly big in the third period when Guilford scored four times to pull away from Amity.
Dacey scored off an assist frrom Ring just 1 minute, 55 seconds into the final period for a 3-1 advantage, and DeLucia scored an unassisted tally 2:27 later for a 4-1 Guilford lead. When DeLucia set up Ring's goal down the right wing with 8:01 remaining, Guilford led 5-1 and was in control.
"I thought they did a great job," Russo said of Amity. "They brought the intensity. They did not give us a lot of space. We had to grind it out. It was a tight game."
After a timeout by Amity, the Spartans came back flying, scoring twice on the power play in a span of 2:20 to get within 5-3. Joseph Schittina wrapped around Amity's second goal, and James Blum scored off assists from Jordan Conn and Jason Csejka with 4:19 to go.
"Our game plan was to go in anad apply the forecheck as well as backcheck to allow the defense to step up," Amity coach Mike Richetelli said. "We did not backcheck enough. When you allow that line to do what they do, it can be a show. There is a reason why they have all those points. But, I thought we did a great job to come back. We got the two goals and were down just two with some time left."
After a slow start to the contest, the pace of the game picked up in the second period as each team scored once to give Guilford a 2-1 lead after two periods of play. Guilford's Zach Woxland increased the Indians' lead to 2-0 when he went top shelf from the top of the circle just 1:54 in.
Amity had its opportunities, but did not get on the scoreboard until 3:29 remained in the period. On the power play, the Spartans, who scored three times with a man advantage, needed just two seconds to capitalize as Blum won the draw over to Csejka, who fired a shot past Guilford goaltender Mele Yanbul to get within a goal.
Each team then had a golden opportunity apiece to score in the final 1:17 of the period, but Guilford's DeLucia was stopped in front, and Amity's Jacob Silliman was denied from the point.
After Amity dominated play for the early part of the opening period, all it took was one spark for the Indians to get on the scoreboard. Watrous was denied by Amity goaltender Tyler Cole, but Watrous continued skating and ripped a shot from the top of the circle for a 1-0 lead with 3:23 left in the first period.
"We are a hard-working group of guys," Watrous said. "We know the focus is on the top line, but we accept our role and grind it out. It was an amazing feeling to win it (SCC/SWC) last year. We want to do that again."
The Spartans had 11 shots in the first period, but all were turned aside by Yanbul, who stopped Conn with a pad save in front, and a backhander in front by Nelson Bourdeleau.
Woxland and DeLucia each finished with a goal and an assist for the Indians, while Yanbul finished with 26 saves.
Watertown-Pomperaug shuts out North Branford
In the nightcap, Watertown-Pomperaug scored single goals in each of the first two periods and never looked back in its 4-0 win over North Branford.
"This is huge for us," Watertown-Pomperaug coach Vic Vicenzi III said. "It was something we wanted last year and did not get to do because we lost to East Haven in the first round. It was one of our goals to get to the league final."
Troy Harwell got the Indians off to a great start, scoring an unassisted goal just 1:05 into the contest for a 1-0 lead. The Indians then turned it up in the second period, outshooting the Thunderbirds 18-4 in the period, and taking a 2-0 lead on a goal by Harrison McCormack 4:30 in.
"We just kept putting pucks on net," Vicenzi said. "(John) Lovelace is a fantastic goalie. You have to get him early. We put traffic in front of the net."
Watertown-Pomperaug goalie Ryan Fleming stopped 10 shots in the first two periods and 14 overall, including a breakaway by North Branford's Sean McKee with 5:30 left in the middle period. Fleming again denied McKee on a short-handed breakaway with a glove save 1:33 into the third.
"Ryan (Fleming) was fabulous in net," Vicenzi said. "I thought we left him out to dry a couple of times. But, he is a calming influence out there for us."
Shortly after, Nicholas LaBella scored on the power play off an assist from Jacob Oldham with 12:58 remaining for a 3-0 Watertown-Pomperaug advantage. Oldham capped the scoring for the Indians with a goal with 4:10 remaining.
Guilford 6, Amity 3
AMITY 0 1 2 – 3 (12-8-1)
GUILFORD 1 1 4 – 6 (18-3)
First Period — G – Jake Watrous (Zach Woxland) 3:23; Second Period — G – Zach Woxland 13:06; A – Jason Csejka (James Blum) 3:29; Third Period G – Jack Dacey (Jack Ring) 13:05; G – John DeLucia 10:38; G – Jack Ring (John DeLucia) 8:01; A – Joseph Schittina (Colin Hughes) 6:39; A – James Blum (Jordan Conn, Jason Csejka) 4:19; G – Joe Neleber 0:47
Shots: A – 29; G – 36
Saves A: Tyler Cole – 27; A: Michael Holloway – 3; G: Mele Yanbul – 26
Watertown/Pomperaug 4, North Branford 0
North Branford – 0 0 0 – 0 (13-7-1)
Watertown/Pomperaug – 1 1 2 – 4 (17-3-1)
First Period WP – Troy Harwell 13:55; Second Period WP – Harrison McCormack 10:30; Third Period WP – Nicholas LaBella (Jacob Oldham) 12:58; WP – Jacob Oldham (Hunter Stone) 4:10
Shots: NB – 14; WP – 45
Saves: NB: John Lovelace – 41; WP: Ryan Fleming – 14