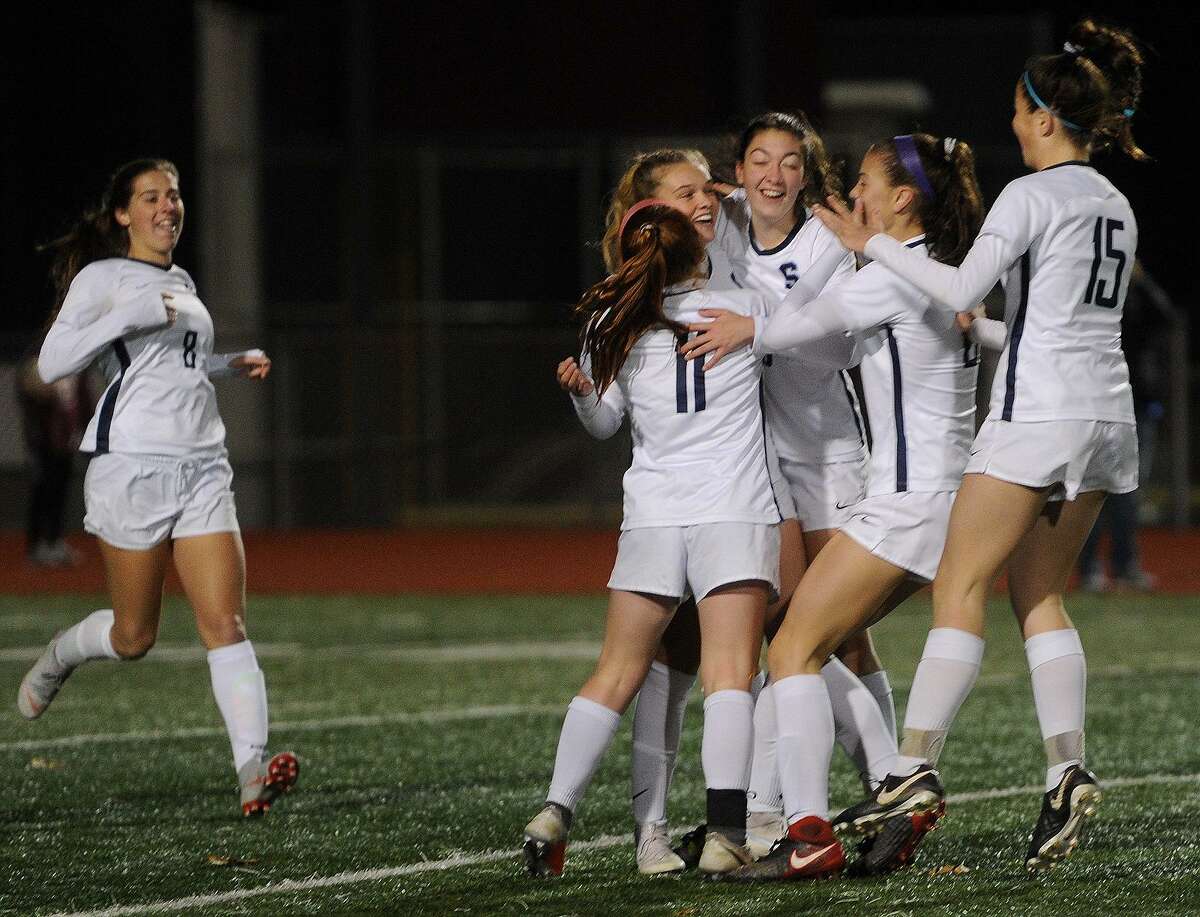 NAUGATUCK—For the Staples High School girls soccer team, it is the best early Christmas present they could possibly receive.
The No. 5 seeded Wreckers are returning to the Class LL state championship final.
Staples punched its ticket late Monday night as it vanquished No. 1 seed Glastonbury High, 1-0 at Naugatuck High School.
"We all have so many emotions. It is a dream come true to get this opportunity," said Staples senior goalie Zoe Barnett. "We waited so long for this chance to play for another state title."
Staples has the chance to exorcise a plethora of ghosts this weekend.
Staples (17-1-3) handed Glastonbury (17-1-1) its first loss of 2018. It meant the Tomahawks, who captured LL state crowns in 2011, 2014, 2015 and 2016, were eliminated in the LL semifinals by an FCIAC squad for the second straight year.
Ridgefield beat Glastonbury, 1-0 (4-2 on PKs) in the 2017 semifinals. Ridgefield then topped Staples, 2-1 in the final to claim the 2017 Class LL girls soccer crown.
Well, Staples gets its chance at revenge against Ridgefield this weekend. Ridgefield blanked Simsbury, 3-0, in Monday's other LL semifinal.
"Last year's state final was upsetting. But our girls came back strong," said Staples coach Barry Beattie. "Our No. 4 goal for this season was to return to the state final. And here we are."
Since both Staples and Glastonbury entered Monday night with 122 shutouts each, it figured that one goal might be enough for victory.
Staples grabbed the 1-0 edge just 7:19 into the contest. Reese Sutter took a shot from about 32 yards out. It was a one-hopper with the ball skidding from left to right into the low right corner of the net.
"I had the space," Sutter said. "I had a similar chance (in the quarterfinals) against Trumbull and I didn't take the shot. The coaching staff told me not to pass up that type of chance again."
Getting the early advantage allowed Staples to dictate play for quite a while Monday night.
"Scoring that goal allowed us to settle in and become very hopeful," Sutter said. "We played our game. We played unafraid."
Glastonbury's starting goalie senior Madelyn Gehrhardt (three saves) went out injured after a collision with 20:07 left in the first half. However, junior Madison Hill (six saves) filled in admirably.
Glastonbury's offense played with a sense of urgency the final 20 minutes of the contest. But Staples' defense, led by Mackenzie Baker, Morgan Shaheen, Julia Haussmann, Samantha Forrerst and Lasuren Walden, stood tall in the frenzy, Staples goalie Barnett finished with 10 saves.
"Our defense is the best in the state. They deserve unlimited credit," Staples' Barnett said. "They are a brick wall. I'm so lucky to have them in front of me."
Glastonbury coach Joe Finocchiaro was philosophical after the final horn.
"We did everything we could but score. You need luck this time of the season," Finocchiaro said. "Staples had it. We didn't. Staples got the fortunate bounce on its goal. We didn't get the bounce on our good chance at the end. But I'm so proud of the way our girls fought back all evening."
STAPLES 1, GLASTONBURY 0
Class LL semifinals at Naugatuck
STAPLES 1 0—1
GLASTONBURY 0 0—0
Goals: S—Reese Sutter. Goalies: S—Madison Hill (6 saves), Zoe Barnett (10); G—Madelyn Gehrhardt (3).