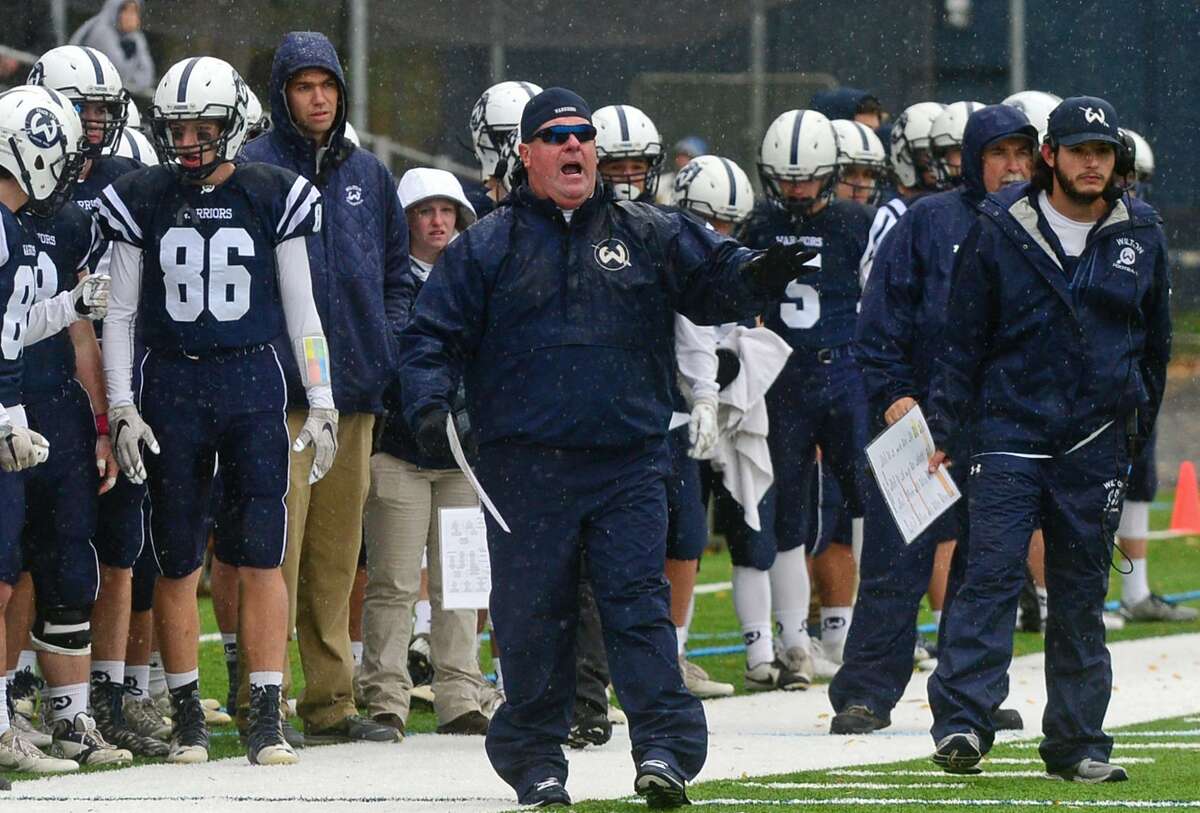 NORWALK — AJ Albano and Bruce Cunningham took rather different paths out of the head coaching ranks this season.
Albano stepped down from his alma mater at Brien McMahon after a long reflective period where he looked at his program and what might be the next step for it.
Cunningham's exit from Wilton was swifter, happening quickly for "personal reasons" after the veteran coach became concerned how outside parental influence might try to dictate the future of the program.
Both have landed safely at other jobs — assistant coaching roles with two of the state's most prolific programs — and neither could be happier.
Albano will be coaching the secondary at New Canaan, under legendary coach Lou Marinelli, while Cunningham returns to his alma mater, joining John Marinelli's staff at Greenwich High School.
"I'm just fortunate to be at New Canaan, being around good coaches and good kids, and I'm just looking to contribute any way I can," said, Albano, who spent eight years at McMahon. "I've been able to bounce around a bit, have some good meetings, and I've been welcome with open arms."
Before Albano took the McMahon job, he was a a longtime assistant at Darien High — the Rams' vaunted rival.
Darien wasn't quite the program it is now, Albano said, and being so far removed from the players he once coached won't make this year's showdown weird.
"When I made the decision, it never crossed my mind," Albano said. "I'm eight years long as a head coach removed, so I think the program is much different from when I left it. Being familiar with the rivalry will help a little bit."
After a couple of strong seasons when McMahon just missed qualifying for the state tournament, the Senators hit a tough patch over Albano's final three seasons.
One of the coaches who reached out to him during those tough times was Lou Marinelli.
"He would just call and say 'Keep your head up, keep doing what you're doing, you're doing the right thing,' " Albano said. "It meant a lot to hear that."
When word reached Marinelli that Albano might be interested in joining his staff, he quickly pulled the trigger.
"Our whole staff got a lot better when he said yes," Lou Marinelli said. "I think not only is he a great coach, but he's an excellent teacher. He's great with the kids. I can't say enough about him. I knew he was good, but based on his short time with us so far, I'm even more impressed with him."
The fact that New Canaan doesn't play McMahon will allow Albano to continue to root from the Senators from afar, the coach added.
In a strange twist of fate, Albano almost landed at Wilton with Cunningham.
"Bruce and I had long conversations about going with him and I was very close to joining him," Albano admitted. "Obviously, (New Canaan) ended up being the right decision. I'm glad Bruce landed in Greenwich. He's a really good friend and he deserves the best."
Cunningham's decision to leave Wilton hurt, but the veteran knew leaving was the best thing for him personally.
Going home will certainly help ease the pain.
"I'm really excited about it," Cunningham said. "To go back there, to where my coaching career started when I was still in college, well, hopefully my career will end there. I thank Coach (John) Marinelli for giving me the chance. He's really gotten the town excited about football again and I'm going to go in there and help out wherever I can."
As Cunningham was dealing with the end of his Wilton coaching career, John Marinelli was one of the first people to reach out to him for support.
The third-year coach said adding such a veteran coach to his staff was a no-brainer.
"He's a huge asset, a guy with that type of knowledge and experience," John Marinelli said. "He cares so much about the kids, more than anything, though. To add a guy whose reputation is all about the kids is so important for a head coach."
Marinelli said Cunningham will be responsible for the defensive line on a day-to-day basis, but will mean so much more to all facets of the program.
Cunningham is just fine with that.
"I don't need any titles," Cunningham said. "I just want to coach football. I'll do anything I can to try to make the program better."
The head coach also knew what coming home meant to Cunningham.
"I know his heart was in Wilton, but a piece of him was always in Greenwich, too," Marinelli said.
The elder Marinelli was impressed with his son's latest hire, too.
"I think it's great," Lou Marinelli said. "He'll do well with Johnny and, from a personal point of view, Johnny being a young head coach, Bruce can help him along those lines."
Once the head of their respective programs, two coaches are still a part of the team — just vastly different teams than where they left.
jnash@hearstmediact.com