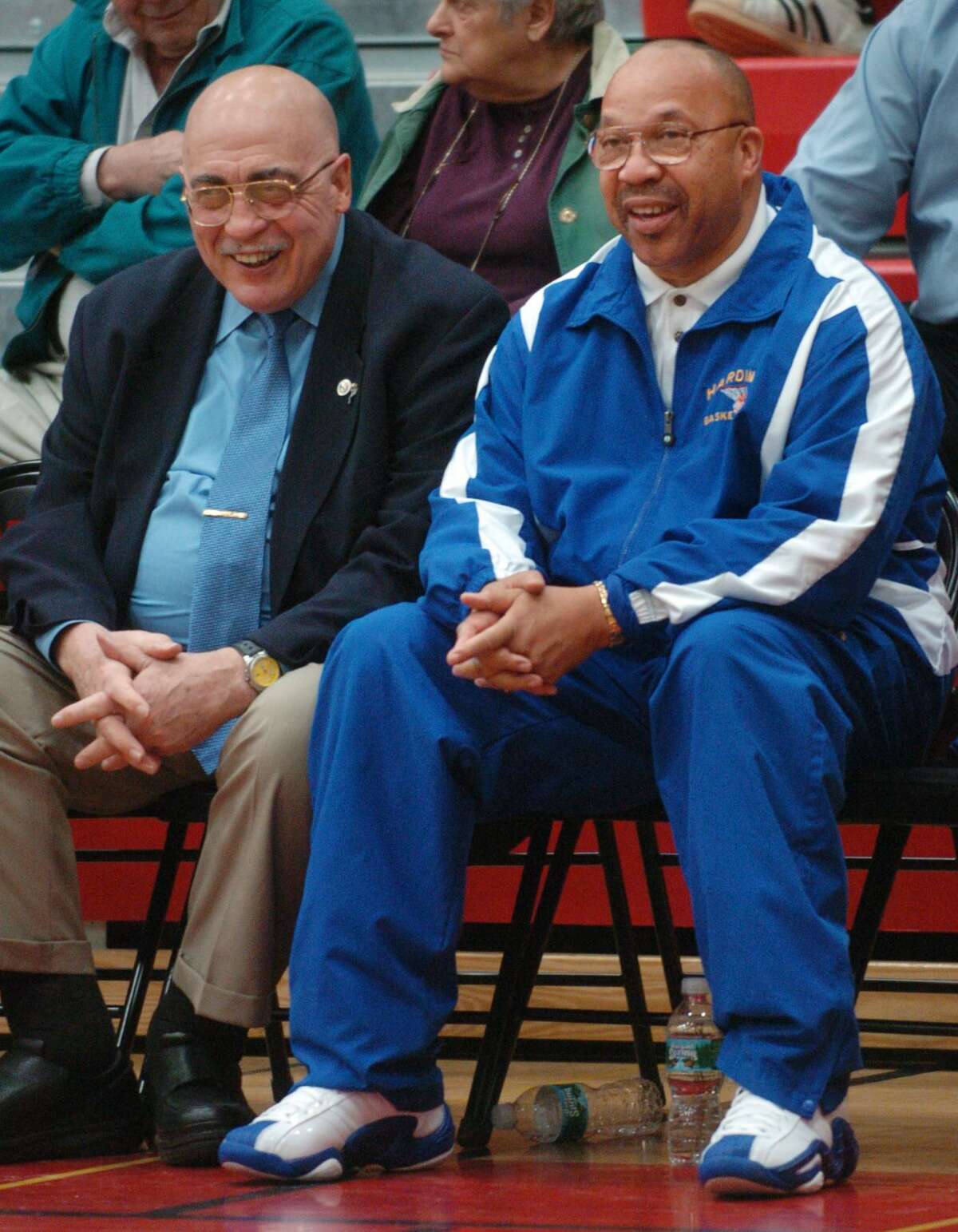 BRIDGEPORT — Connecticut high school boys basketball coaching royalty gathered courtside last Friday for the penultimate regular-season game at Harding-Miska Gymnasium.
Vito Montelli and Charlie Bentley, who combined to win 20 state titles at St. Joseph and Harding, respectively, watched their former teams go back and forth for 32 minutes.
In many ways, Montelli and Bentley together in the same gym for a hotly contested St. Joseph-Harding game was just like old times. It was a throwback kind of night.
Except Bentley didn't see it that way.
"It will never be like it used to," the legendary Harding coach said at halftime.
At the end of the current school year, the city of Bridgeport will bid farewell to the school that Bentley called home for over 30 years. The new school sits a half mile away at 379 Bond Street and will be equipped with, among many things, baseball and football fields and an eight-lane track for running.
It will come with a new gym, too. But it won't be like the old place.
"It'll [Warren Harding High School] never die. It'll never really be gone," current Harding coach John Bagley said with a hint of nostalgia. "The memories are still here, the program's still here. We'll carry those forward.
"Whatever they build here, I'm sure the ghosts will roam the halls."
Warren Harding High School opened its doors in 1925. Being one of city's top basketball players, Bagley was lucky enough to play there in the 1970s under Jim Kish and Bentley.
In those days, seating at Harding for boys basketball games was at a premium. Fans flocked to the school to watch the most exciting act in the city.
"Being with players such as Wes Matthews, Aldo Samuel, Cedric Cannon and a few others, we had the gym packed," said Keith Pierce, who played at Harding from 1972-76 and later coached for 20 years under Bentley. "If you weren't there before the JV game … you better get there because it was sold out. You had to get there early, not like today when you go to a game. It's totally different."
Added Bentley: "When we played St. Joseph, you wouldn't be able to get in here — same with Bassick and Central."
Bentley, who retired in 2011 after winning 651 games and nine state championships over 34 seasons, was back in the building last Friday for a ceremony celebrating the school's rich history. Bentley drew a standing ovation before the game and watched Harding edge St. Joseph 60-59 on a layup in the final seconds by Marcell Robinson.
On Thursday, the Presidents will face rival Central in what might very well be the last game ever played inside Harding-Miska Gymnasium (which happens to be named after Steve Miska, a former football and basketball coach at the school). At 9-9 on the season, the Presidents will likely open the Division III state tournament on the road.
Matthews called the school's impending closure "bittersweet." Like Bagley, he went on to play in the NBA after a stellar career at Harding in the 1970s.
"I wish I could take some of those days back and live them all over at Harding," Matthews said. "It was a home away from home."
Matthews. who was drafted 14th overall by the Washington Bullets in 1980, remembers when Harding would pump out Division-I athletes with regularity. Players like Bagley (the Big East Player of the Year at Boston College, whom the Cleveland Cavaliers selected 12th overall in the 1982 draft) and Charles Smith (a 10-year NBA veteran) made Harding a destination for college recruiters.
"We were a sports factory up there," Matthews said. "There were a lot of players that came out of that school that people have memories of. … We were a college coach's dream. You could go to school and get five athletes for five different sports that could play Division-I."
The school's address will soon change, but the memories won't.