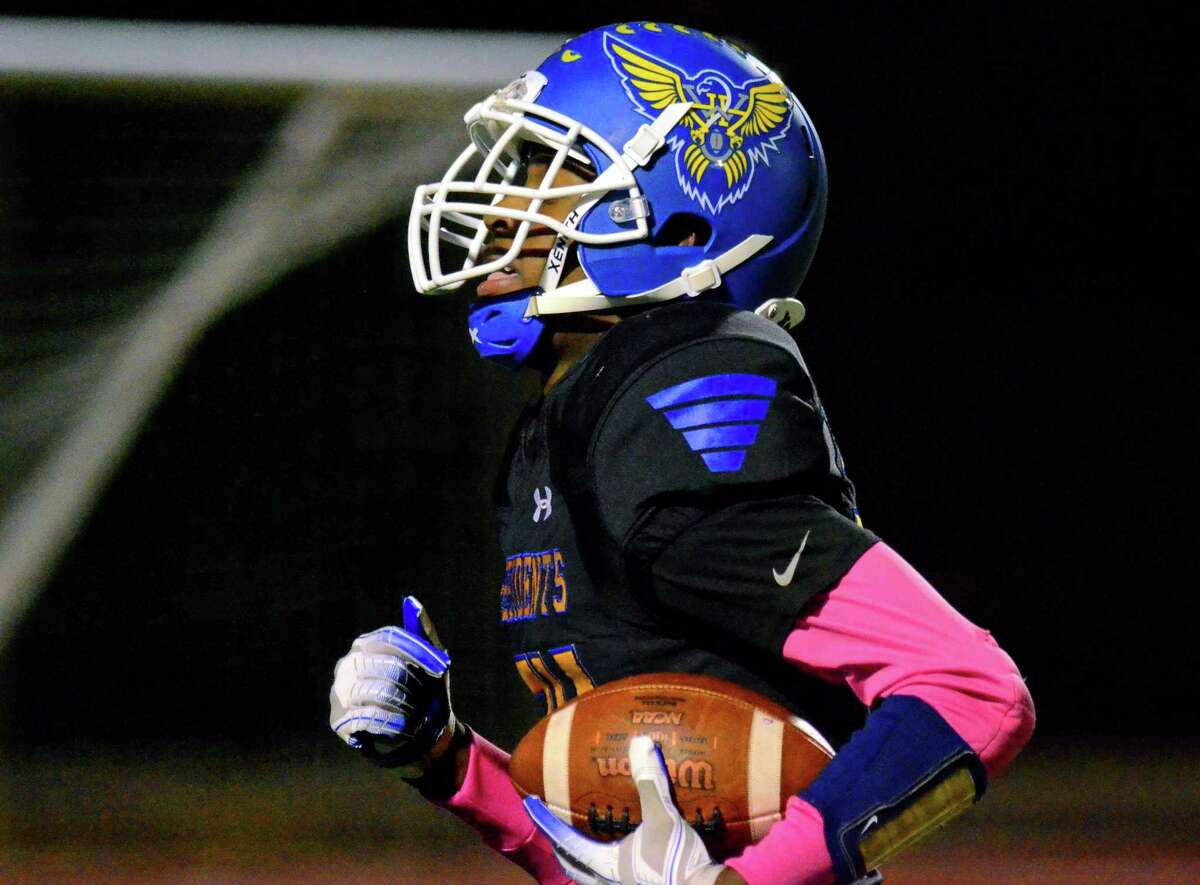 BRIDGEPORT — Kevin Bednarz started out as a guard, is Harding High's placekicker, he could probably easily play nose tackle on defense and runs like a fullback.
Oh yeah, Bednarz is also the Presidents' quarterback.
Friday night at Lewis Field, Bednarz did the usual: just about everything for his team. He ran for two touchdowns, passed for another and had a hand in three two-point conversions as Harding rolled to a 50-18 victory over city rival Bassick.
"Kevin has come a long way," Harding coach Eddie Santiago said. "He might not look like a quarterback, but he's a talented kid. He's the heart of the team, and a real competitor. He's a perfectionist."
That was evident when Bednarz got so upset with himself for missing the extra point after the Presidents (3-4) had taken a 42-6 lead. He was 0 for 3 on extra point attempts Friday, but that's really all he failed to do for his team Friday.
"(Bednarz) is a pretty shifty kid," Bassick coach Bill Mella said. "He ran and threw it well. Tough kid."
Bednarz, who passed for 179 yards and rushed for 125, opened the scoring for the Presidents with a couple of touchdown runs from 10 and four yards in the first four minutes of the game.
"Getting that early, quick lead was huge," Santiago said.
Later in the first half Bednarz connected with Isaiah Hanley on a 25-yard pass play that gave Harding a 28-6 halftime lead. Harding's other score in the first half came on Marcell Robinson's 19-yard interception return.
After falling behind 20-0, Bassick (0-7) was able to get on the board when quarterback Jason Marrero hit Ja'He Brumfield on a 16-yard scoring strike. It was the first score by the Lions against Harding in several years.
"We hadn't scored on them the last few years," Mella said. "So getting 18 points tonight, that's a nice victory for us."
HARDING 50, BASSICK 18
HARDING 20 8 14 8 — 50
BASSICK 0 6 6 6 — 18
H — Kevin Bednarz, 10 run (Bednarz run)
H — Bednarz, 4 run (kick failed)
H — Robinson, 18 interception return (kick failed)
B — Ja'He Brumfield (16 pass from Jason Marrero (pass failed)
H — Isaiah Hanley, 25 pass from Bednarz (Bednarz run)
H — Caleb Lemon, 1 run (Robinson pass from Bednarz)
H — No. 10, 54 interception return (kick failed)
B — Tyquon Newkirk, 31 pass from Marrero (pass failed)
H — Lemon, 51 run (Bednarz run)
B — Julio De Los Santos, 48 pass from Marrero (pass failed)
Records: H 3-4, B 0-7