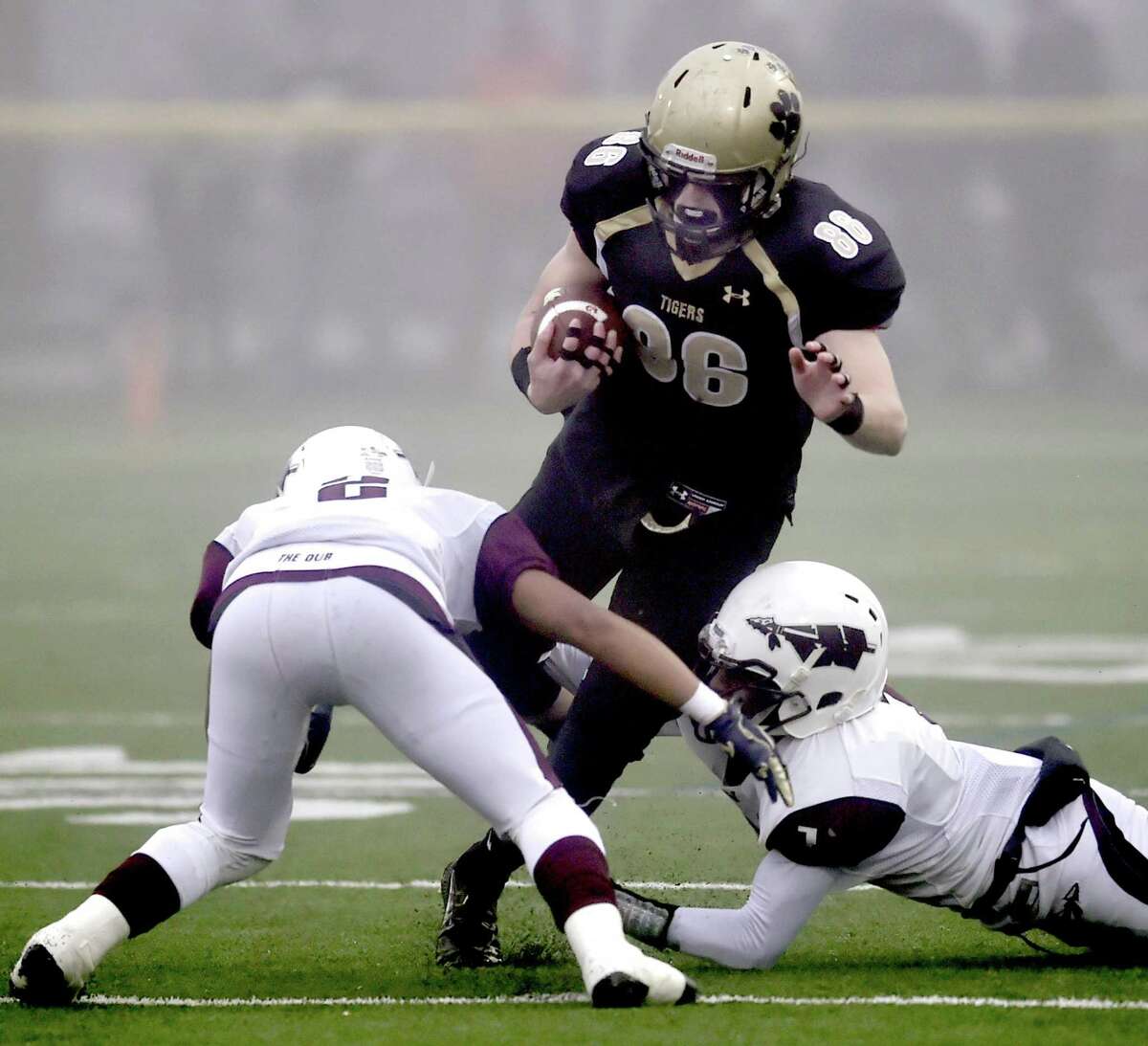 MADISON — It's an interesting and unique balance for the elite football teams to handle: try to enjoy each moment, each accomplishment achieved while still keeping your eye on the ultimate prize.
Hand established long ago that it was among the state's elite teams in 2018, crushing every opponent on its schedule. You probably would have been hard-pressed to find anyone who thought Windsor had a chance to win Sunday afternoon at the Surf Club.
Of course, the fourth-seeded Warriors ended up like the No. 1 seeded Tigers' previous opponents, on the wrong end of a lopsided score. But the moment to enjoy for the Hand seniors in their 49-7 victory was closing out their second straight undefeated season at home.
"We know when we come here, we have the best fans," Hand senior Ian Butler said. "Our fans will always be into it. We always seem to love playing here and play better here."
Said Hand coach Dave Mastroianni: "We said to them all year, 'Go 1-0 until they tell you to stop playing football.' And so every week we were presented a new challenge. … We wanted to make sure we went 7-0 here. Playing for Hand High School and playing at the Surf Club, there is something special about it."
Those seniors remember what it was like two years ago, finishing 2-8 and longtime coach Steve Filippone retiring after a long, successful tenure. Mastroianni succeeded Filippone and Hand rebounded with a Class L state championship last season.
Now only No. 7 Maloney stands in the way of a perfect season for the Tigers (12-0). The Spartans will be huge underdogs heading into Saturday's L final at a site and time to be determined.
"We want to put ourselves in every conversation that ever needs to be had about anything," Mastroianni said. "This is one of the best Hand teams to come through here, I'll leave it up to you guys (the media) to decide if we are the best team in the state of Connecticut."
McCabe recovers a lateral, next play Phoenix Billings pump fake, finds Ethan Haberman, easily beats the double coverage for a 35-7 Hand lead, not 2 min gone 2nd Q…
… yeeeah. #cthsfb pic.twitter.com/FpdoiVbRDQ

— Sean Patrick Bowley (@SPBowley) December 2, 2018
Interestingly, Hand and Maloney met two weekends ago in the Class L state boys soccer final, won by Hand 1-0, completing a three-peat for Hand. Now the Tigers from the gridiron go for the repeat.
Windsor lost 31-6 in this round last year to Hand. On Sunday, it was 22-0 before 4 minutes elapsed.
"You can't take a break against a team like this if you want to even think about beating them," Windsor coach Rob Fleeting said. "I believe a lot of times they are doing what we ask them to do, but sometimes it's about the Joes, and Hand has a lot of them."
Then Windsor's Gabriel Bryan returned a kickoff 92 yards for the touchdown. And then, the Warriors forced consecutive punts.
But Windsor couldn't make it hurt. The Tigers forced four turnovers in the opening half. Butler returned an interception for a 62-yard touchdown to give Hand a 28-7 lead late in the first quarter.
"He (Windsor quarterback Courtenay Jackson) was looking straight at the receiver the whole time," Butler said. "I saw it and just broke (for the ball). I thought I broke too early and left the ball behind me."
Ian Butler, pick 6 comin your way. 28-7 Hand… 22 ticks left in the FIRST quarter #cthsfb pic.twitter.com/S86JSXNKAk

— Sean Patrick Bowley (@SPBowley) December 2, 2018
Colin McCabe, who finished with a a game-high 112 yards and two touchdowns on 14 carries, hopped on a lateral that went awry for Windsor. Quarterback Phoenix Billings found Ethan Haberman for a 35-yard touchdown on the next play and the rout was on.
"We knew Windsor would probably be the best team we played this year," Billings said. "We came in extremely focused and had one of our best weeks of practice and we came out and put out a great effort today. This was the first time we had a little sloppiness on offense, but I was proud we were able to get through and put up more points."
Billings threw for three touchdowns and added a rushing score.
HAND 49, WINDSOR 7
WINDSOR 7 0 0 0 – 7
HAND 28 14 7 0 – 49
Hand: Phoenix Billings 1 run (Isaiah McNeilly run)
Hand: William Cosgriff 39 pass from Phoenix Billings (Isaiah McNeilly kick)
Hand: Colin McCabe 20 run (Isaiah McNeilly kick)
Windsor: Gabriel Bryan 92 kickoff return (kick)
Hand: Ian Butler 62 interception return (run failed)
Hand: Ethan Haberman 35 pass from Phoenix Billings (Isaiah McNeilly kick)
Hand: Chris Bartosic 3 pass from Phoenix Billings (Isaiah McNeilly kick)
Hand: Colin McCabe 1 run (Isaiah McNeilly kick)
Records: Windsor 8-2; Daniel Hand 11-0