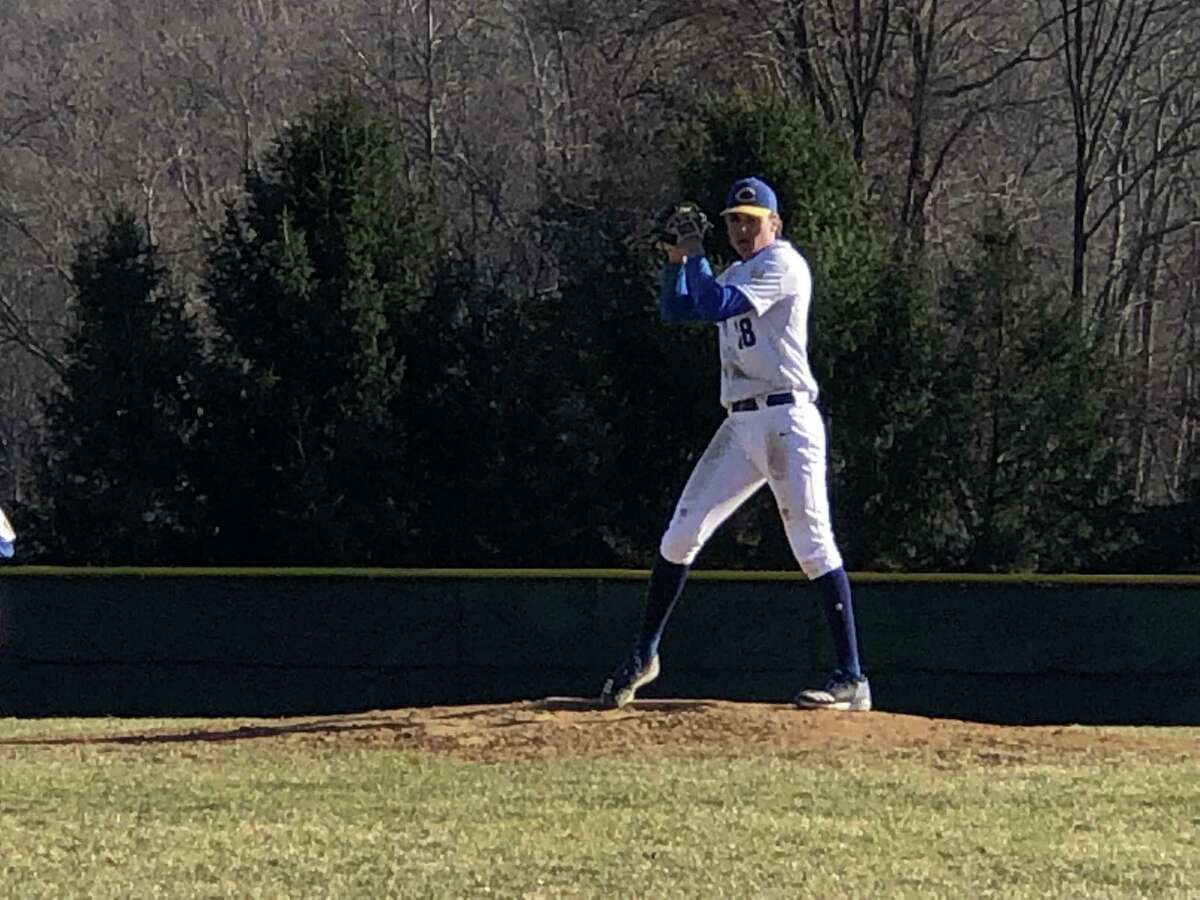 HIGGANUM — Neither coach imagined his season-opener unfolding the way it did Monday, which meant Haddam-Killingworth's Mark Brookes was pleasantly surprised while Old Saybrook's Nick Hahn tried to shake it off.
The young Cougars broke open a one-run game with five runs in the third inning, and sophomore right-hander Christo Garrelts held the veteran Rams to three hits and struck out nine as H-K cruised to a 10-0 Shoreline Conference victory.
"I just wanted to go out there and beat them with my best pitches," Garrelts said. "I know one through nine, they can all hit on that team. I know all of them. I know their nine hitter. He's a great hitter. I don't think he'd be a nine hitter on any other team."
Mike O'Toole doubled home Sam Erskine with none out in the bottom of the fifth to invoke the 10-run rule, ending the game.
Garrelts also drove in three runs to cap an incredibly productive day. Leadoff hitter Luke DiMauro had two hits and scored three times for the Cougars, Griffin Izzo had two hits and scored twice from the No. 9 spot, and Darren Hiller and O'Toole drove in two runs apiece.
"I didn't predict this would happen with the (younger) group I have this year, but they came out of the blocks really well," Brookes said after his 42nd season-opener at the varsity level. "I'm happy, but still, it's only one game. We haven't won anything but one game."
Garrelts allowed only five base runners and just two got into scoring position. The Rams had a hard time catching up to a fastball that ran in on right-handed batters, and the hard sliders that hit the outside corner were poked weakly to the right side.
"Oh my gosh, he looked the best I've ever seen him," said Erskine, his catcher. "He put a lot of work in in the offseason — he jumped four miles an hour (with the fastball). He's locating all his pitches, throwing them all for strikes. He makes my job really easy back there. I love catching him."
Brookes said he was eager to see if Garrelts, who was 5-1 as a freshman on a senior-heavy 2018 team, could follow up his effective outing in a scrimmage game against Middletown last week.
"Again, he's a sophomore, so we're just not sure what's going to happen," Brookes said. "Can he do it again? And he did it again. We're happy with it. His fastball had a lot of life on it. His curveball had a good hop. He seemed to be able to locate his other pitches."
Garrelts took control early after Old Saybrook's Jaden Rolon hit a wind-aided double over the head of Hiller in left with one out in the first. Rolon advanced to third on a wild pitch, but Jack Colella struck out on an off-speed pitch and Patrick Kelley grounded back to Garrelts, ending the early threat.
"He had his rhythm out there all game. They didn't do anything to rattle him, really," Erskine said. "He was just on his game, hitting his spots. I couldn't have asked for anything better from him today."
In H-K's half of the first, DiMauro scored on a wild pitch for the early lead after reaching on a misplay in right and advancing to second on a wild pitch and to third on a fielder's choice.
The Cougars did not get their first hit until the third, a leadoff single to center by Izzo. From there, they strung together a bunt hit by DiMauro — Izzo came all the way around from second to score — an infield single by Jon Civello and a two-run double by Garrelts.
O'Toole hit a short fly to right that plated Garrelts when the ball fell between outfielder Will Bergeron and second baseman Gabe Kaar. Erskine walked with two outs and ended up scoring on a wild pitch, giving H-K a 6-0 lead after three.
The hit by O'Toole chased senior right-hander Dan Cote, who was charged with all six runs on five hits. The combination of Cote's lack of command — he threw four wild pitches and hit a batter — and his defense misplaying a couple of balls in the decisive third inning, were killers.
"Dan is one of our big guys. He's going to be top-of-our-rotation guy for us all year long," Hahn said. "He's a senior captain and we have all the trust in him in the world. Today, he didn't have his best stuff, but moving forward we expect big things out of him."
Old Saybrook is coming off a 15-win season and quarterfinal appearance in the Class S tournament, so the Rams expect to contend for a Shoreline championship and more this spring.
"We are senior-loaded right now. Seniors and juniors make up 90 percent of our varsity roster," Hahn said. "We expect them to be leaders all year long. Our mindset is day-by-day, take it one game at a time. Last year that was our approach and it served us well. Hopefully it will serve us well again."
The Rams readied for this season by playing five games in Florida in March against New Jersey teams at Disney's Wide World of Sports complex. The Rams' final exhibition was played at the Atlanta Braves' spring training facility. The overall experience — the first of its kind for the program — was valuable as a team-building opportunity, Hahn said.
"Just having the boys around each other was good. They lived with each other for five days," Hahn said. "And it was good to see live pitching and getting live at-bats. They loved it. Hopefully it got us prepared for bigger things to come."