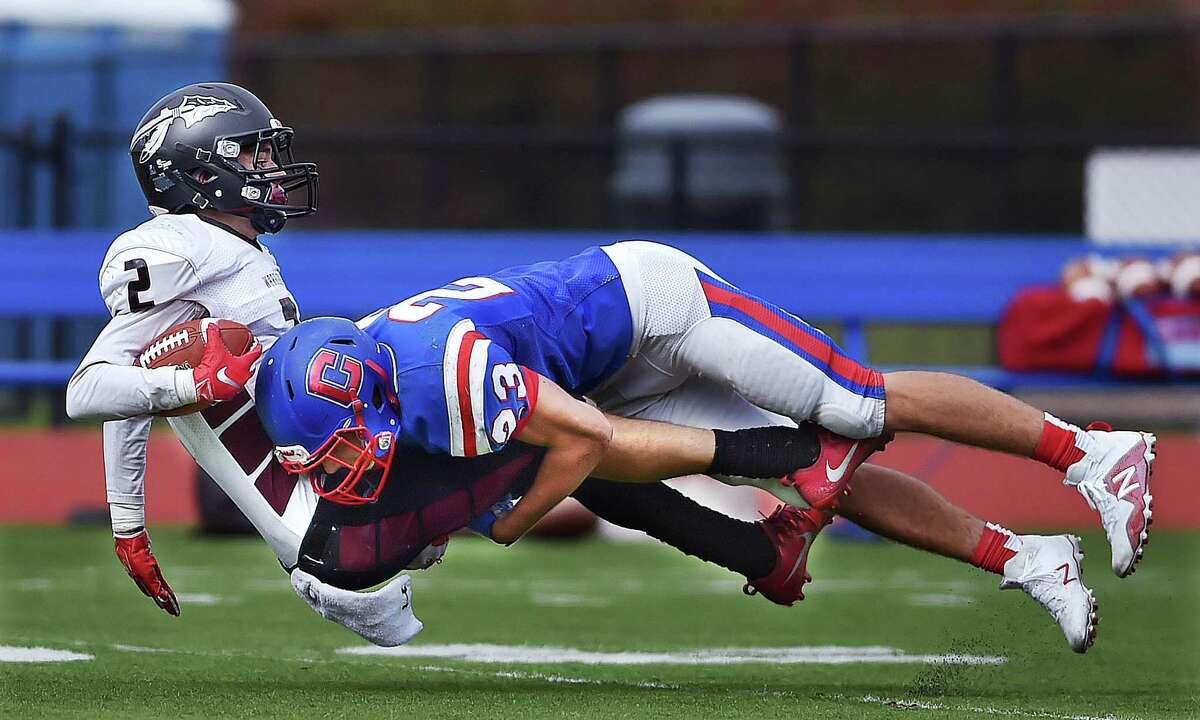 ANSONIA — Jonte Roc rushed for three touchdowns and Jommar Roc rushed for two more scores as O'Brien Tech held on for a 30-26 win over Quinebaug Valley in a CTC football game Saturday afternoon.
The Condors (2-0) led 24-6 at halftime and 30-6 in the third quarter before the Pride (1-2) scored 20 unanswered points.
Jonte Roc had 71 yards rushing in the game, including touchdown runs of 5, 8 and 1 yards, and also completed 6 of 8 passes for 93 yards. Jommar Roc tallied 81 yards rushing, including a pair of 3-yard touchdown runs.
Joshua Dodd passed for 282 yards to lead Quinebaug Valley's offense, including touchdown passes to Jamie Talbot (31 yards), Jeff Reed (26), Adrian Casiano (5) and Sam Williams (40).
O'Brien Tech 30, Quinebaug 26
QUINEBAUG VALLEY6 0 14 6—26
O'BRIEN TECH6 18 6 0—30
QV—Jamie Talbot 31 pass Joshua Dodd (kick failed)
OT—Jommar Roc 3 run (conversion failed)
OT—Jonte Roc 5 run (conversion failed)
OT—Jom. Roc 3 run (conversion failed)
OT—Jon. Roc 8 run (conversion failed)
OT—Jon. Roc 1 run (conversion failed)
QV—Jeff Reed 26 pass Dodd (conversion failed)
QV—Adrian Casiano 5 pass Dodd (Reed run)
QV—Sam Williams 40 pass Dodd (conversion failed)
Records: Quinebaug Valley 1-2, O'Brien Tech 2-0.
Valley Regional/Old Lyme 13, Coginchaug/HR/EH 0
Jason O'Brien caught a touchdown pass and Jaelen Arnum added a scoring run in the third quarter as Valley defeated Coginchaug and improved to 3-0. Coginchaug fell to 1-2.
VALLEY/OL 0 0 13 0 — 13
COGINCHAUG 0 0 0 0 — 0
VROL– Jason O'Brien 2 pass from Ryan Santos (kick)
VROL–Jaelen Arnum 7 run (kick failed)
Valley 3-0, Coginchaug 1-2
Hopkins 25, Riverdale 14
Phil DeLise ran for a touchdown and threw a touchdown pass and Owen Sherman scored two touchdowns to lead the Hopkins football team to a 25-14 prep school win over Riverdale in Riverdale, N.Y. on Saturday.
Sherman scored on a 2-yard touchdown run and he caught a 65-yard touchdown pass from DeLise who completed 6-of-12 passes for 98 yards. Sherman had three receptions for 84 yards for Hopkins (3-0).
Harry Landis led Riverdale (2-6) and completed 9-of-21 passes for 133 yards and a TD.
EAST CATHOLIC 42, BULKLEY/HMTCA/WEAVER 6
East Catholic had 375 in total rushing yards and Matt Byam scored four touchdowns as East Catholic defeated Bulkeley's Co-Op, 42-6. East Catholic also registered six sacks.
EAST 14 14 7 7 — 42
BULKELEY 0 0 0 6 — 6
EC–Matt Byam 4 run (Byam kick)
EC–Byam 11 run (Byam kick)
EC–Noah Vail 15 run (Byam kick)
EC–Byam 21 pass from Harrison Ecklund (Byam kick)
EC–Byam 5 run (Byam kick)
EC–David Lundy 40 run (Byam kick)
BUL–A. Dejesus 45 from Dejesus (kick failed)
East Catholic (2-1), Bulkeley/HMTCA/Weaver (0-3)
Late Friday
Sheehan 62, Guilford 20
Weston Terzi threw four touchdown passes and Aaron Simmons caught two and Jordna Davis caught two to lead the Titans to their SCC win.
Terrence Bogan added a pair of touchdown runs, one on a 70-yard run and another on a 1-yard run, for the Titans. Ethan Vashel led the Indians with a 27 yard touchdown run and he threw a 25-yard touchdown pass to Miles Gabriel.