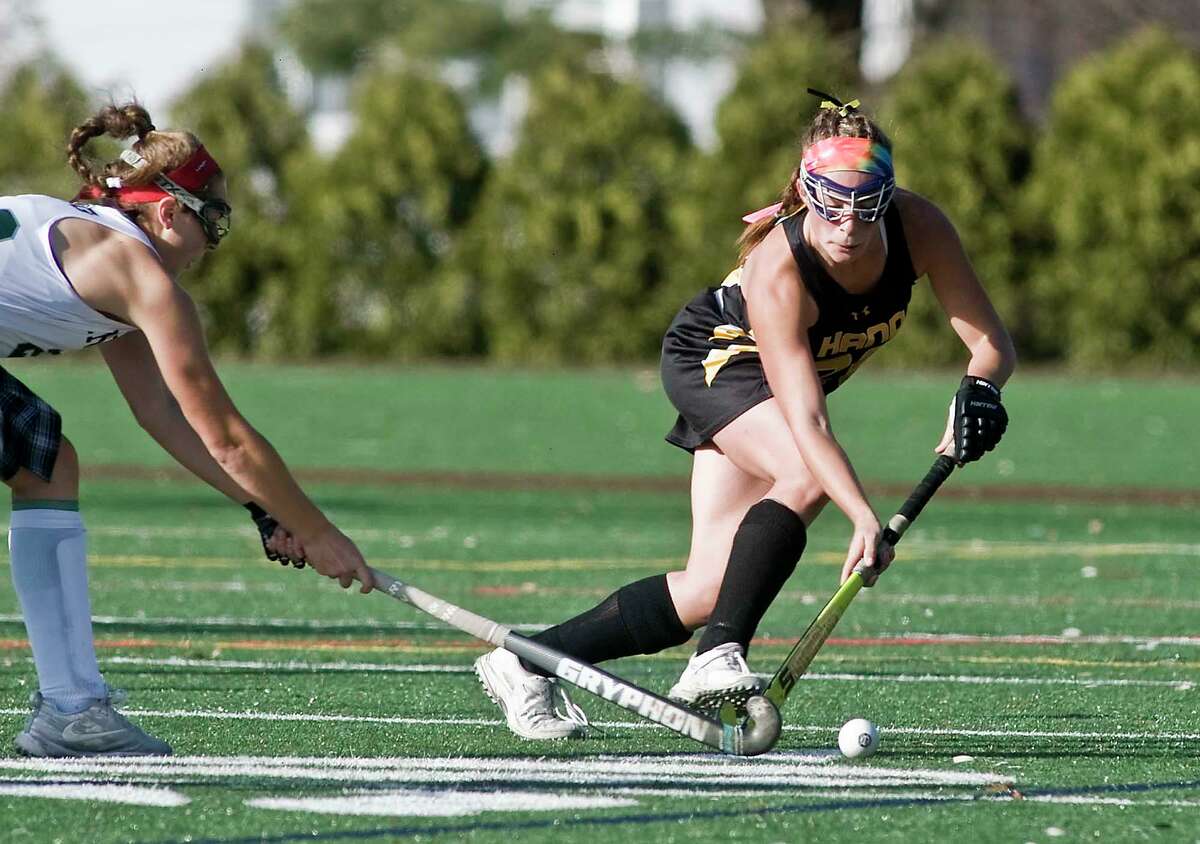 WETHERSFIELD — Guilford field hockey coach Kitty Palmer's basic philosophy against an opponent is to score early and often to set the tone, especially when the competition is a strong rival, like SCC foe Hand on Saturday in the CIAC Class M championship game.
The philosophy was working to perfection when Ava Bucci's goal gave the Indians an early 3-0 lead. Little did Bucci — or Palmer — know at the time that her goal would turn out to be the game-winner as the Tigers mounted a late rally.
Bucci scored the game-winning goal with 10 minutes, 28 seconds left in the first half and Maddie Epke added a goal and two assists to lead No. 1 Guilford to a 3-2 win over No. 7 Hand in front of a packed crowd at Joseph F. Cottone Field for the Indians' second straight Class M title.
Overall it is the fourth state title for Guilford (23-0), which also won Class L titles in 1991 and 1997.
"I knew it would be tough against Hand, it would be the toughest game we played all year," Palmer said. "We came out hard in the first half and scored three early goals. A quick start like that helps a lot. It was a good lead but against Hand I thought we would need more. They just shut us down in the second half.
Guilford's Ava Bucci describes what proved to be the game winning goal in a 3-2 win over Hand in Class M final #ctfh pic.twitter.com/9ruf1a4VVU

— Dan Nowak (@NHRDanNowak) November 23, 2019
"I was concerned when they scored their second goal, even though there were about 40 seconds left in the game. Ava's goal was big for us, a nice tip-in goal off Maddie Epke's shot. I'm very happy right now, to get two straight titles is special."
Guilford wasted little time in getting the game's first goal when Hannah Tillier scored off a pass from Epke with 22:58 to go in the first half. Epke added a goal on a penalty stroke with 15:05 to go in the half for a 2-0 lead. When Bucci tipped in Epke's pass to make it 3-0 with 10:28 left in the half, momentum appeared to be on the side of the Indians.
"It was a crazy, awesome ending against a tough team," Bucci said. "We had a good start to get three quick goals but we lost that momentum, especially in the second half. I'm so happy I was able to score that third goal. Maddie Epke sent the ball across the front of the net. I thought it was going out, but I was able to tip it in for the goal.
As the final seconds wind down in the game, Guilford celebrates beating Hand 3-2 in Class M field hockey championship #ctfh pic.twitter.com/KF5bu8CakB

— Dan Nowak (@NHRDanNowak) November 23, 2019
"This is a great way to end the season."
The Tigers would go on to take advantage of a penalty corner with about five minutes left in the half to change the complexion of the game.
During the penalty corner, Maeve Connors passed to Grace Hartmann who fired a shot between the left post and the outstretched leg of Guilford goalie Julia McDonald. The ball rolled past McDonald to trim the Indians' lead to 3-1 with 4:46 to go in the first half.
In the second half, the Tigers became more aggressive on defense and turned on the offensive pressure, producing six penalty corners. The tough Guilford defense stymied the first five penalty corners. But Amy Woods gave the Hand faithful some hope on the sixth.
Woods took a pass from Shealyn Docker and wristed a shot for a goal to cut the Guilford lead to 3-2 with 43 seconds left. But Guilford controlled the ball in the remaining time left to secure the win and title.
"This was a great field hockey game," Hand coach Sue Leckey said. "I just wish there was more time on the clock after we got our second goal. We just ran out of time. Our goalie did a fantastic job to keep us in the game and made some great saves.
"Before the season I thought we had the potential to get here to the championship game. Our girls worked hard to get here."
Ava Bucci, Guilford: She scored the Indians' third goal that secured the win and the Class M title.
"That Guilford team is so tough, they are clicking on all cylinders."
—Hand coach Sue Leckey
GUILFORD 3, HAND 2
HAND 1 1 —2
GUILFORD 3 0 —3
Scoring: First half — G, Hannah Tillier (Maddie Epke) 22:58; G, Maddie Epke (penalty stroke) 15:05; Ava Bucci (Maddie Epke) 10:28; H, Grace Hartmann (Maeve Connors) 4:46; Second half — H, Amy Woods (Shealyn Docker) :43. Saves: H- Megan Hart 10; G-Julia McDonald 7. Records: Hand 14-7-1; Guilford 23-0.