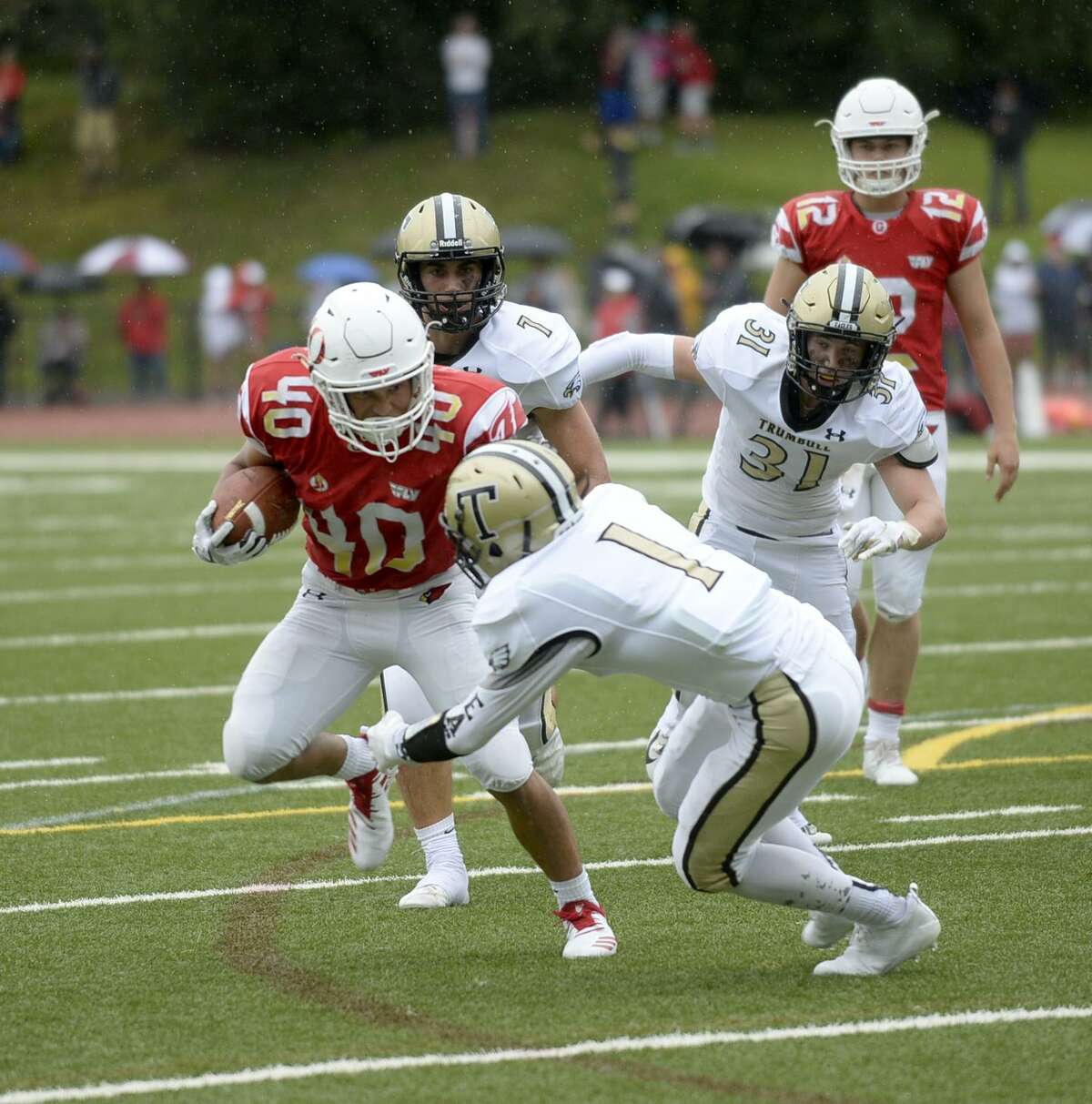 From Greenwich's 2017 season-opener against Trumbull when he totaled 141 receiving yards, to last week's football game against Norwalk, which saw him rush for 117 yards on just 10 carries, Cardinals senior running back Tysen Comizio has been a formidable force out of the backfield.
And plenty of schools at the collegiate level have noticed.
The University of Pennsylvania was one of the schools that saw the qualities Comizio brings to the Cardinals on a daily basis and Comizio made UPenn his choice.
The 5-foot-11, 185-pound Comizio announced future football plans on Twitter Wednesday.
"Extremely excited and proud to announce that I have committed to the University of Pennsylvania," Comizio said.
An All-FCIAC selection as a junior, Comizio rushed for 1,379 yards with 20 touchdowns last fall. He also had 34 receptions for 382 yards and four touchdowns in 2017. Through three games this season, he's rushed for 262 yards on 32 carries (8.2 yards per carry) and has reached the end zone six times.
Cardinals coach John Marinelli saw Comizio burst onto the high school football scene last year, but wasn't surprised by his success.
"I am so happy for him," said Marinelli, whose Cardinals sport a record of 3-0. "Some kids don't put the work in and don't realize what's attainable. Tysen realized what he needed to do and he worked his way to have this opportunity to commit. To me that makes it all the more special."
Marinelli is impressed with how diligent Comizio is in terms of honing his skills and keeping himself well conditioned.
"He's not going to Penn because he is tall or fast, he worked his way into being a tremendous football player," Marinelli said. "That's' what makes it more special."
Comizio is following his father's footsteps to the University of Pennsylvania. Richard Comizio, Tysen's father, starred at running back for Penn from 1984-1986. He rushed for 596 yards his first season on the squad, earning the Ivy League's Rookie of the Year Award. As a junior, Comizio gained 779 yards and was a Second Team All-Ivy League selection. His senior season saw him rush for 1,104 yards, which was then, a program record.
So Tysen Comizio will look to continue a legacy upon his arrival at Penn next fall.
"For him, it was a really tough decision, but UPenn is like his second home," Marinelli said. "It came down to education and their football team has a strong tradition. He is a highly recruitable athlete who was being looked at by a lot of places. All the schools loved how strong he was, how he finishes runs and how he runs through the holes."
In Comizio, Marinelli sees a player with a wide range of skills capable of handling multiple tasks.
"He is patient, quick, athletic and he reads his blocks well," Marinelli said of Comizio. "As a running back in the spread, you have to be a blocker sometimes, which he does well. He is also really strong, it takes more than one guy to knock him down and he usually falls forward for positive yards. With him, it's a combination of everything, he is the full package."
dfierro@greenwichtime.com