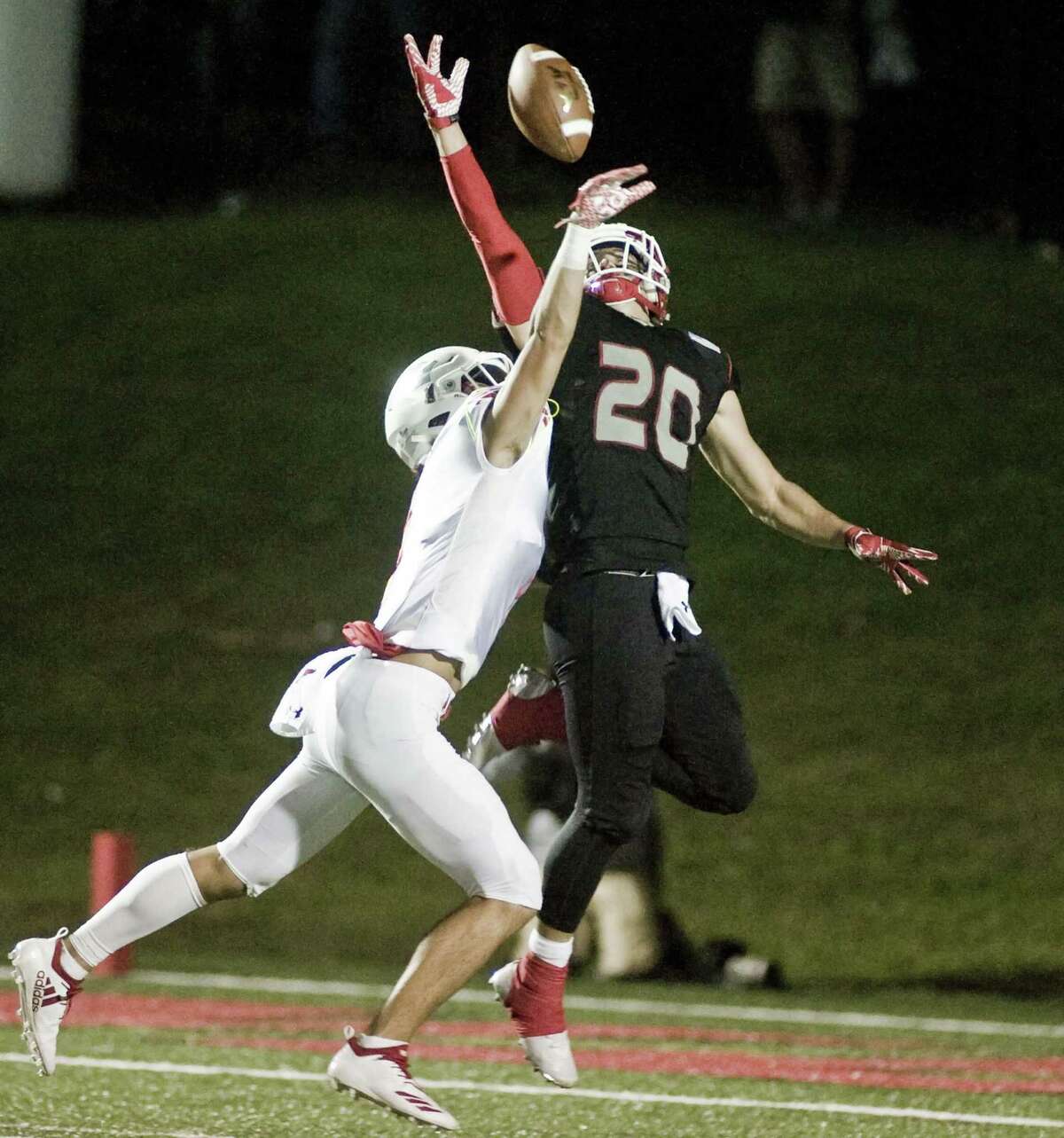 Greenwich hasn't given fans of its football foes much to cheer about and its defense couldn't be happier.
"We don't want people who come to the game to see big plays," Cardinals senior cornerback Hunter Cusimano said. "We want to make it a boring game, without any big pass plays. Fans want to see a high-scoring game with a lot of offense. That's the opposite of what we want."
That's exactly what Greenwich's defense have provided to fans of its opponents — games of few big plays and very little scoring. Entering Saturday's 10 a.m. Class LL championship showdown against rival New Canaan at Boyle Stadium in Stamford, the Cardinals' defense has allowed a mere 54 points in 12 games, including five shutouts.
One of the shutouts occurred when the Cardinals trounced Newtown 50-0 in last week's Class LL semifinals — a game in which the secondary once again excelled. While Greenwich's imposing defensive line and linebackers have garnered a lot of attention this fall, the secondary has quietly and effectively dominated.
Newtown managed only 21 passing yards in the semifinals against Greenwich, which has made a habit of halting each foe's aerial attack.
"We're pass defenders, so our first goal is to not let up any big plays," said the 6-foot-2, 200-pound Cusimano, who is one of the Cards' top cover men. "I'm personally excited about our game against New Canaan, because we know it's going to be a tough challenge for us.
"Defending their offense will be a tough task for us. They have a great quarterback, good receivers and a good offensive line. I think we'll be up to the challenge."
Ryan Raybuck (6-3, 180), also a senior, has provided standout coverage at his cornerback position for the Cardinals (12-0). His five interceptions lead the squad.
"Our two corners are both long and they are both fast and able to press and stay with their guy," said Greenwich coach John Marinelli, whose team is making its second straight appearance in the Class LL final. "They use their length and they are extremely fast."
Marinelli, who will be coaching against his father Lou on Saturday in an unprecedented happening, has seen the duo emerge as one of the state's best cornerback tandems.
"Hunter has done a great job. We have trusted him since Day 1 and he's turned out to be a three-year starter," Marinelli said. "Ryan emerged last year and this year, he has been an incredible force for us. He's a ball-hawk and he has a knack for making plays and knocking down passes. Through the course of a game, he makes it hard for quarterbacks to complete passes."
Senior Charlie Ducret's season ended when he tore his anterior cruciate ligament while defending a screen pass in the Cards' game against Westhill on Oct. 20. Yet Ducret, one of the captains, continues to do his best to contribute to the squad.
"I am trying to be another coach on the sideline," Ducret said. "If I see something during the game, I'll communicate it to the coaches. I try to help out any way I can — it's my duty to help out."
Greenwich's Kobe Comizio with the interception late in fourth. #cthsfb pic.twitter.com/VVDdUCxvxl

— Pete Paguaga (@PetePaguaga) October 26, 2018
Sophomore Hugo Mark stepped in at free safety in Ducret's absence and has adjusted nicely to his increased role.
"It's been an amazing experience to be out there with all the seniors, who have given me a lot of support," Mark said. "They have helped me so much with remembering plays, coverages and getting aligned properly. This season has had a big impact on me."
Greenwich senior strong safety Nick Veronis saw the unit jell quickly.
"At 7-on-7 camps in the offseason and at the Grip It and Rip It camp at New Canaan we showed great communication in defending the passing game," Veronis said. "As soon as we put on our pads at training camp, we defended the run, too. We try to challenge each other, by having little competitions with each other, like seeing who gets more deflections or interceptions."
Though it's impressively passed each test its faced, Greenwich's defense knows New Canaan presents a different challenge. The Rams' offense is headlined by junior Notre Dame-bound quarterback Drew Pyne, who has passed for 2,486 yards and 30 touchdowns.
Pyne's go-to receiver is senior Quintin O'Connell, who has an astounding 84 receptions for 1,117 yards — NFL-like numbers — this season.
"They have the best wide receiver corps in the state, along with ours, so it's going to be a challenging game that's going to come down to how each secondary plays," Raybuck said. "The past two games, we knew if we stopped the run, that wold seal the deal. But Drew Pyne can throw as well as anyone and their passing game is a great challenge for us."
Seizing a 21-0 first-quarter lead, Greenwich topped New Canaan 42-14 in the first father-son Marinelli matchup in September.
"Drew Pyne and Quintin O'Connell are amazing," Veronis said. "We beat them the first time, but we can't put too much into that game. "They've beaten good teams and have had some impressive wins since then, so we know we have to be at our best."
Said John Marinelli: "New Canaan is not the same team we played in September. When you see them on film, the last six weeks, they are playing like the No. 1-team in the state. Their Division I players are playing at a Division I level. There's a reason why Michigan, Rice, Boston College and Notre Dame was visiting New Canaan.
The Rams also know they have to be in top form against the Cardinals' defense/secondary.
"Greenwich's defense is very athletic," said New Canaan coach Lou Marinelli, who has guided the Rams to 12 state titles. "The way they pressure helps their secondary out a bit, but their guys in the back can cover anyway. No one has cracked the code on how to consistently score on them yet."
Cardinals senior defensive end Mozi Bici, who has registered a team-leading 16.5 sacks on the season, said the back end of the defense has helped the linemen register sacks.
"I have the utmost confidence in our secondary," the Brown-bound Bici said. "They stick to their assignments and alignments and they are one of the reasons why we've gotten so many sacks. When the quarterback can't find an open receiver to throw to, it gives us more time to pressure him. It's a collaborative effort. We give the secondary picks, by forcing quarterbacks to throw off his back foot sometimes and they get us sacks."
Raybuck believes the Cardinals will head into Saturday's final with a bit of a different mindset than it had when it faced Darien last season (a 31-22 loss).
"Last year, we were just excited to be there and our motive was to keep up with Darien's tempo," Raybuck said. "This time, we want to be the driving force of the game."