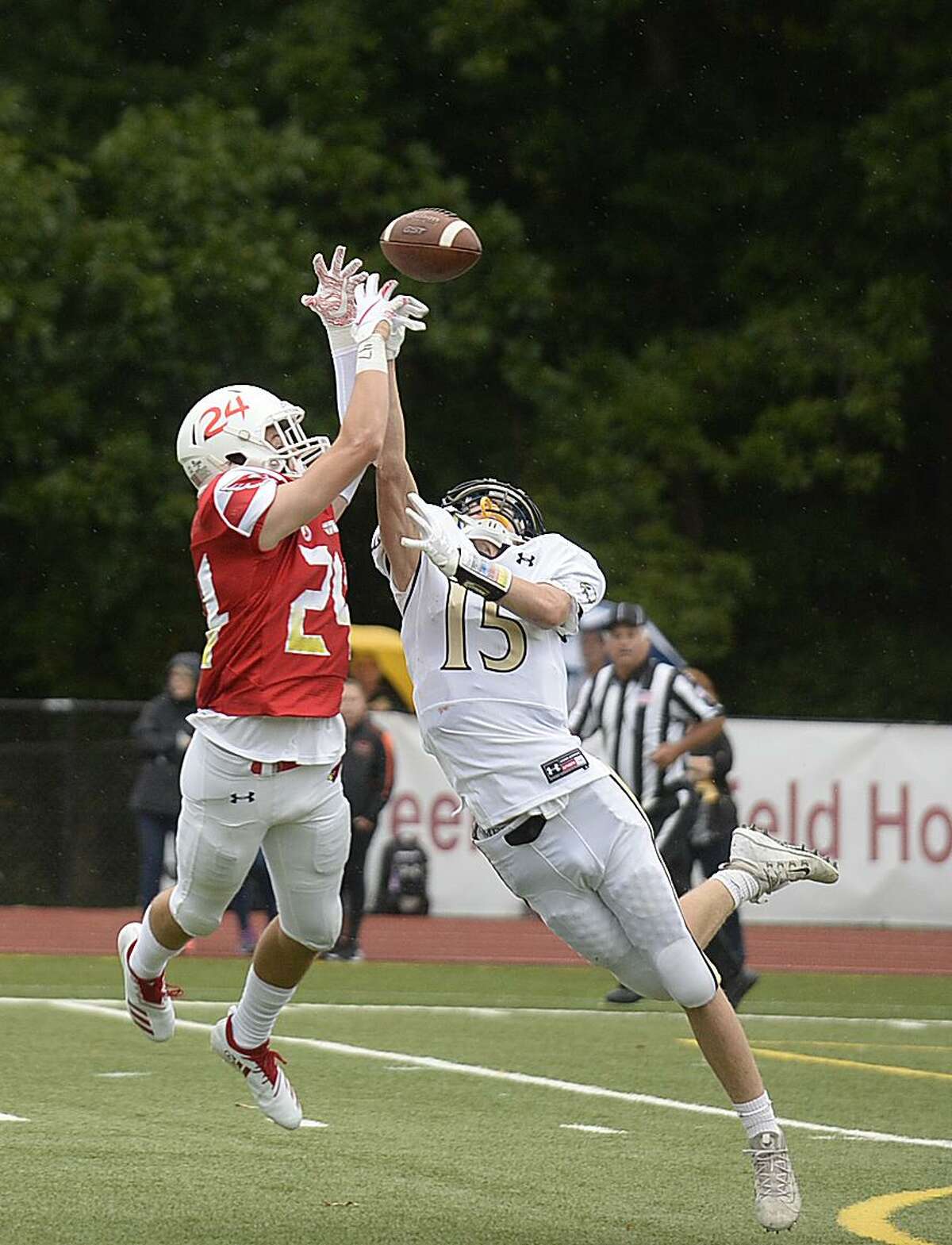 Greenwich's football foes have featured teams with potent running games such as New Britain and Staples and squads with prolific aerial attacks like New Canaan.
And as was the case in their Class LL Tournament quarterfinal-round game against New Britain, the Cardinals' defense aced each offensive test they faced.
The Cardinals' next challenge is Sunday, when 11-0 Newtown comes to town for the 12:30 p.m. Class LL semifinals.
Second-seeded Greenwich (11-0), voted as the No. 1 squad in the state, has yielded just 54 points through 11 games, including four shutouts. In Tuesday's Class LL quarterfinals against New Britain, the Cardinals allowed a touchdown on the Golden Hurricanes' first possession, then didn't allow a point until the fourth quarter.
New Britain quarterback Tahje Yopp completed a 46-yard pass on his team's opening drive, but the Cardinals made it difficult for Yopp to connect with his receivers thereafter. Golden Hurricanes senior running back Shawn Robinson was also held in check by the Cards' swarming defense.
"The score was not indicative of how good a football team they were," Cardinals coach John Marinelli said. "They ran hard and they just kept coming, but our guys stood up to the challenge. From a toughness standpoint, there was a challenge presented to our team. New Britain was extremely athletic and tough, but we never broke, which is what you want from a championship defense."
Against New Britain, Marinelli was especially pleased with the performance of the secondary, which is anchored by seniors Ryan Raybuck, Hunter Cusimano and Nick Veronis.
"Our players in the secondary competed on every ball, no one was ever really wide open," Marinelli said. "This is state championship football season, so what you want to see the secondary compete on every pass and if it's caught, tackle them and that's what they did."
There hasn't been one game so far this season where the opposition's offense has gotten the better of the Cardinals' defense. Greenwich posted a 42-7 win over Trumbull in it's season-opener, then registered shutout victories against Trinity Catholic and Norwalk.
In a showdown at New Canaan, Greenwich seized a 21-point first-quarter lead in a 42-14 win, in a game that saw the defense limit the Rams' big-play offense. The Cardinals went on to shut out Westhill and Staples, while allowing only three points to Ridgefield and seven against Fairfield Ludlowe.
Who will win the Class LL semifinal Newtown at Greenwich?

Greenwich

Newtown

Total Response: 834 Votes

Loading ...
Senior linebacker Jack Feda has registered a team-best 105 tackles, while Larry DeLuca, also a senior linebacker, has totaled 73 tackles for the defense — coordinated by coach Bryan Hocter.
"He (Hocter) has done an incredible job of using our personnel," Marinelli said. "As a young coach, I've learned a lot from him. You have to figure out what you have at each position and he puts our players in great situations and understands what we need to do to help our guys succeed."
Pressuring the quarterback is one of the Cardinals' main defensive strengths. Senior defensive end Mozi Bici has registered a team-leading 14.5 sacks, while junior lineman Eddy Iuteri has sacked the quarterback seven times. Feda and senior defensive end Emilio Camou have 5.5 sacks each, while senior lineman Joe Kraninger has four. Bici has also totaled 61 tackles for Greenwich, which has 44 sacks on the season.
In the secondary, Raybuck leads the way with five interceptions. Feda and senior linebacker Evan Weigold (57 tackles) have picked off three passes apiece. The Cards have also shown a penchant for recovering fumbles — 16 in total this season — with Feda and Veronis recovering three apiece.
Greenwich hopes its defense is dynamic against a Newtown team that's flourished offensively.
"They are big, physical and extremely well-coached," Marinelli said of Newtown. "They are as good as advertised and this is the challenge of the year for us, for sure."
Senior Dan Mason has rushed for 1,299 yards, while reaching the end zone 30 times for the Nighthawks. Quarterback Luke Melillo has 1,474 passing yards with 10 touchdowns, while consistently converting on crucial third-down situations.
"They do a great job of spreading the ball to their receivers," Marinelli said of Newtown's offense. "As an offensive guy, I love their screen game. Their running game is strong, but they do enough with their passing game to keep you off balance — they do a great job of diversifying their offense."
Like its game against New Britain, Greenwich's success on defense will start with containing the run.
"Newtown has a completely different style of running backs than New Britain, so it's a new challenge," Marinelli said. "But it's the same philosophy for us. Hats on the ball and swarm tackle."