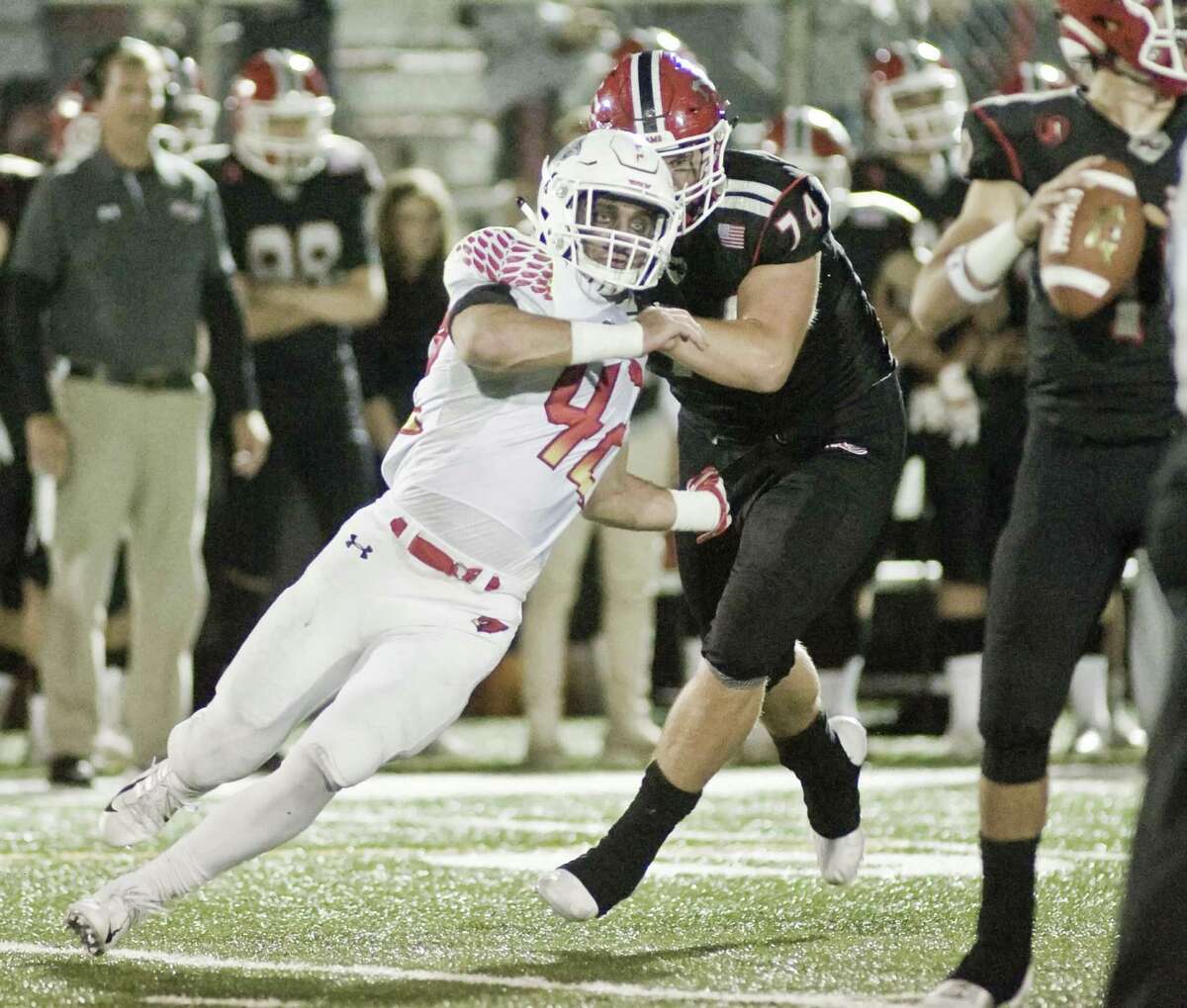 FCIAC quarterbacks are probably glad Greenwich senior Mozi Bici is concluding his high school football career soon, but Ivy League signal callers should beware.
Bici announced on Sunday that he has chosen to take his football skills to Brown University. Greenwich's 6-foot-2, 200-pound defensive end was recruited as a linebacker by Brown, which was one of numerous schools that were interested in Bici.
"I wanted to go to Brown as soon as I received their offer over the summer," Bici said. "It's one of the greatest schools in the country and Ivy League football has so much tradition."
Bici, one of the Cardinals' captains, is the second player on the squad to commit to an Ivy League School. Earlier this fall, senior running back/captain Tysen Comizio announced that he is heading to the University of Pennsylvania next fall. Comizio and Bici will line up against each other on the football field next fall.
"I have always been on Tysen's side, except for one year in the GYFL, when we played against each other," Bici said. "Now pretty soon, we are going to be playing against each other, with is pretty crazy. I'm excited to hit that guy," Bici laughed.
After registering 14 sacks as a junior in 2017, Bici has tallied 13 sacks this season for the 9-0 Cardinals, who host Staples on Thanksgiving at 10 a.m. Besides the high sack total, Bici's tackling skills are strong, as is his ability to help anchor the Cardinals' defense.
"I am so proud of all Mozi for all he has accomplished and I'm looking forward to all he is going to accomplish at an Ivy League school," GHS coach John Marinelli said. "His leadership qualities not only on the field, but off the field are terrific. It's sad to think I have only a few weeks left of coaching him. I know the Ivy League is excited to have him."
It didn't take long for Marinelli to recognize Bici's talent and the intangibiles he brings to the field.
"Right from the start, I could see he had a great nose for the ball," Marinelli said. "Whether it would at linebacker, wide receiver or on the defensive line. Last year, we put him at defensive end in a scrimmage and he made a bunch of tackles, so we decided to keep him right there. We could also use him at a number of different positions. We have packages to play him at linebacker, safety, or we could use him at receiver."
Bici certainly won't forget Greenwich's game against Ridgefield on Nov. 2. The Cardinals' matchup against the Tigers saw Bici sack Ridgefield quarterback Owen Matthews eight times — a state record for sacks by a player in one game.
"I didn't know I broke the record until after the game," Bici said. "That was awesome, hopefully, no one breaks it for a long time."
The Cardinals' sack leader credits fellow defensive linemen Emilio Camou, Joe Kraninger and Eddy Iuteri (to name a few) for helping create havoc in the opposition's backfield.
"The way they open stats and run stunts leaves me in one-on-one situations sometimes and creates open space for me to get to the quarterback," Bici said.
Most high school players today have heard of Hall of Fame linebacker Lawrence Taylor, but haven't seen much video of his dominant player days for the New York Giants. Bici, however is familiar with Taylor's glory days with the Giants.
"Even though I'm a Patriots fan, the player I love to watch is Lawrence Taylor," Bici said. "His speed, his strength and how he came off the ball was so impressive. I love watching his highlights before games."
He also spends plenty of time studying video of Greenwich's games and its opponents.
"One of the things that separates good players from great players is film study," Marinelli said. "He is the master of his craft and if you watch him, he is effective against the run and the pass, because of all the time he spends studying film and opponent's tendencies."
Bici is looking forward to the daily challenges that come with competing at the collegiate level.
"I am excited about the grind of playing Division I football," he said. "I've heard from all the kids who have gone on to play in college how exciting the experience is."
When Bici joined the Cardinals varsity squad as a sophomore in 2016, the team finished 7-4. Last fall, GHS went 12-1, advancing to the championship game of the Class LL Tournament, where they lost to Darien. So far this season, Greenwich has displayed the dominance of a team determined to win a state title.
The Brown-bound Bici hopes to be a part of the Bears' improvement in the coming seasons.
"I like starting at the bottom and working my way up to the top," Bici said. "Playing here at Greenwich, we made our way up every season. Our freshman team was 4-5, then our varsity team improved each season and now, hopefully, we'll win it all.
The Brown football program is determined to make their way back. Their coaches and players are determined to win an Ivy League championship."
Indeed, Bici is appreciative of the Cardinals' coaching staff, which has helped prepare him to compete at the Division I level.
"I share a great bond with all of our coaches," Bici said. "They want what's best for us and they care more about us than they do themselves. When we lost to Darien in the state championship last year, I felt so bad for our coaches, because of the amount of time and effort they put in to prepare us to play in that game."
Though pleased Bici is headed to Brown next fall, Marinelli will miss seeing his star defensive end in action at Cardinal Stadium in 2019.
"Mozi is a very good person, a very good football and is one of the class acts I have ever coached," Marinelli said. "When he walks in the room, he puts a smile on everyone's face."