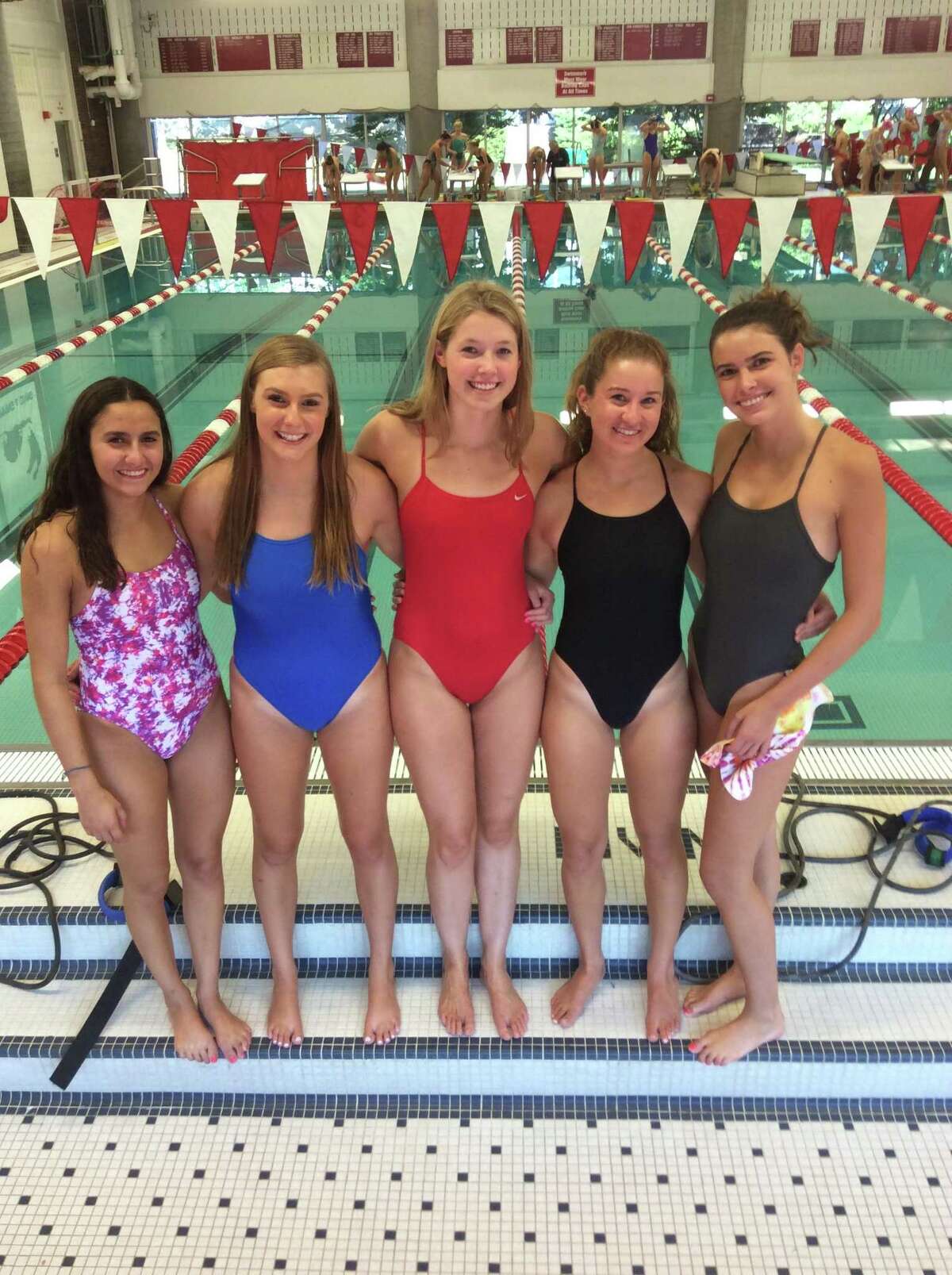 Entering its 2017 season with two straight State Open titles and seven consecutive Class LL championships to its ledger, the Greenwich High School girls swimming team added the FCIAC crown to the mix last fall.
Put them all together and the Cardinals accomplished the triple crown last season, winning the State Open, Class LL and FCIAC titles in convincing fashion.
Now the Cardinals are relying on five experienced seniors and one sensational sophomore to help continue their reign of supremacy in the conference and state.
"It was a special group last year," said GHS coach Lorrie Hokayem, who is starting her fifth season at the helm. "Everything came together and we received contributions from all four classes. It was a really exciting year."
The Cardinals won the State Open title in 2017 with a team score of 633.5 team points and amassed 828 en route to claiming their eighth straight Class LL championship.
"Last season, we really wanted to win the triple crown, so it was so rewarding to accomplish that goal," Cardinals senior tri-captain Kortney Knudsen said. "As a captain this year, my goal is to be a leader and role model for the younger swimmers on the team. As a freshman on the team a few years ago, it was cool to watch all the seniors lead the team and it's heartwarming to see these freshmen look up to me and our seniors."
Also captaining the team are seniors Allison Brea and Emily Warner.
"We have a lot of good freshman on the team, a lot of good freshman divers," Brea said. "I am excited to see how they do this season and how much they help the team."
Knudsen gives the Cardinals depth and experience in the distance freestyle events (200, 500 freestyle), while the versatile Brea will also test her skills in several events (freestroke, breaststroke, individual medley.
Sophomore Meghan Lynch showed she was the state's premier swimmer during her freshman campaign. She won the State Open title in the 100-yard butterfly in a state record time of 53.88 seconds and captured the first-place medal in the 200 individual medley in a state record showing of 2:00.08.
"Meghan Lynch had an outstanding freshman year," Hokayem said. "Her hard work shows in the success she's had over the years, including the nationals over the summer. She is a phenomenal talent, who works hard in practice every day and she is a really good leader as well."
Lynch, who placed first in the 200 IM and 100 breaststroke the Class LL Championships, is well-versed in every event.
"Being a part of this team, which won the triple crown last year was a great experience as a freshman," Lynch said. "We were all so close as a team and having teammates cheering for me motivated me to go faster."
Indeed, Lynch will be tough to top in the breaststroke and individual medley and any event she swims.
"I think I'll probably swim most of the events, I might try to do some sprint freestyle events to get some times," Lynch said. "We have good swimmers in every event, which makes our team strong."
Warner is one of the Cards' best freestyle swimmers. She will be relied upon to spark the squad in the 100 and 200 freestyle events.
"The thing I really like about our team through the years is everyone is supportive of each other," Warner said. "We train really hard in practice, cheer each other on and have fun."
Last season saw the Cardinals receive a huge boost from its divers in the postseason meets and throughout the season. Maddie Muldoon, a senior, finished sixth at the State Open finals a year ago, while teammate Casey Kirsch, a junior, was seventh and senior Annabelle Pollack was 11th. Greenwich's Katie Russack, who graduated was third overall.
Russack, Pollack and Muldoon had a 1-2-3 finish at the Class LL Championships, while Kirsch was fifth.
"We have five outstanding seniors that are all returning Warner, Brea and Knudsen are really strong seniors," Hokayem said. "Our two senior divers have been outstanding since freshman year. Pollack and Muldoon have consistently placed among the top five at the FCIAC, Class LL and Open championships."
Said Pollack: "I am really working hard to do my best at FCIACs, LLs and states. Our divers are like a family, we enjoy coming here and competing together each day."
While Pollack executes her twisting dives well, Muldoon flourishes at her inward dives from the pike position — dives that have earned her high scores in the past.
"We have a lot of new freshman divers, so I am excited to see how they do and how they will work with our team," Muldoon said. "I want to try to get my personal-best scores at the championship meets, but really, we are all in this together, so I'll try to score as high as I can to help the team."
Greenwich opens its season on the road against Danbury on Sept. 12.
AT THE HELM: Hokayem is in her fifth season as coach of the Cardinals. The team has won the Class LL in each one of her seasons at the helm and a pair of State Open titles. Sergey Meshcherskiy returns as the diving coach.
"He has helped me grow a lot as a diver," Muldoon said of Mescherskiy. "He's helped me the degree of difficulty on my dives and with my training."
WHO'S GONE?: Kelly Montesi, who captured the State Open title in the 100 butterfly and 100 backstroke, graduated and is swimming at Villanova. Lillian Clisham (second State Open 200 freestyle, fourth 500 freestyle) is on the swim team at Georgetown. Julia Merrill (fifth State Open last year in 100 freestyle) is competing at Amherst College and Russack is diving at Boston University.
Some other graduates from last season's championship squad were Louisa Bjerke (2017 State Open qualifier 50, 100 freestyle), Ainsleigh Winget (2017 State Open qualifier 100 backstroke), Kate Ennis (200 individual medley State Open) and Taylor Schinto (50 freestyle qualifier State Open).
WHO'S BACK?: Lynch can score points for the Cardinals at every event and is primed to build upon her brilliant freshman campaign.
"I hope to swim more best times and hopefully break more school records, that would be cool," Lynch said.
Warner (sixth in 200 freestyle at 2017 Class LL finals and ninth in State Open) and Brea (State Open qualifier 500 freestyle) provide depth in the freestyle events, while Pollack, Muldoon and Kirsch give the team experience on the 1-meter diving board. Sophomore Samantha Ennis qualified for the State Open and Class LL meets in the 200 IM and 100 backstroke and Knudsen (State Open qualifier in 200, 500 freestyle) is a key returner in the distance events.
"We're looking to do well at the big meets like the State Open, but we hope to place really well at FCIACs as well," Brea said.
NEWCOMERS: Sophomore Hannah Seward, freshman Caterina Li and freshman Isabella Malchow are among the first year varsity swimmers that could make an impact.
CAPTAIN'S COMMENT: "We have a lot of depth, which makes us the strong team we are," Knudsen said. "That's one of the things that's really going to help us throughout the season."
COACH'S COMMENT: "We like to set the bar high and approach each day of practice with those goals and expectations in mind," Hokayem said.
SHOWDOWNS: Sept. 15, home Glastonbury; Sept. 17, home, Wilton; Sept. 26, home, Ridgefield; Oct. 5, away, Staples; Oct. 12, away, New Canaan.
dfierro@greenwichtime.com