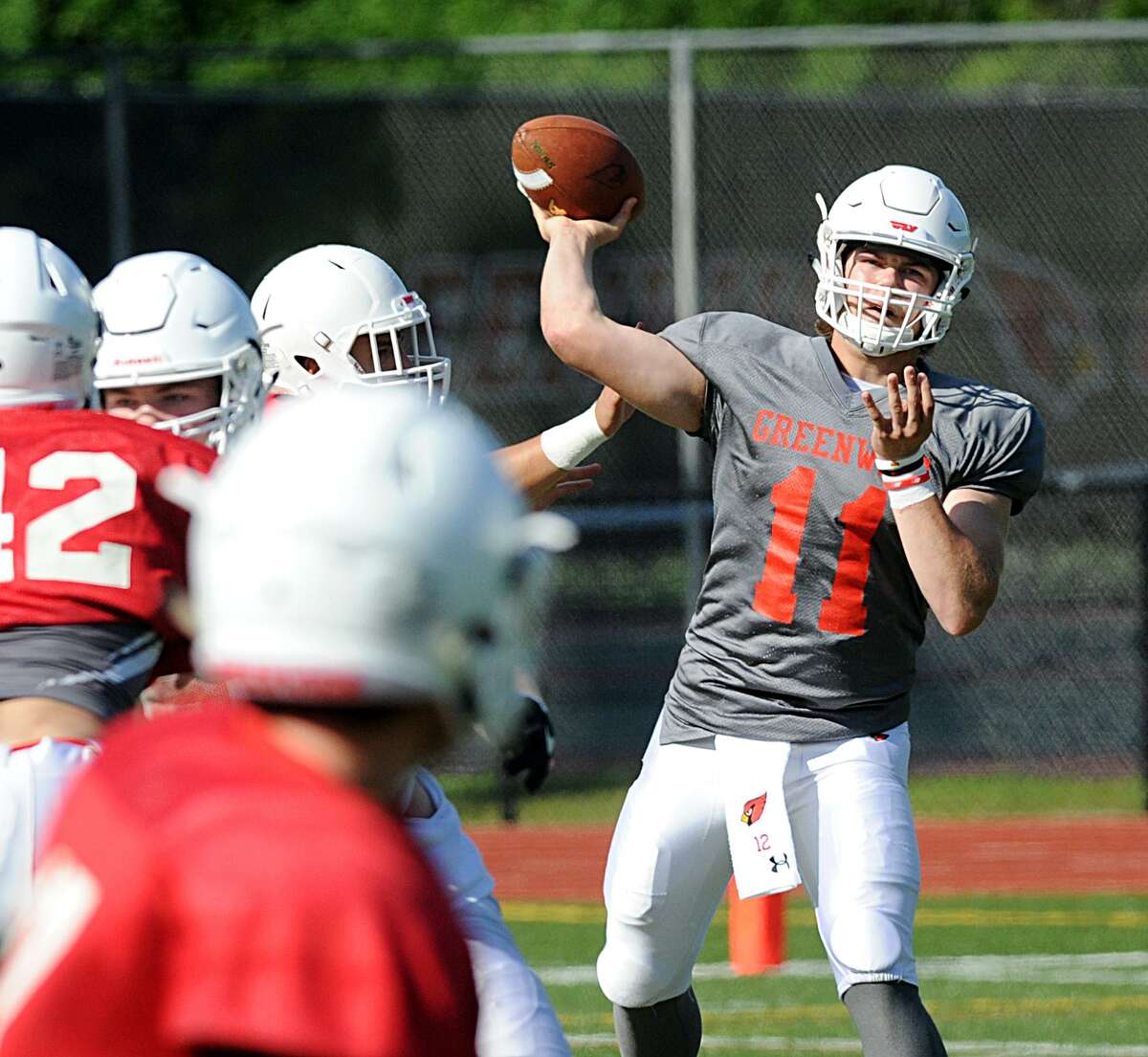 GREENWICH — Though the first practice in August is a day all football coaches and players eagerly anticipate, spring football is also cause for excitement.
For high school teams that offer spring football such as Greenwich, the annual spring time scrimmage serves as a perfect prelude to the fall season. The Cardinals continue their spring tradition when it held its annual Red-White scrimmage on Saturday.
Coming off a 12-1 season in which it advanced to the championship game of the CIAC Class LL Tournament, the Cardinals will show a glimpse of their 2018 team and continue to sharpen their skills during Saturday's intrasquad matchup.
"Spring football is a tremendous asset to the sport," said GHS coach John Marinelli, who will begin his fourth season at the helm this fall. "When it comes to football, you really need to work on the fundamentals and skills of the game and that comes through holding practices and playing for a couple of weeks during the spring."
Marinelli said the time spent on the field during the spring gives his squad a head start going into the summer months.
"Each year, depending on what year a player is in, physical maturity and emotional maturity takes place and the only way to help a player mature is repetition and to create good habits during practice," Marinelli said. "During this time, we are able to get our younger players involved in a daily practice setting."
It also a time to learn how the team reacts to certain situations on the field.
"This helps us know what we need to work on during the summer, going into the fall and we learn a little bit about the personality of our team," Marinelli said. "It's the first time we see the captains as leaders and we get to see how the sophomores react to adversity. After playing on the freshman team last season, they are now the low men on the totem pole."
Rising seniors Gavin Muir (quarterback), Mozi Bici (linebacker/defensive line), Tysen Comizio (running back), Jack Feda (linebacker) and Charlie Ducret (defensive back/receiver) will each serve as captains of the Cardinals this fall.
"They have the largest program in the state to look over, so we are putting a lot on their shoulders," Marinelli said of the captain's responsibilities. "I expect them to do more off the field than on the field, like rallying the troops and doing the right thing."
Muir, who excelled in his first season as the team's starting quarterback last fall, passing for a program-best 2,902 yards and 33 touchdowns, leads a group of nine quarterbacks, some of whom saw action in Saturday's Red-White game.
"Gavin is the only senior in that group and he learned from the Connor Langan, the quarterback ahead of him a couple of years ago," Marinelli said. "Now it's Gavin's turn to help the next guys behind him improve. He has stepped into that role nicely and has done a nice job. The backup quarterback spot looks to be a fun competition. We have a good group of young guys with strong arms."
Comizio, who rushed for 1,379 yards and 20 touchdowns in 2017, heads a backfield that includes rising senior Jack Warren and rising junior Spencer Hartley, both of whom averaged more than five yards per carry last season. Lance Large, who had 42 receptions for 421 yards and five touchdowns and Stephen Bennett (25 catches, 326 yards) should head the receiving corps as seniors this coming season.
Bici, Emilio Camou and Joe Kraninger are among the returning players on Greenwich's trademark stingy defense. With another Red-White game in the books, Greenwich turns its attention to the fall.
"Spring football is great, but we just can't take the next six to eight weeks off," Marinelli said. "Our players have to continue to prepare to be bigger faster and stronger."
Greenwich opens its 2018 season on Sept. 8 against visiting Trumbull.
dfierro
@greenwichtime.com