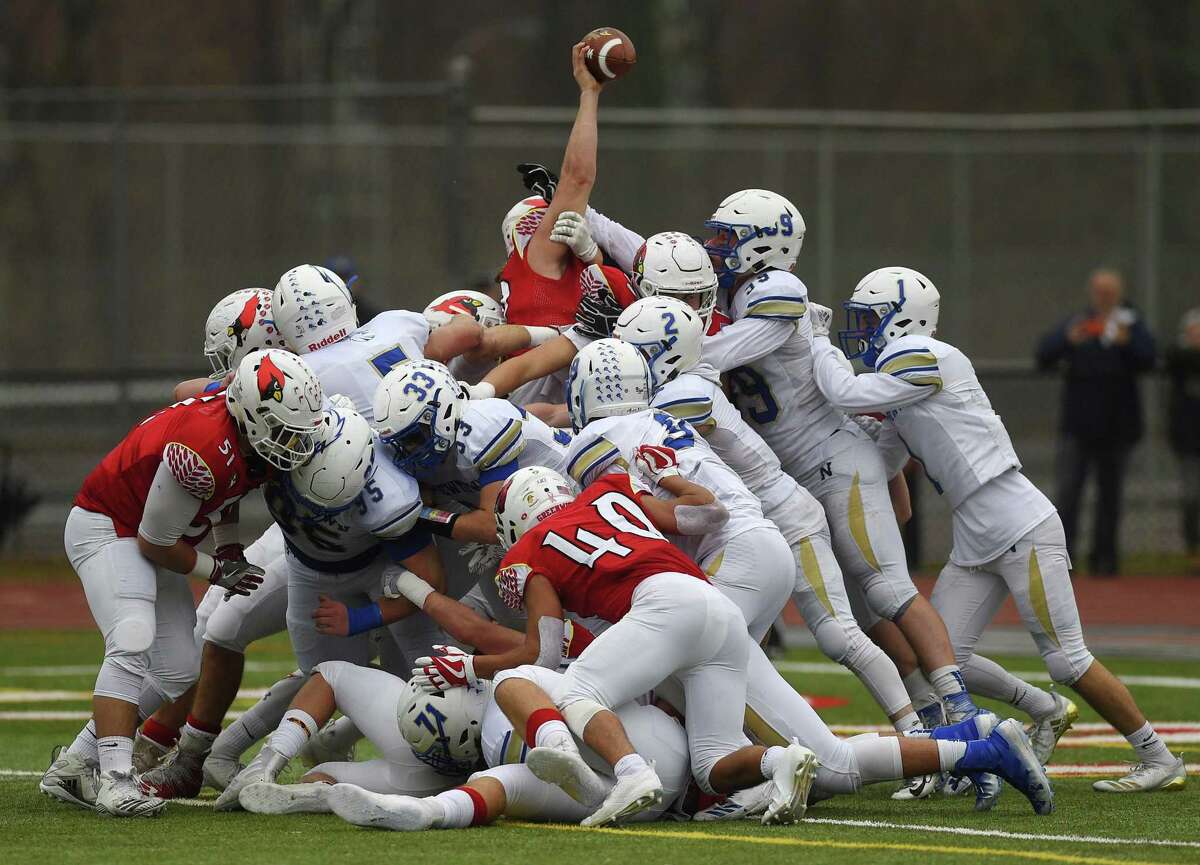 GREENWICH — Greenwich was a frequent visitor to Newtown's end of the field, in fact, Nighthawks' territory seemed like it was the Cardinals' second home during Sunday's Class LL Tournament football semifinals.
Possession after possession, Greenwich started with the ball in Newtown territory in the first half, with almost all of its drives ending at a familiar destination — the end zone.
Now the Cardinals are off to their final destination.
A relentless defense and an effective offense catapulted second-seeded Greenwich into the Class LL final for the second straight season. Capitalizing on short fields, Gavin Muir threw three first-half touchdown passes for second-seeded Greenwich, which routed third-seeded Newtown, 50-0, in the Class LL semifinals at Cardinal Stadium.
Greenwich, which lost in the championship game of the CIAC Class LL playoffs last season, plays eighth-seeded New Canaan in Saturday's final in a father-vs.-son coaching matchup.
"Son vs. father for the state championship is a good football story," GHS coach John Marinelli said of facing his father Lou in Saturday's final. "I never really thought about it happening until now. I am the biggest New Canaan fan when I am not playing them and it should be a great game. It's a game with two programs doing it the right way. It's going to be a tough week for my family, but a great week for football."
Known for its balanced offense, behind senior running back Dan Mason and senior quarterback Luke Melillo, the Nighthawks were unable to consistently move the ball against the Cardinals, who recorded their fifth shutout of the season. Greenwich sacked Melillo seven times and Newtown did not get the ball past midfield the entire game.
"The mentality that we had was this was our last game and we wanted to leave on a good note," said Cardinals defensive end Emilio Camou, who registered three sacks and ventured into the Nighthawks' backfield throughout. "We wanted to leave everything out there today. Our team hasn't lost on this field in three years, so we wanted to continue that tradition."
While 12-0 Greenwich, the No. 1-team in the GameTimeCT poll plays for its first state title since 2007 on Saturday, Newtown finished its season with a record of 11-1.
"We're disappointed, it obviously didn't turn out the way we hoped it would," Newtown coach Bobby Pattison said. "We didn't play well. As far as the season goes, our goal was to win a state title and we came up short. That doesn't take away from the great season we had — winning a conference championship and having an undefeated regular season."
Senior wide receiver Lance Large caught two scoring strikes from Muir, sophomore wide A.J. Barber had a touchdown reception and senior Tysen Comizio ran for a score for the Cardinals.
"Credit to our defense and special teams, they are always so consistent," said Muir, who completed 15 of 22 passes for 208 yards. "Getting those short fields that our defense and special teams provided us with helps our offense. It helps us with our play-calling."
QUICK START
Greenwich's opening possession of the game stalled at the Newtown 44-yard line courtesy of junior James Knox's sack. The Nighthawks then went three-and-out on their first drive, which senior Eddy Iuteri stopped with a sack. Then the Cards' offense got rolling.
Large's 15-yard punt return set GHS up at the Newtown 29-yard line and five plays later, Muir threw a 15-yard touchdown pass to Large, who stretched to make the reception in the corner of the end zone at the 5:21 mark of the first quarter.
The Nighthawks' second drive ended with Camou, linebacker Jack Feda and defensive end Mozi Bici sacking Melillo at the visitors' 7-yard line. Greenwich took over at the Newtown 34 following a punt and Muir capped a 6-play drive by following the block of center Jack McBreairty with a 1-yard sneak up the middle, making it 14-0 at the 11:55 mark of the second quarter. Comzio keyed the scoring march with a 19-yard run.
"I feel like everyone forgot about Tysen Comizio, not much was said about him," Marinelli said. "He came to play and ran the ball effectively and efficiently."
Junior Ben Howarth kicked a 35-yard field goal and Barber got behind the secondary and scored on a 57-yard touchdown pass from Muir, putting Greenwich on top, 23-0 with 5:28 to go in the second quarter. Large snared a 12-yard pass in the end zone from Muir and Howarth added a second field goal in the first half, putting Newtown in a 33-0 hole.
"We got the ball to several different receivers, which is kind of our fortay," Muir said. "Spreading the ball around helps us, because they can't double one guy."
SHUTOUT SPECIALISTS
The Cardinals showed how they have allowed only 54 points in 12 games, shutting down yet another high-powered offense. Melillo was pressured most of the game and Mason had little room to run, with Greenwich's defensive line and linebackers penetrating into the backfield. Greenwich's secondary (Hunter Cusimano, Ryan Raybuck, Nick Veronis) also covered well throughout.
"We're an intense defense and we play physical," Iuteri said. "We try to intimidate the offense and it shows. Our mission is to win the next game and that's what we're focusing on right now."
Said Bici: "Defensively, we practiced exactly what we need to practice all week and we knew exactly what they wanted to do. Our mission was to get back to the championship game and we are not surprised that we made it there again. New Canaan put up the most points against us (14), so we are expecting them to be a really hard opponent."
EXTRA POINTS
Junior linebacker Evan Weigold intercepted a Melillo pass in the second half. … Comizio scored on a 3-yard run and William Montesi scored on a 10-yard screen pass in the third quarter. .. Mason had 28 yards rushing for Newtown, while Melillo was held to 26 yards passing. Greenwich's ground game was led by Comizio (15 carries, 70 yards). … Barber caught five passes for 81 yards, while Stephen Bennett had four receptions for 55 yards and Garrett Murphy had 31 receiving yards for GHS.
"On offense, we were moving backwards in the first half, then punting from our own 10, giving them a short field and the capitalized," Pattison. "The defense can only do so much."
QUOTABLE
"I am so proud of these kids for what they have done and the effort they have shown," Marinelli said. "They got themselves back to the finals and now they have one more week of hard work in order to try to capture their ultimate goal. They have shown great mental fortitude for 12 months."
GREENWICH 50, NEWTOWN 0
NEWTOWN 0 0 0 0 — 0
GREENWICH 7 26 14 3 — 50
G — Lance Large 15 pass from Muir (Toby Turnbull kick)
G — Gavin Muir 1 run (Turnbull kick)
G — Ben Howarth 35 field goal
G — A.J. Barber 57 pass from Muir (run failed)
G — Large 12 pass from Muir (Turnbull kick)
G — Howarth 20 field goal
G — Tysen Comizio 3 run (Turnbull kick)
G — William Montesi 10 pass from James Rinello (Turnbull kick)
G — Turnbull 23 field goal
Records: Newtown 11-1; Greenwich 12-0