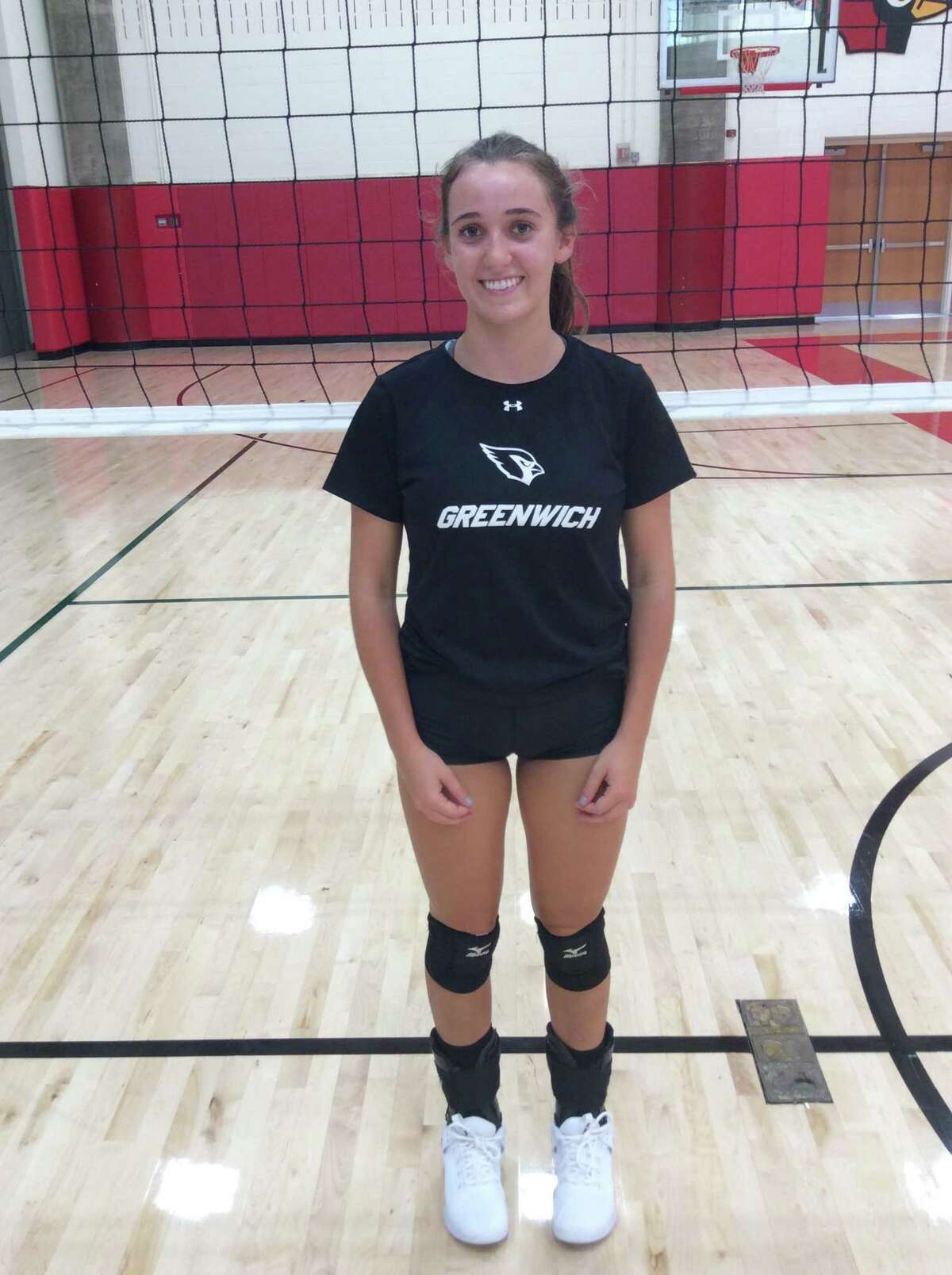 As Greenwich High School girls volleyball coach Steve Lapham noted while reflecting on his 2017 squad, it was a good team that became great as the season progressed.
And such greatness resulted in a pair of championships.
Winning the FCIAC Tournament title was just the beginning of the fun for the Cardinals, who proceeded to roll past their competition en route to capturing the CIAC Class LL Tournament championship.
Starting the season at 4-4, Greenwich registered 20 consecutive victories, the last of which marked the first time in program history the team had garnered both the FCIAC and state titles in the same season.
"It was one of the most satisfying seasons," Lapham said. "We started out 4-4 and were still putting positions together, then to see them have their best matches on the biggest stages in the FCIAC and state finals — it was great to see. They played lights out volleyball. It was a journey in which the girls got better every day. They became great, because they played together and worked really hard."
Graduation claimed seven players from last season's team history-making squad, yet numerous athletes on this year's team experienced the memorable 2017 campaign.
Senior captain/libero Carolina Lew is one of the players who knows what it's like to compete in pressure-packed playoff matchups.
"Being a part of last year's team was an incredible feeling," said Lew, a defensive specialist. "We just all wanted to win so much. Winning the FCIAC championship first and then states was awesome."
Senior setter Amelia Bartlett, also a key contributor on last season's squad, is impressed with what she's seen from her teammates as they prepare for the upcoming season.
"We have a lot of young players, a lot of potential and I think if we fill our potential we can win FCIACs and states again," Bartlett said. "I feel confident about our team. Last year's team was amazing, we had a lot of chemistry. This team also has a lot of positive energy."
Greenwich, which posted a 3-1 win over Amity in the championship game of the Class LL Tournament, begins its season Friday against visiting St. Joseph — a match that is a rematch of last year's FCIAC final won by the Cards, 3-0.
Sophomore Lilly Saleeby, an outside hitter, felt the team's determination last year early in the season.
"Last year, since we didn't have our gym, (gymnasium was being renovated) we knew we needed to work extra hard that was our motivation," Saleeby said. "This year, we need to dig down deep and find that motivation to work extra hard in practice. I'm really confident in our team, we have a lot of young players with a lot of potential and we're polishing it up before we get our games going."
AT THE HELM: Lapham is beginning his 26th season as coach of the Cardinals, who have enjoyed a wealth of success during his tenure. Last season's squad notched a 25-18, 26-28, 25-6, 25-18 victory over Amity for the Class LL title. They also defeated St. Joseph, 25-20, 25-15, 25-18, in the FCIAC final.
During his esteemed coaching career, Lapham hascompiled a record of 389-151.
WHO'S GONE?: Nicole Wood, an All-FCIAC First Team selection in 2017, graduated, as did Adnerys De Jesus (All-FCIAC Second Team selection) and Tara Ford (All-FCIAC Third Team honors). Maggy Egan, Erika Hauschild, Lucia Pisciottano and Mia Binuya also graduated.
WHO'S BACK?: Lew is looking forward to filling her role as the Cards' libero.
"As a libero, I have to be one of the most confident passers on the team," Lew said. "I think that if I help lead the team in calling for every single ball we can be successful."
Bartlett, who played in the middle a year ago, begins her first season as a setter.
"It's very different, I get to connect with the passers and hitters," Bartlett said. "I have to be the eyes of the team out there."
Saleeby is back at outside hitter and senior Gia Alfano returns on the outside. Sisters Jackie and Julia Feehan are seniors on the squad, along with Erin O'Keefe (middle hitter).
WATCH OUT FOR: Freshman outside hitters Adele Sotgiu and Heather Zitzman have performed well in the preseason. Sophomore Caroline Mrdelja brings depth to the middle.
Thalia Doundoulakis, Gia Rose Greschner are sophomores, Ciara Munnelly is a junior and Ella Morrissey is a senior.
"Last year's experience could pay off, a lot of our players are used to a high level of competition," Lapham said.
STRENGTHS: "We have some good hitters," Lapham said. "Right now, we're working on our passing and serving."
Last season's success gave the Cards plenty of confidence.
CAPTAIN'S COMMENT: "It's difficult winning championships like we did last year," Lew said. "But we are definitely hoping if we put in enough effort and stay disciplined we can get far in the competition."
FUN FRESHMAN YEAR: Saleeby was a freshman on the 2017 team that quickly filled a role.
"Last year was a great start to my four years already," Saleeby said. "I have been exposed at such a high level at the young age I am."
DID YOU KNOW?: Ford is playing volleyball at Keynon College and Wood is on the volleyball team at Bryn Mawr.
dfierro@greenwichtime.com