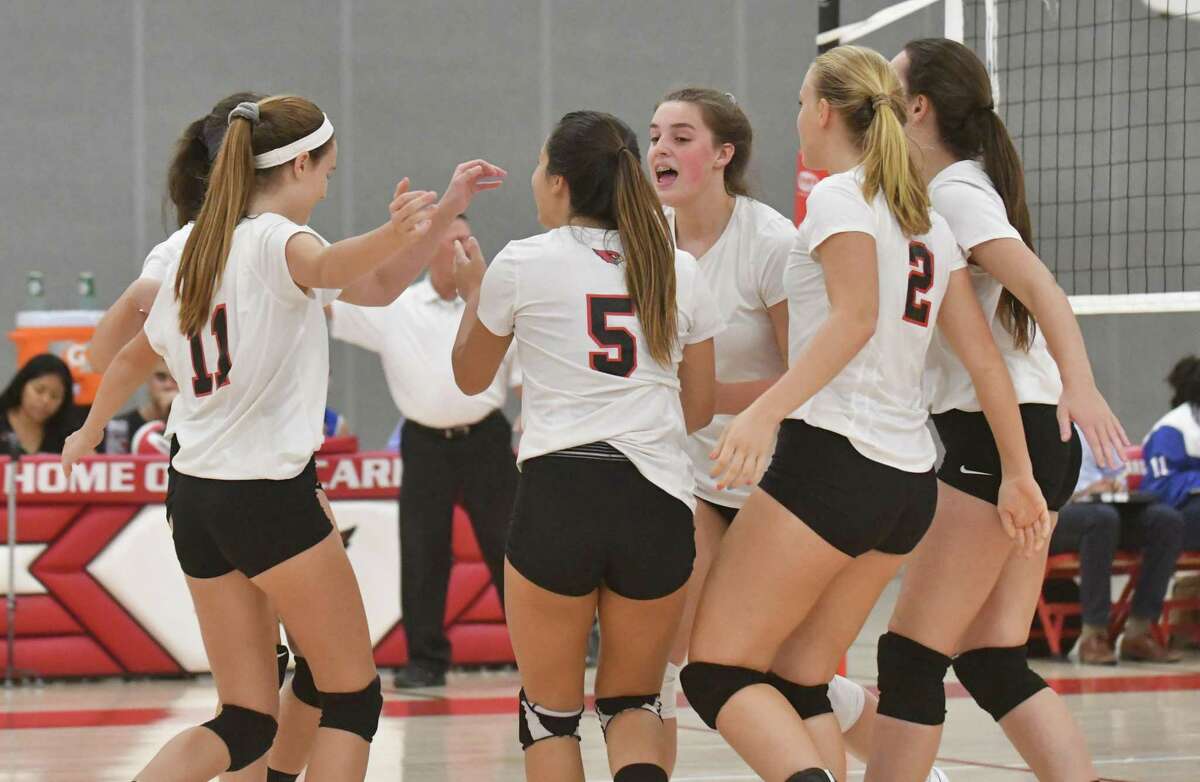 GREENWICH — For the second time in as many matches, the Greenwich High School volleyball team was embroiled in a tense, five-set thriller and like its tight win against Darien on Friday, it received the result it was hoping for.
After losing to Fairfield Ludlowe on the road in four sets on Thursday, the Cardinals evened the score Monday, doing so in dramatic fashion.
Rallying back from deficits throughout the FCIAC matchup, Greenwich won its second straight match, registering an exciting 3-2 win over visiting Ludlowe.
The loss was the first for the Falcons, who led 1-0 after the first game and 2-1 after the third. Greenwich upped its record to 5-2 with the tough victory.
"Our confidence was low in the first set, but I'm proud of our players for keeping their heads," said GHS coach Steve Lapham, whose squad won the FCIAC and Class LL titles last fall. "We got it back in the second set, but lost the third. Our team had a good finish though — that's a very good Ludlowe team we played."
Sophomore Lilly Saleeby registered 18 kills, freshman Adele Sotgiu had nine kills and senior Erin O'Keefe tallied six kills for the Cardinals, who won the match by game scores of 18-25, 25-20, 23-25, 25-19, 15-8.
Sotgiu helped anchor the Cardinals' defensive play with 16 digs, while Gia Alfano had six kills and Caroline Mrdelja tallied four kills for the victors.
"Considering we lost to them in four sets on Thursday, this is a really big win for our team," Saleeby said. "It's a good feeling to win this match. Our communication was really good and our energy was high."
Ludlowe (6-1) was paced by outside hitter's Jo Blanco's nine kills and nine digs and middle blocker Amy Lumaj's eight kills and five blocks.
"We made some unforced errors and we had some non-aggressive play, which is atypical of our team," Falcons coach Meghan Skelton said. "We had too many unforced errors against a very good team. In the fifth set, we missed three serves, which we can't have happen."
A kill by Saleeby gave Greenwich a 9-4 lead in the fifth and deciding set. After Ludlowe closed to within 9-6, Sotgiu registered a kill and Alfano served up an ace, making it 11-6. Later in the set, Saleeby pounded down a kill to close out the match.
Alina Fingold, who played just her third match with the team, notched 13 service points, while Heather Zitzman had 11 service points for the Cardinals, who played solid defense throughout. Senior setter Amelia Bartlett helped spark the Cardinals' offense.
"Losing to them last week 100 percent gave us motivation for this match," Bartlett said. "One of the biggest aspects of us losing to them last time was that they outworked us and we never want to get outworked. We didn't execute our game plan, so that was a motivating factor. We've played a lot of five set matches against the tough teams, which shows that we don't give up."
Trailing 2-1, Greenwich forced a fifth game by closing strong in the fourth game. The squads traded points during the first part of the set, as the score was knotted at 10-10, but Greenwich won two straight points to take the advantage for good at 12-10.
Later in the set, an ace by Bartlett put the home team ahead, 21-13.
In the third set, a perfectly placed kill by Lumaj gave the Falcons a 25-23 win, making it 2-1.
"What we take from this loss is that we have to keep building each other up when we get down during a match," Blanco said. "We have to be responsible for what we are doing out there."
Sotgiu, Alfano, Saleeby and O'Keefe had timely kills throughout for the Cards, while Fingold served well.
"I am excited to be on the varsity team, it's just my third match here," Fingold said. "Correcting our mistakes from the past helped us win the fifth set and the match."
Also leading Ludlowe, which held the momentum in the opening set, was setter Lilly Traum (30 assists, 6 digs, nine service points, five aces).
"This is our first loss of the season and hopefully, this is the last time this will happen," Blanco said. "We have to learn from this and not let it stop us from accomplishing our goals."