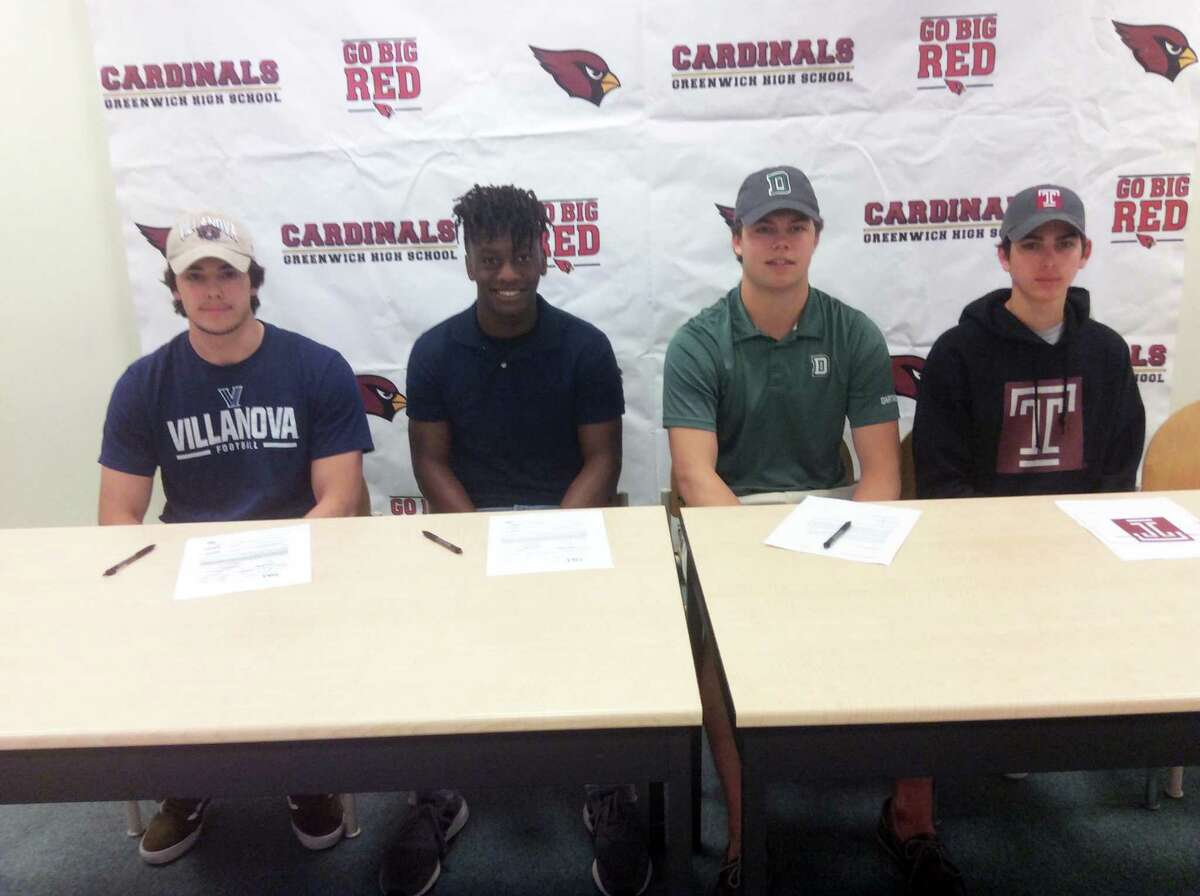 With their time at Greenwich High School rapidly coming to a close, student-athletes Gavin Muir, Ryan Raybuck Hunter Cusimano and Summit Gillespie are ready for the next chapter in their respective athletic careers.
Yet Greenwich High provided a few moments for each of them to look back and reflect on their athletic accomplishments at a special ceremony honoring the senior, college-bound athletes at the school's Media Center.
Muir, Cusimano and Raybuck were members of the Cardinals' football team which captured the CIAC Class LL championship in the fall and also claimed the FCIAC title.
A two-year starting quarterback for Greenwich, Muir will continue his football career at Dartmouth College — a decision he announced in January. Helping lead Greenwich to a record of 13-0 in 2018 and 12-1 (2017) Muir's name is all over Greenwich's all-time passing records.
Congratulations to our Spring Signees, Hunter Cusimano to Villanova, Ryan Raybuck to Saint Anselm, and Gavin Muir to Dartmouth! #cthsfb #flybigred pic.twitter.com/FI9BaUF9bY

— Greenwich Football (@GreenwichFB) April 23, 2019
The recipient of the 2018 Walter Camp Player of the Year award, Muir holds team passing records for most career yards (5767 yards), most passing yards in one game (387), most pass attempts in a career (683), pass attempts one season (325) and career completions (401). He also holds the career mark in touchdown passes (71), scoring strikes in one season (33) and TD passes in one game (7).
"Dartmouth is a really good fit for me," Muir said. "I visited early this year and I liked all the coaches and connected with a couple of the players that I met. It's a really good fit for me academically, socially and athletically. Everyone at Dartmouth is so proud of the school. There is a great sense of community, no matter if you're an athlete or not."
Last season saw Dartmouth register a record of 9-1, good for second place in the Ivy League. Muir credits Cardinals coach John Marinelli for his development as a quarterback and helping him get recognized by colleges.
"As a freshman, I wasn't really thinking about college football as a possibility," he said. "But coach Marinelli made that a possibility by believing in me. He and his staff kept working with me. The amount of work he puts in makes games easier than you would think. I am really thankful for all of his help over the years."
Indeed, Marinelli is aware how much Muir meant to the program.
"Gavin means a lot to me, what he's been able to do for the entire program is impressive," Marinelli said. "His leadership, his on-the-field performance and what he does off the field — he will definitely be missed. Off the field, he goes down to the Boys and Girls Club of Greenwich and volunteers his time — he is such a great role model."
Raybuck, who emerged as a lock-down cornerback the past two seasons for Greenwich's football team, intercepted a team-high six passes for the championship 2018 squad. He will take his football skills to St. Anselm College in the fall.
"I can't wait for Aug. 11, that's when I have to report to St. Anselm, so I'm really excited," Raybuck said. "I've already built relationships with a few of the players who have been recruited. We all seem to have the same mentality and I'm really excited about that."
Raybuck appreciates his time on the GHS football team.
"It's been top-notch, top of the line, with so much support from coaches," Raybuck said. "When I was an underclassman I got a lot of support from the upperclassmen. When I got older, we had a brotherhood mentality on the team — we worked together as one to accomplish a common goal. We trained together in the offseason and kept things alive through the summer and preseason. Everyone bought into the process, which was great."
Cusimano, also a standout cornerback/defensive back for the Cardinals, will play football at Villanova University this fall.
"The program at Villanova has been very strong," Cusimano said. "They have a few national championships and I'm looking to come in and get on the field as soon as possible. It's always beeen a school I wanted to go to, whether or not football was involved. When the opportunity came to play there, I thought it was a good chance for me and a perfect fit."
Like his teammates, Cusimano relished his role on the title-winning team.
"It was an amazing experience overall," Cusimano said. "Going undefeated my senior year and winning the state championship was the perfect way to cap it off. I learned the value of hard work here and that work ethic and attitude will help me in the future."
Greenwich allowed only 54 points in 13 games during its 2018 season and their defensive backfield, led by Cusimano and Raybuck, were a big reason why.
"Hunter and Ryan alone made quarterbacks have to throw hash-to-hash," Marinelli said. "It was a coach's luxury, a coach's dream come true. They were long, physical, athletic and very rarely did they get beat. They were a major reason why we were able to do so much on defense."
Gillespie, who competes for Greenwich Crew, will join the crew team at Temple University. He's been a successful coxswain for Greenwich Crew for several years.
"This is my third year on the team and it's been amazing," Gillespie said. "The people you meet and all the friends you get from competing is great."
He enjoys his role as coxswain.
"It takes a lot more strategy," Gillespie said. "You need to know when to do something at the right time. It's always fun racing with new guys and going as hard as you can."