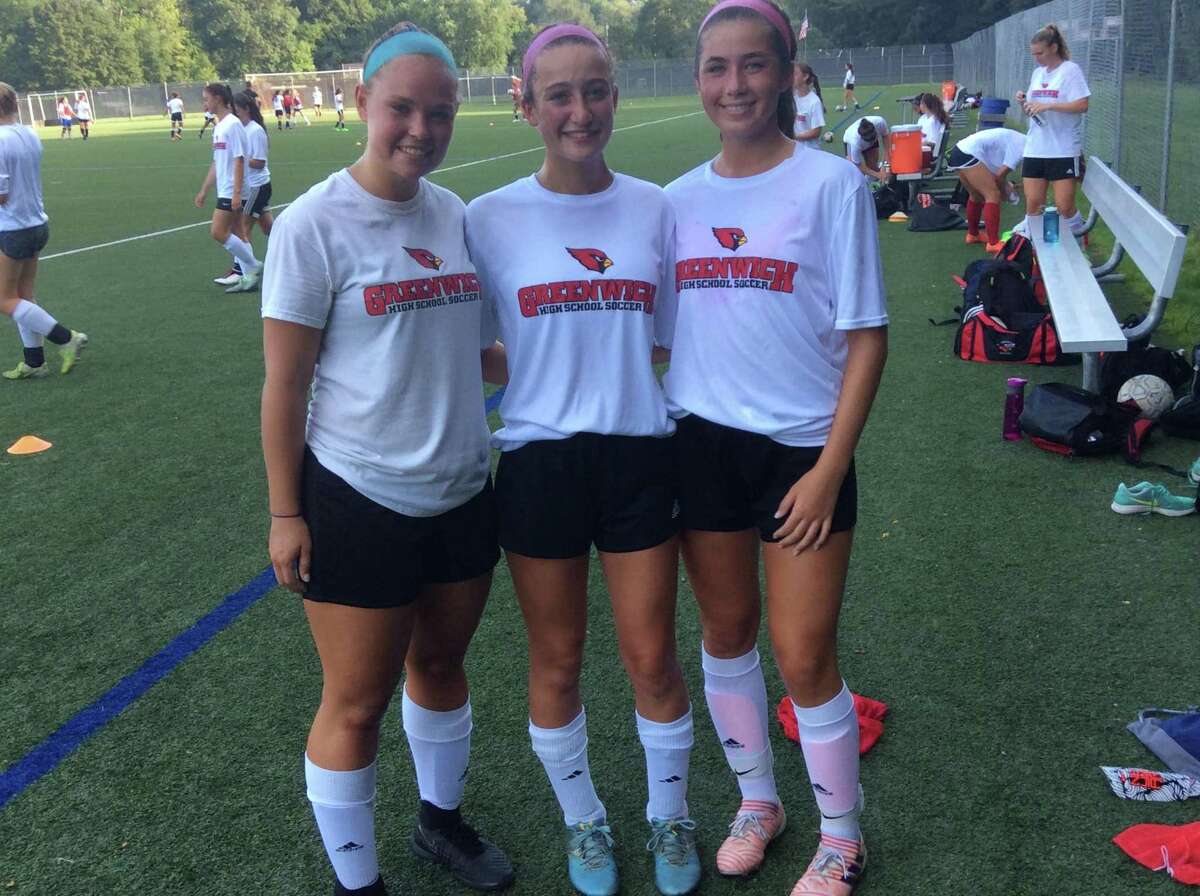 Last season was one of change for the Greenwich High School girls soccer team, which adjusted to a new coach, a different system of play and of course, had to compensate for the loss of several contributors from the previous year.
This season, the Cardinals believe they're ahead of the curve, since they are familiar with their system, the team's leadership and each other.
"I am definitely really excited about what I'm seeing," GHS senior tri-captain/right wing-back Samantha Sias said. "We have a great group of girls this year. Last year, we worked on the identity of our team. This year, we are going to work more on plays."
Greenwich was a fixture in the postseason for a decade, as it qualified for the CIAC Class LL Tournament each year from 2005-2015 and won the FCIAC championship from 2010-2012. Yet the past two seasons, the Cardinals were on the outside looking in come tournament time. The team progressed as its 2017 campaign went on, but a slow start resulted in a 5-10-1 finish.
"Last year was a huge learning curve for me in terms of understanding what the league is about and having the team understand what we are doing within our system," Cardinals coach Simon Rumbold said. "We are not a huge, physical team in a physical league. We try to get the ball down field and control the game as much as we can. We were successful in doing that in 10 to 15-minute periods last year, our goal is to do that the majority of the game this year."
Senior tri-captains Sophie Ruelle and Sofia Zajec hope to help the Cards do so. Ruelle is a standout center midfielder, while Zajec is one of the team's top defenders.
"Coming off tryouts, I'm really excited about the team," Zajec said. "As captains, we are focused on developing the younger players on the team. We're going back to the basics and making sure they have good touches and passing skills."
Said Ruelle: "This year, we have a lot of new forwards, since we lost our starting forwards from last year. We have a lot of sophomores who are forwards and they look very competitive and comfortable out there with good ball skills."

AT THE HELM
: Rumbold is starting his second season as coach of the Cardinals. He replaced Danny Simpson in 2017, after Simpson guided the program for 12 seasons. Simpson is coaching soccer at Brunswick School. Prior to arriving at GHS, Rumbold spent four seasons as an assistant coach at Yeshiva University. Erin Martschenko begins her first year as an assistant coach.

WHO'S GONE
?: Kim Kockenmeister, Katie Gallagher and Melanie Murphy, all of whom served as captains last fall, each graduated. Kockenmeister and Gallagher ignited the squad offensively, while Murphy helped lead the defense.
Defenders Aubrey Dyckman and Audrey Thalheim were also among some of the graduates.

WHO'S BACK
?: Ruelle and junior Jordan Moses will patrol the midfield for the Cardinals, who return Sias, Nicole Huber and Zajec on the backline. Sias is also a midfielder. Junior Clay Garrett, who had a solid season in goal a year ago, is back at her position. Seniors Katie Large and Estelle Jarrett also give the team depth at the goalie position. Sophia Bastek, who turned in a strong freshman season, is also among some of the returning players.
Ruelle enjoys her role as one of the team's captains.
"It is different, it's a lot of responsibility," Ruelle said. "I like being loud on the field, so I have an opportunity to do that and I have an opportunity to help a lot of younger players to step up their game. I want to help them reach their potential."

STRENGTHS
: "We have a good core defense and being able to possess the ball could be be a strong point for us," Sias said. "The attitude on our team is very positive."
Said Rumbold: "We have some good technical players and some youth, which I am excited about. All our players can move the ball, so technically, we can dictate games. Last year got caught up in out-battling teams. This year, we want to make it more about the way we play."
CAPTAIN'S COMMENT: "We are going to try to sustain our style of play, which is bringing the ball down and keeping possession," Zajec said. "We're trying to step away from the kick and run style we see in the FCIAC a lot, so we are working on that."
Greenwich opens its season Sept. 7 against visiting Brien McMahon.
"The FCIAC is a physical league, so we have to be prepared to compete both physically and technically," Rumbold said. "Every team we come up against, we have to have a game plan for two or three players."