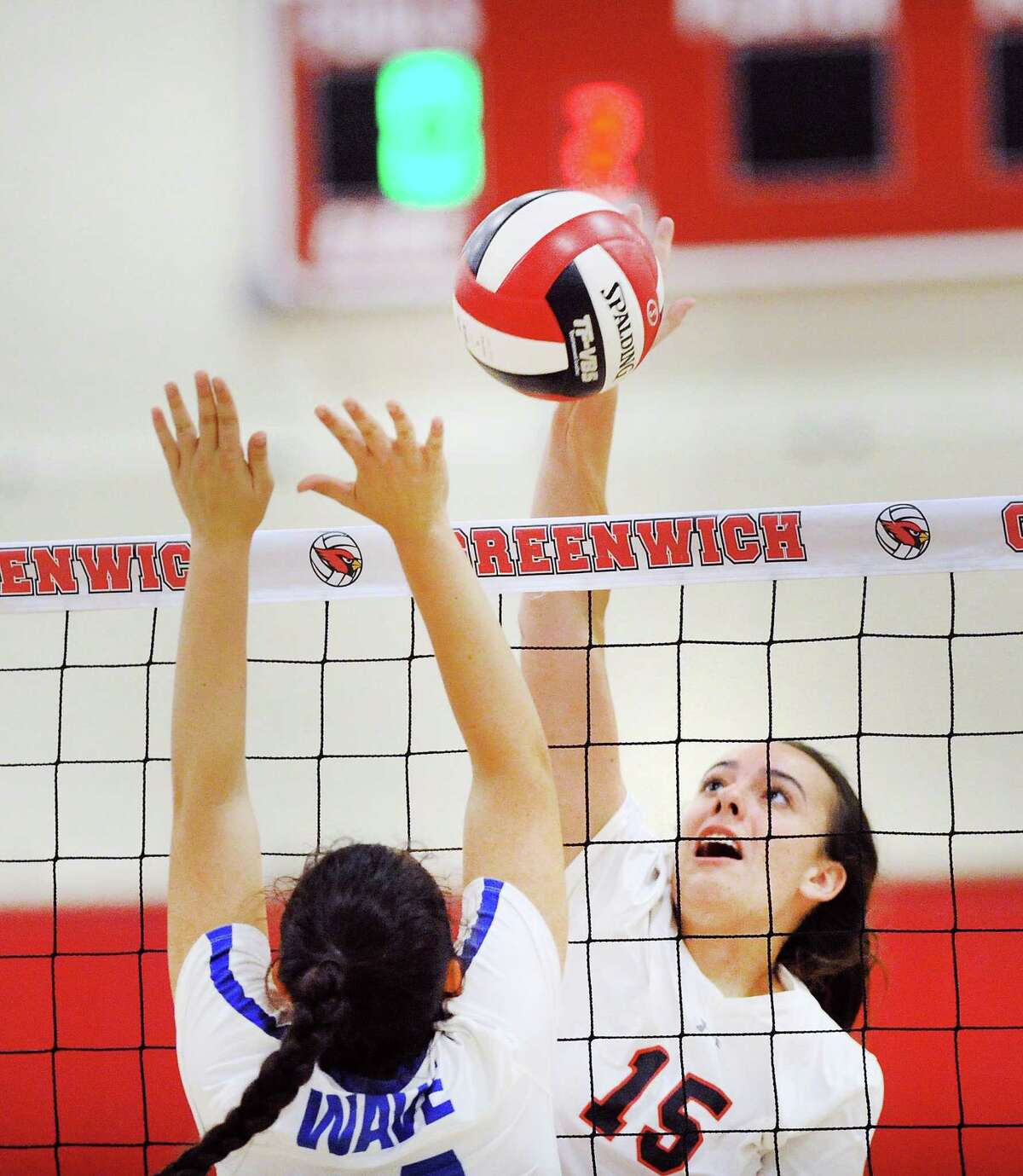 GREENWICH — Trailing by five points in the deciding set, time was certainly running out on Greenwich to seize the momentum of its volleyball showdown against rival Darien.
Yet the Cardinals, who lost to Fairfield Ludlowe on Thursday and were determined to avoid a second straight defeat, began clicking at just the right time.
Finishing the final set with a flurry, Greenwich posted a well-earned 3-2 win over visiting Darien in a tough FCIAC matchup.
The Cardinals, who won the match by game scores of 25-12, 22-25, 25-17, 21-25, 15-12, upped its record to 4-2, heading into Monday's rematch against Ludlowe.
The Blue Wave, who are showing plenty of promise early in the season are 2-2.
"We lost against Ludlowe and we lost to Ridgefield, so it was super important to win this match," GHS senior captain Amelia Bartlett said. "It was important for us to prove to ourselves that we can do it, make it as far as we did last year and be a good team again."
Greenwich, which won the Class LL and FCIAC titles last fall, received 24 kills, seven service points and six digs from sophomore Lilly Saleeby and 14 kills, 21 digs and 10 service points from freshman Adele Sotgiu.
After winning the fourth game to even the match at 2-2, Darien held leads of 7-2 and 10-6 in the fifth and deciding game.
"It's a really good feeling to win this match, especially being down 7-2," said Saleeby, who helped power the Cardinals at the net. "They had really good servers and we underestimated their hitting. They fought back and they weren't ready to go home when we took the lead."
Junior Hassana Arbubakrr registered 11 kills and three blocks, while senior Lindsay Bennett posted 12 kills and 17 digs to pace the Blue Wave.
"I think we passed really well and served really well, but there are some things we still need to work on," said Bennett, a tri-captain.
An ace, along with strong overall serving from junior Elaina Cummiskey (nine service points, one ace) put the Blue Wave in front, 7-2, in the fifth set. Solid serving from Saleeby and strong hitting from Sotgiu helped bring the Cardinals back in the final set, as the home team closed to within 8-6.
Later in the set, a tip by senior Erin O'Keefe tied the score at 12-12 prompting a Darien timeout. Saleeby's ace gave the Cards the lead for good at 13-12 in the last set.
"Our mental game was on and off, but we peaked at the right time," Saleeby said. "We began hitting at the right spots."
Bartlett, a setter, registered 45 assists and nine service points and O'Keefe tallied six kills in the winning effort. Senior tri-captain/setter Christina Escajadillo had 25 assists, seven service points, two aces and and seven digs.
"After losing that first game we worked really hard as a team and we used everything we had to pull it together," Escajadillo said. "We relied on each other's energy. We definitely did a lot of good things today, it's just a matter of putting the all together."
The Cardinals jumped out to a 12-4 advantage en route to taking the first set. Bartlett's ace closed out the opening set. Darien rebounded in the second set, with Bennett and Cummiskey leading the way in the hitting department. The third and fourth sets were back-and-forth battles, with each team effectively running their respective offenses at times.
"We had to fight for every single point and I don't think we understood that until we were in a position where we could have lost," GHS senior libero/captain Carolina Lew said. "It feels amazing to come back, we all played our best today. Our mentality was a great factor in our win."
Said Darien tri-captain Gaby Highton: "Our team is strong, we started off with a lot of energy and we haven't lost it. Since first got together in mid-August we have worked hard on becoming a strong team."
Off the bench, GHS received effective serving from junior Jackie Feehan.
"I told our team to not take this win for granted," Greenwich coach Steve Lapham said. "Darien is a program that's known for the highest level of volleyball in Connecticut — we beat a really good team. Adele Sotgiu was clutch for us, mixing up her shots well throughout."
dfierro@greenwichtime.com
GREENWICH 3, DARIEN 2
DARIEN 12 25 17 25 12
GREENWICH 25 22 25 21 15