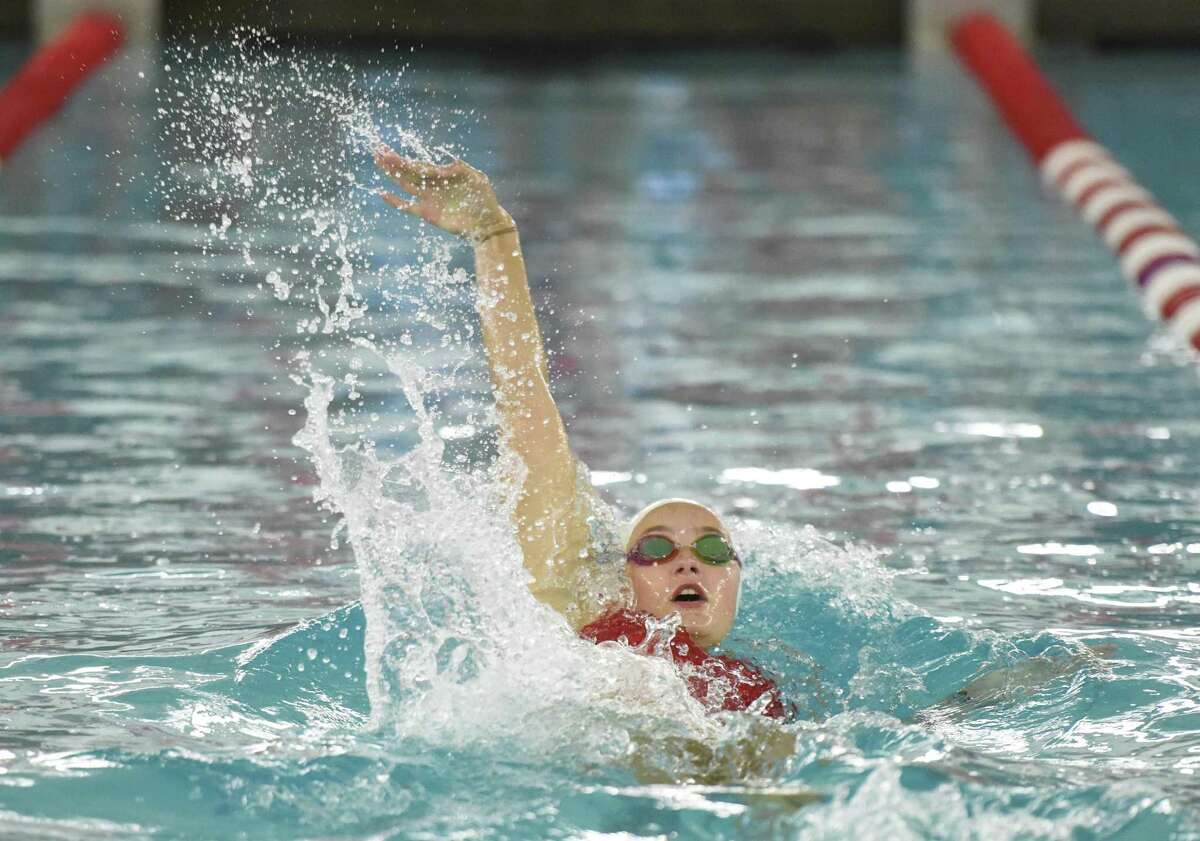 GREENWICH — Monday's meet between Greenwich and Wilton featured the defending State Open girls swimming champion and a team that finished among the top-10, and it certainly showed with how impressive both squads were.
In a competitive, early-season meet reminiscent of a postseason matchup, the Cardinals and Warriors produced one standout performance after another, but in the end, it was last season's title-winner that emerged victorious.
Defending State Open and Class LL champion Greenwich needed all the points it could get to edge a strong Wilton squad, 98-88, before a big crowd at Greenwich High School.
"It was a tough test for our team," Cardinals coach Lorrie Hokayem said. "Wilton brought a lot of spirit and a lot of energy into this meet and the atmosphere was electric. It brought out the best in both teams."
Holding a slim 71-69 lead after the 200-yard freestyle relay, Greenwich widened its advantage to 83-73 behind a 1-2-4 finish in the 100-yard backstroke. Samantha Ennis gave GHS a first-place finish in the event in 1:01.23, while teammate Hannah Seward placed second in 1:02.15. Isabella Malchow was fourth in 1:03.52 for the Cards (2-0).
Ellen Holmquist placed first in the 100 breaststroke for Wilton (1:09.39) and Liela Hastings took third. The Warriors (1-1) had to finish first and second in the 400-yard freestyle to finish in a tie with the Cardinals, but the home team touched the wall first in the 400 freestyle relay (3:40.07). Emily Warner, Hannah Seward, Caterina Li and Meghan Lynch clinched the win.
"We knew we needed to finish first and second in that final relay to finish in a tie with Greenwich, but that's tough to do with Meghan Lynch out there," Warriors coach Todd Stevens said. "Overall, I'm really pleased with how our team performed today in every event."
Lynch, a sophomore, won two individual events for the Cardinals. She turned in her usual outstanding performance in the 200 individual medley. Getting off to a fast start during the butterfly leg, Lynch produced a first-place finish in 2:06.57. She recorded the exact same time in the event in Greenwich's victory over visiting Glastonbury this past Saturday.
Impressive indeed for someone who competed in a triathlon on Sunday.
"I'm sore after competing in that triathlon up in Branford," Lynch said. "It was really exciting to compete in a meet like this though. Everyone was cheering and exciting and that motivated me to go as fast as I could."
Lynch also touched out the competition in the 100 freestyle (52.33). Senior Taylor Loud of Wilton was the runner-up (54.41).
"The 100 freestyle was an exciting event, I was happy to swim that today," Lynch said. "I'm pretty happy with my time at this point of the season."
Greenwich's divers gave the team a huge boost. The Cards outscored the Warriors, 13-3 on the 1-meter diving board, behind a first-place finish from senior Maddie Muldoon (257.71). Senior Annabelle Pollack was second in the diving event for Greenwich, while teammate Casey Kirsch, a junior, placed third.
"My front double pike and inward one-and-one half pike dives really helped me," Muldoon said. "All of my dives were pretty good today and all of our divers picked each other up."
The 200-yard individual medley relay saw the Greenwich quartet of Ennis, Lynch, Seward and Lexi de la Sierra register a winning time of 1:49.83. The Cardinals also placed second in the event (1:55.76).
In the 200-yard freestyle, Wilton's Holmquist took the lead in the first half and proceeded to win the event with a time of 1:57.09. Abby Gardner was second for the Warriors (1:58.36), followed by Greenwich's Emily Warner (2:00.13).
The Warriors had the top two finishers in the 50-yard freestyle, with Loud and Katie Stevenson combining to earn 10 points for their squad. Loud won the event in 24.67 and Stevenson finished second with a time of 24.79. The Cards got a third-place finish from Jenna Handali (25.67). Greenwich held a 33-29 lead on the Warriors after the 50 freestyle.
Seward touched out the competition in the 100 butterfly, winning the event in 57.90. Gardner was the 500 freestyle winner for Wilton, followed by Greenwich's Allison Brea.
"The 500 is a really long, tough race, but I felt good about how I finished," Brea said. "This was a great meet and we received so much support from each other. It was a great test for our team."
Said Stevens: "In all of my years of coaching swimming at Wilton, this is the first time I think we made Greenwich worry a little bit. We really went out and gave a great effort today."
GREENWICH 98, WILTON 88
200-yard medley relay: Greenwich (Samantha Ennis, Meghan Lynch, Hannah Seward, Lexi de la Sierra) 1:49.83; 200-yard freestyle: Ellen Holmquist (W) 1:57.09; 200 IM: Meghan Lynch (G) 2:06.57; 50 freestyle: Taylor Loud (W) 24.67; Diving: Maddie Muldoon (G) 257.71; 100 butterfly: Hannah Seward (G) 57.90; 100 freestyle: Meghan Lynch (G) 52.33; 500 freestyle: Abby Gardner (W) 5:19.83; 200 freestyle relay: Wilton (Katie Stevenson, Morgan Dill, Ellen Holmquist, Taylor Loud) 1:41.97; 100 backstroke: Samantha Ennis (G) 1:01.23; 100 breaststroke: Ellen Holmquist (W) 1:09.39; 400 freestyle relay: Greenwich (Emily Warner, Hannah Seward, Caterina Li, Meghan Lynch) 3:40.07