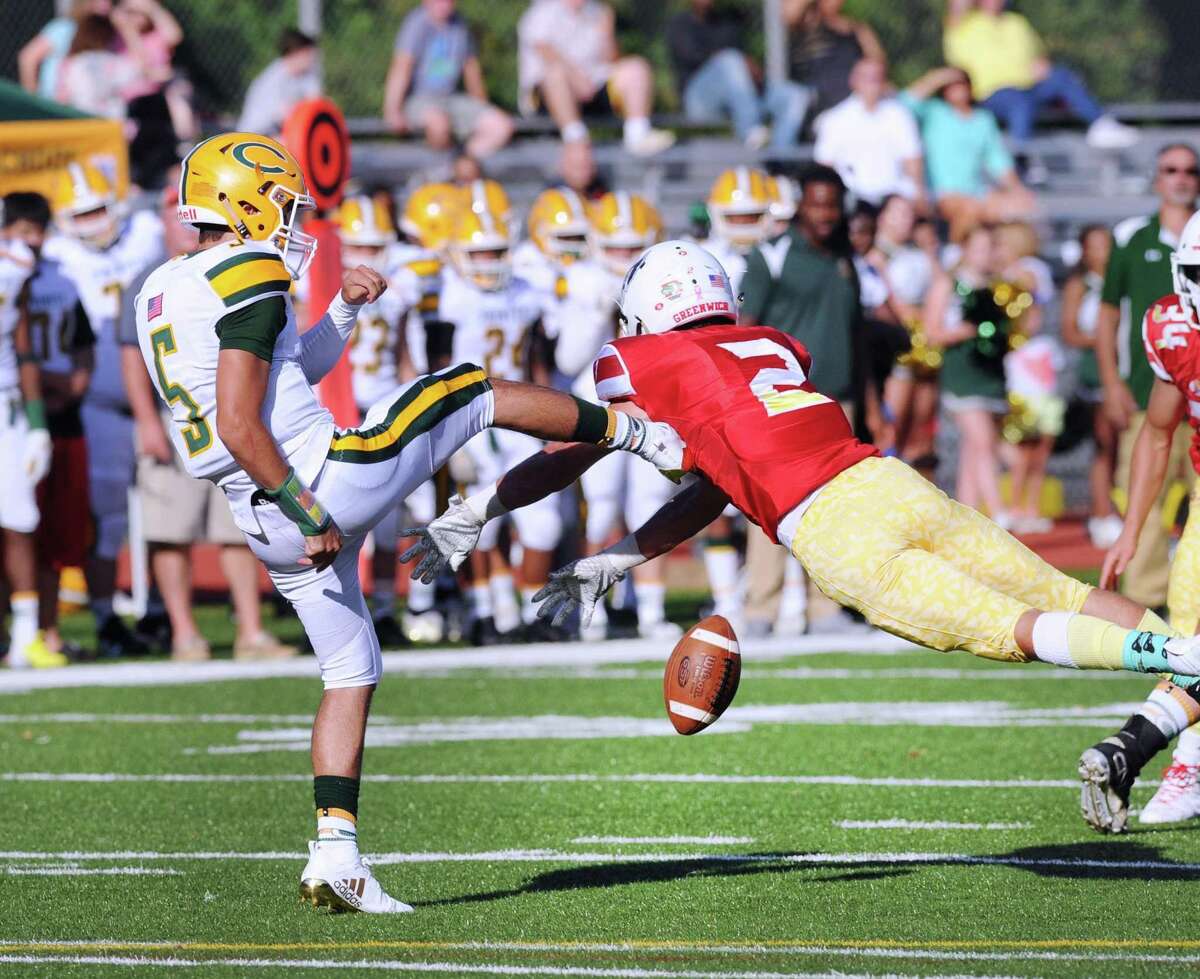 GREENWICH — Greenwich's offense couldn't be stopped and its defense barely budged during the first half of Saturday's football game against Trinity Catholic.
And that, of course, made it a long first half for the Crusaders.
Scoring on six of its seven opening-half possessions, while shutting down the opposition's offense, Greenwich coasted to a resounding 56-0 victory over Trinity Catholic in an FCIAC game held at Cardinal Stadium.
Senior Tysen Comizio ran for two touchdowns during the first half of play, as did junior running back Jack Warren for the 2-0 Cardinals.
"We feel good we are kind of in the zone right now at 2-0," Comizio said. "Our first game we came out and had a lot of penalties, but we fixed that today. We are excited for our next games."
Sophomore A.J. Barber, the son of New York Giants former star running back Tiki Barber, caught a touchdown pass from senior quarterback Gavin Muir and senior Stephen Bennett hauled in a Muir scoring strike for Greenwich, which led 49-0 at halftime.
Greenwich, which was whistled for 21 penalties in last week's season-opener against Trumbull, only committed a handful of infractions Saturday.
"I think it was maybe two penalties today, which is what we preached about all week," GHS coach John Marinelli said. "I'm proud of the way our kids played — it was a nice, clean game. That has to be a weekly deal. We have to be disciplined."
Senior defensive end Emilio Camou returned an interception for a score for the victors, who limited the Crusaders to only one first down in the opening half.
"We have a lot of young kids on the field and I'm proud of the way they played," Crusaders coach Donny Panapada said. "I think Greenwich is the No. 1 team in the state of Connecticut. Our execution definitely needs to be better. We're shorthanded, with a lot of freshmen and sophomores on the field."
The Cardinals' first touchdown came on its second possession. Senior wide receiver Ryan Raybuck caught a 46-yard pass from Muir giving the home team the ball at the Crusaders' 1-yard line. On the ensuing play, Muir pitched a shovel pass to Barber, who ran it into the end zone from 1-yard out. Ben Howarth split the uprights on the point after attempt and GHS had a 7-0 lead with 5:35 remaining in the first quarter. The touchdown was the fourth in two games for Barber, who reached the end zone three times in Greenwich's 42-7 Week 1 win over Trumbull.
Trinity Catholic (0-2) rotated senior Sam Pensiero and Matthew Dougherty at quarterback, but couldn't find its rhythm offensively against the Cardinals' stout and stingy defense. Following a Trinity three-and-out, Greenwich extended its advantage when Comizio took Muir's handoff and bulled his way up the middle for a 4-yard touchdown run with 3:52 to go in the second quarter. Comizio set up his own score with a 55-yard run on the prior play.
"We have a diverse group of backs, which makes it a great situation for us," Comizio said. "Our offensive line did a great and really made our job a lot easier."
In the right place at the right time, Cardinals senior defensive end put points on the scoreboard for the home team. Camou intercepted Dougherty's pass and sprinted 29 yards for a touchdown, making it 21-0.
"That was the first touchdown of my high school career, so it was exciting for me," said Camou, who along with linebacker Jack Feda and defensive back Ryan Raybuck, helped anchor the Cards' defense. "I picked it off and ran for my life to the end zone. I thought our defense was dominant today."
Feda added two rushing touchdowns, Comizio ran it into the end zone and Bennett caught a 5-yard scoring strike from Muir to cap Greenwich's first-half scoring.
Hugo Mark caught a 20-yard pass for a score from sophomore Cage Lasley for GHS, which played five quarterbacks for the game.
"It was a great performance, everything was perfect for us today," Warren said. "Our first drive of the game was a little sloppy, but we picked it up after that and scored on our next few drives."
QUARTERBACK ROTATION
Trinity played Dougherty and Pensiero at quarterback throughout. The offense featured running back Michael Barrett. The Crusaders picked up only three first downs for the game.
"We need to get good play out of the quarterback position," Panapada said. "And we also need to protect our quarterbacks better. We'll learn from this."
STRONG UP FRONT
Greenwich's offensive line of Jack McBreairty, Nolan Connerty, Callum Abnerthy, Tyler Dietrich and Jacob Belmont protected Muir throughout and helped spark the running game.
"We have five experienced guys on our offensive line and they were all great," Marinelli said. "We put an emphasis on running the ball and getting downhill faster and we did that."
On the other side of the ball, Greenwich's defensive line, like Week 1 pressured the quarterback.
"They got the shutout today, which was impressive," Marinelli said. "It was a tremendous job on their part."
dfierro
@greenwichtime.com