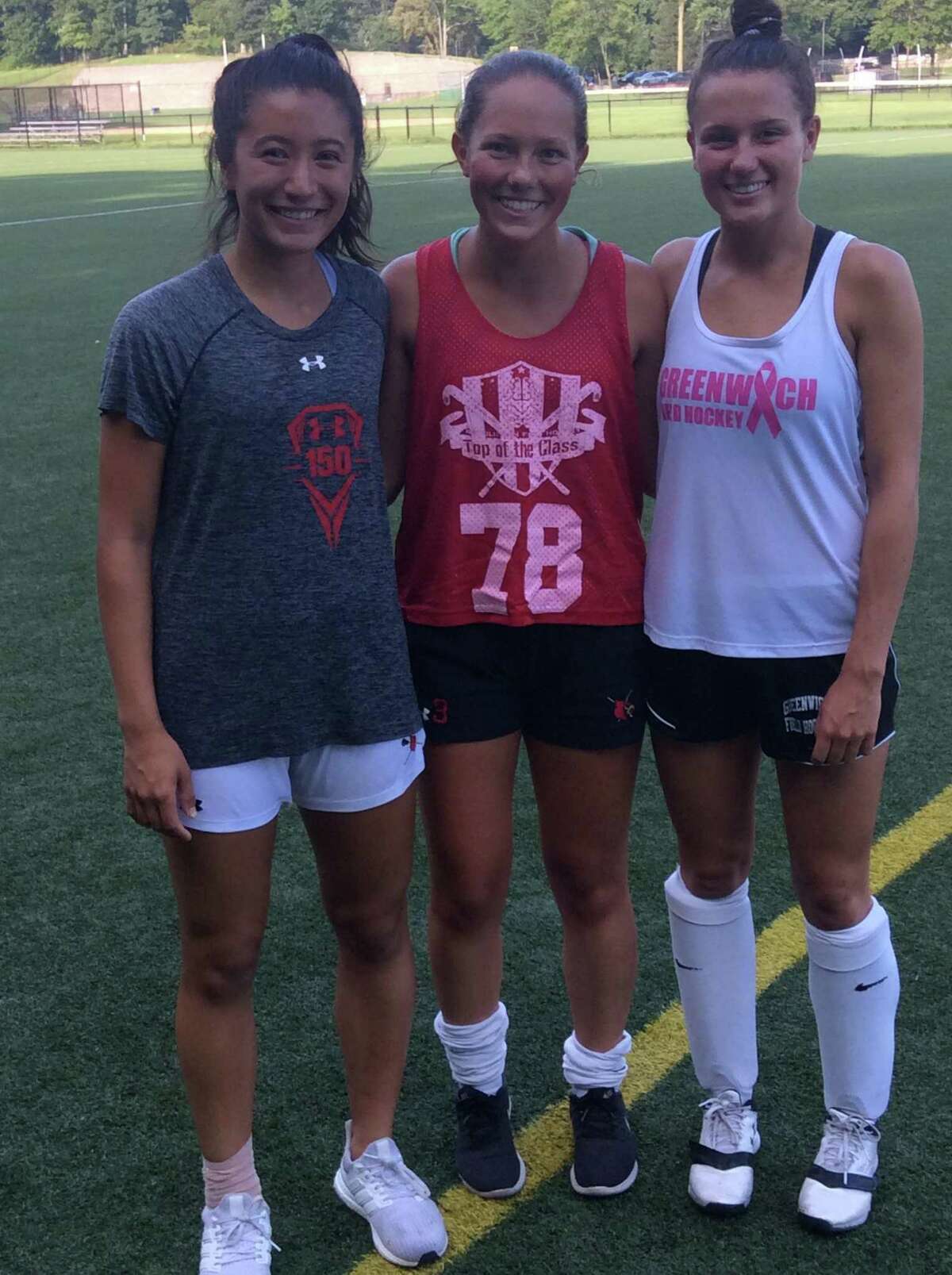 Versatility was a word Greenwich High School field hockey coach Ally Orrico and her captains used while discussing the upcoming season.
It's a characteristic the Cardinals believe they can use to their advantage throughout the season.
"I'd say the thing I'm most excited about is our versatility and the selflessness that I'm seeing from this group, which is very exciting for us as coaches," Orrico said. "There are a lot of combinations we can make other teams have to think about. Hopefully, it will be hard for other teams to try to game plan for us."
As their 16-4 record indicated, preparing to play the Cardinals was a challenge last season. Greenwich entered the FCIAC Tournament as the No. 1 seed, after producing a standout regular season, then advanced to the semifinals, where they lost a 3-2 heartbreaker to Wilton in overtime. In the CIAC Class L Tournament, the Cards dropped a 2-0 decision to Staples in the semifinal-round.
"Last year's team was phenomenal," Orrico said. "They left a legacy of of leaving a legacy of never giving up and as a result, we had a great season."
This year's Cardinals team is out to leave a lasting legacy.
"Definitely doing well in FCIACs and states and hopefully, winning, that's always on our mind," GHS senior tri-captain/forward Sam Chabot said. "This year, I think we have a chance to do it."
Chabot, along with senior tri-captains Paige Finneran and Zoe Metalios comprise some of Greenwich's offensive threats. The trio are capable of playing different positions.
"We don't have a set position," Finneran said. "One of our goals is to have everyone move around and not be stagnant, or have concrete positions. Coach has been preaching this. We want to fill in on the field for each other and try to execute one job."
Said Metalios: "Our team has a lot of new talent and a lot of returning talent. We have a talented team with players who can do a lot of different things. You'll be seeing us switch positions a lot during the season."
Greenwich begins its 2018 campaign Thursday against visiting St. Joseph. FCIAC rivals Darien, Staples, Wilton and Norwalk are on the horizon.
"There seems to be more parity in the FCIAC and in the sport in general and that's great for the sport," Orrico said. "People are becoming more passionate about it and more involved in it. I think our league is the best in the state. There's a nice mix of coaches and personalities and great comaraderie among us."
AT THE HELM: Orrico is entering her 12th season as coach of the Cardinals. Greenwich went 16-4 in 2017 and after being eliminated by Staples in the FCIAC semifinals, advanced to the semifinal-round of the state tourney. The Cards beat Newtown, 5-0, in the opening round of the Class L Tournament and topped Glastonbury, 2-1, in the quarterfinals.
Megan Wax, Sarah Jarombek and Erik Caraballo are back as assistant coaches.
WHO'S GONE?: Maggie O'Gorman, an All-FCIAC First-Team selection, was among the graduates from the 2017 squad. Beth Williamson, who also earned First Team All-FCIAC honors, graduated, along with goalie Emily Gunzburg (All-FCIAC West Team). Sailor Jiranek, Catherine Veronis, both of whom served as captains, with O'Gorman and Williamson also departed.
WHO'S BACK?: Finneran (All-FCIAC First Team 2017) and Chabot were adept at rattling the cage last season, providing key goals throughout. Junior Ashley Zolin should spark the squad at forward and in the midfield. Metalios' versatility will come into play on several lines she tests her skills at.
Senior Abril Martinez-Arraya (All-FCIAC West honors last season), who produced a strong junior season, is a midfielder and defender, while junior Olivia Hoekman can see time at any position.
Maria Clara Pereira returns in goal for the Cardinals.
WATCH OUT FOR: Other senior players on the squad that could make their mark are Ava Gwozdz, Gigi Impertore, Jennifer Kelly, Emily Miller, Nicole Maloney, Eva Serra, Margaret Sosa (goalie), Courtney Swift, Gracie Sunoo and Katie Walko. The junior class includes Katie Piotrzkowski, Annie Frey, Demi Janis and Ale Simson, while sophomores Jojo Pastore (goalie), Austina Ferraro and Charlotte Gans join the squad, along with freshman Lucy Barratt, Zita Cohen and Isabella Lattuda.
STRENGTHS: "Our forward line is really good, our midfield is very strong and we are really good at getting the ball up the field fast," Metalios said. "We are also a very fast team."
Added Finneran: "From our forward line, to our defenders, we have depth and strength everywhere. This team has a good attitude and the chemistry is great."
CAPTAIN'S COMMENT: "We've got a lot of rivals, so we definitely have Darien on our mind, along with Staples, Norwalk and Wilton," Chabot said. "We have some tough challenges ahead of us, but we look forward to them."