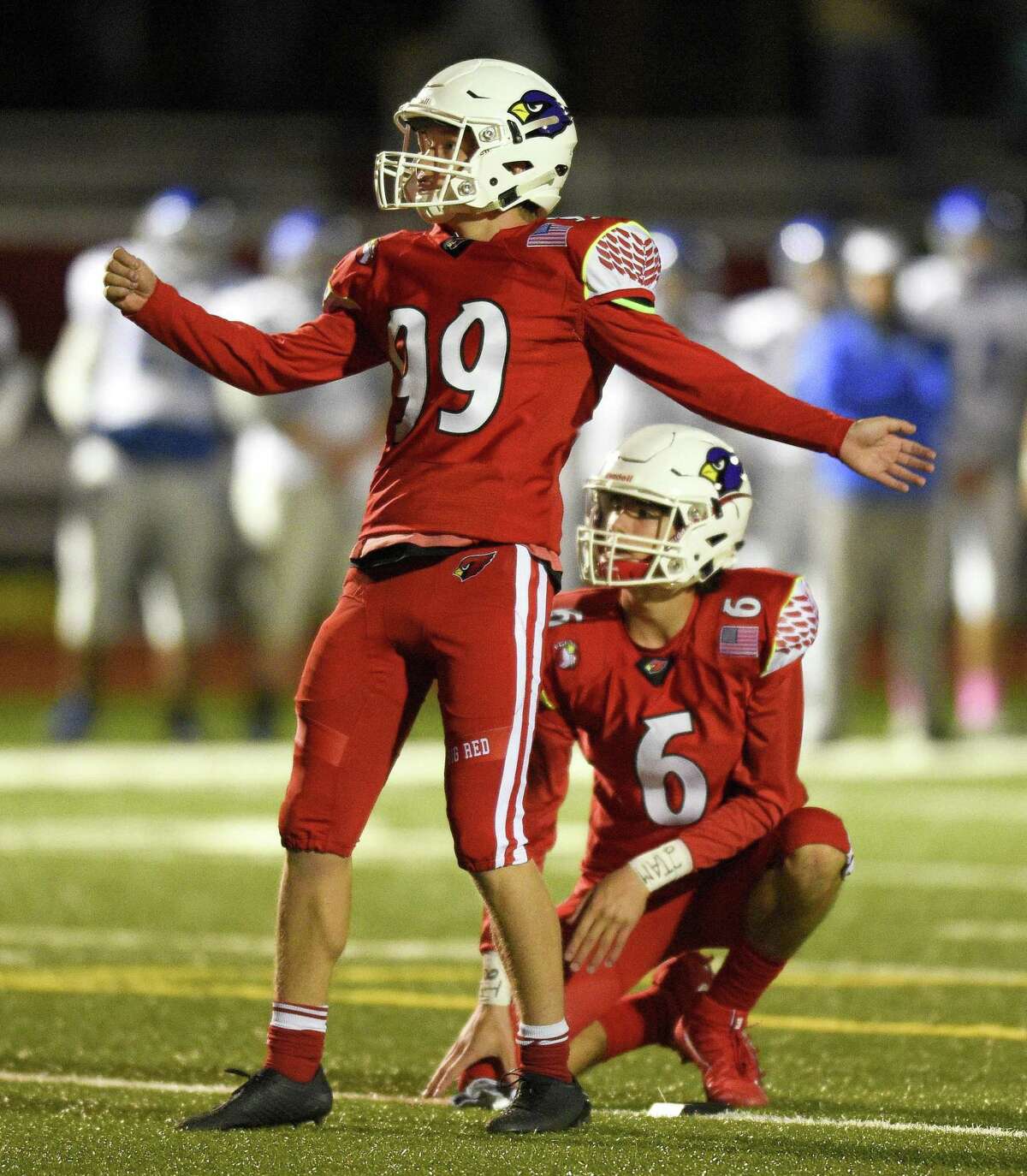 With a blocked punt that was returned for a touchdown, two field goals and solid kickoff/punt returns, the special teams unit in top form for Greenwich in its FCIAC football matchup against Ridgefield last week, a scenario that's been the norm for the group.
The 7-0 Cardinals have consistently put all three phases of the game together each week, including special teams, which has sparked the squad.
"When we work on special teams it's one of our most competitive periods of practice," GHS coach John Marinelli said. "It's definitely not a period off for our players. The kids take ownership of special teams."
John Woodring, who played for the New York Jets for five seasons and had three sons carve out impressive careers for Greenwich, is the special teams coordinator, along with Jordan Capitanio.
"The two of them work really well together," Marinelli said. "They put all the schemes in and keep all our players focused on what they need to do."
Last season saw senior place kicker Zach Moore convert a state-record 13 field goals. Replacing Moore, a 2018 graduate, was Ben Howarth, who has also displayed a strong, accurate leg.
A junior, Howarth has made 35 of 36 point-after attempts and has converted three field goals, two of which came in last week's 33-3 win over host Ridgefield.
"Ben played soccer last year and he came out for football around January or February and said he wanted to kick and we said, that's great," Marinelli said. "He started to work out with the team and that gave him confidence that the team has trust in him. Kickers sometimes go off on their own and do their own thing, but he was one of the hardest working kids in the offseason. Timing the snap, the hold — it takes time to really get to know what you are doing on kick attempts. He made two big field goals last week for us and is getting more and more comfortable."
Senior Toby Turnbull has also seen some action as a kicker, making all seven of his extra-point attempts. Making the kicker's role easier are senior Jack Feda and junior Jack Ludington, both of whom are long-snappers on special teams.
Bruce Cunningham coaches the long-snappers and it that area has been one of our strengths," Marinelli said. "It's a daily chore. Jack Feda is the field goal long-snapper and Jack Ludington long-snaps on punts and they've both been great."
Seniors Stephen Bennett and Lance Large have each given the Cards solid field position with effective punt returns, while senior Tysen Comizio and junior Spencer Hartley have produced significant yards on kickoff returns.
"Bennett and Large are weapons back there, they are fearless," Marinelli said. "On punts, it's not always about the return, what's important is catching the punt and not letting it roll another 20, 30 yards. They have been able to put our offense in good field position."
Punt blocks and tackling punters before they get a chance to kick the ball, have also set up Cardinals' scores. Both instances occured against Ridgefield last week.
"Specials teams has set our offense and defense up with great field position a lot so far this season, which has been key," Marinelli said.
Greenwich, ranked second in the GameTimeCT/New Haven Register Poll and fifth in in the Class LL rankings, visits Danbury (4-4) Friday at 5 p.m.
QUARTERBACKS BEWARE
Greenwich registered an astounding 13 sacks in their win against Ridgefield, eight of which were tallied by senior defensive end Mozi Bici. His sack total established a state-record for sacks in one game by a player.
"I am still in awe over what Mozi did last week," Marinelli said. "Our defensive line is really aggressive, but also very disciplined in terms of reading blocks and what linemen our doing. We have four guys on our line who can get to the quarterback and Mozi had a one-one-one matchup that he took advantage of. His motor is incredible, when you look at his sacks, the first one he got in the first quarter he was going at full speed, as he was on his last one in the fourth quarter."
Senior linebacker Larry DeLuca had two sacks against the Tigers and blocked a punt that was returned for a touchdown by Bici.
OFFENSIVE LEADERS
Senior quarterback Gavin Muir has passed for 1,293 yards with 15 touchdowns through seven games. Comizio, who was sidelined the past two games with a hand injury, still leads the Cards' running game with 440 yards and 10 touchdowns.
Danbury has a potent ground game, which has been paced by the trio of senior running back Jack Pompea (942 yards rushing for the season, six touchdowns), junior quarterback Malachi Hopkins (518 yards rushing, five touchdowns) and senior running back Malik Thomas (556 yards rushing, nine touchdowns.
"Danbury is an improved team with a lot of talent and a power running game," Marinelli said. "They will also spread you out and do some things. It makes it exciting for coaches and players to prepare to face something different. Danbury is always a tough place to play — a tough place to travel to, so we have to be ready to play."
dfierro@greenwichtime.com