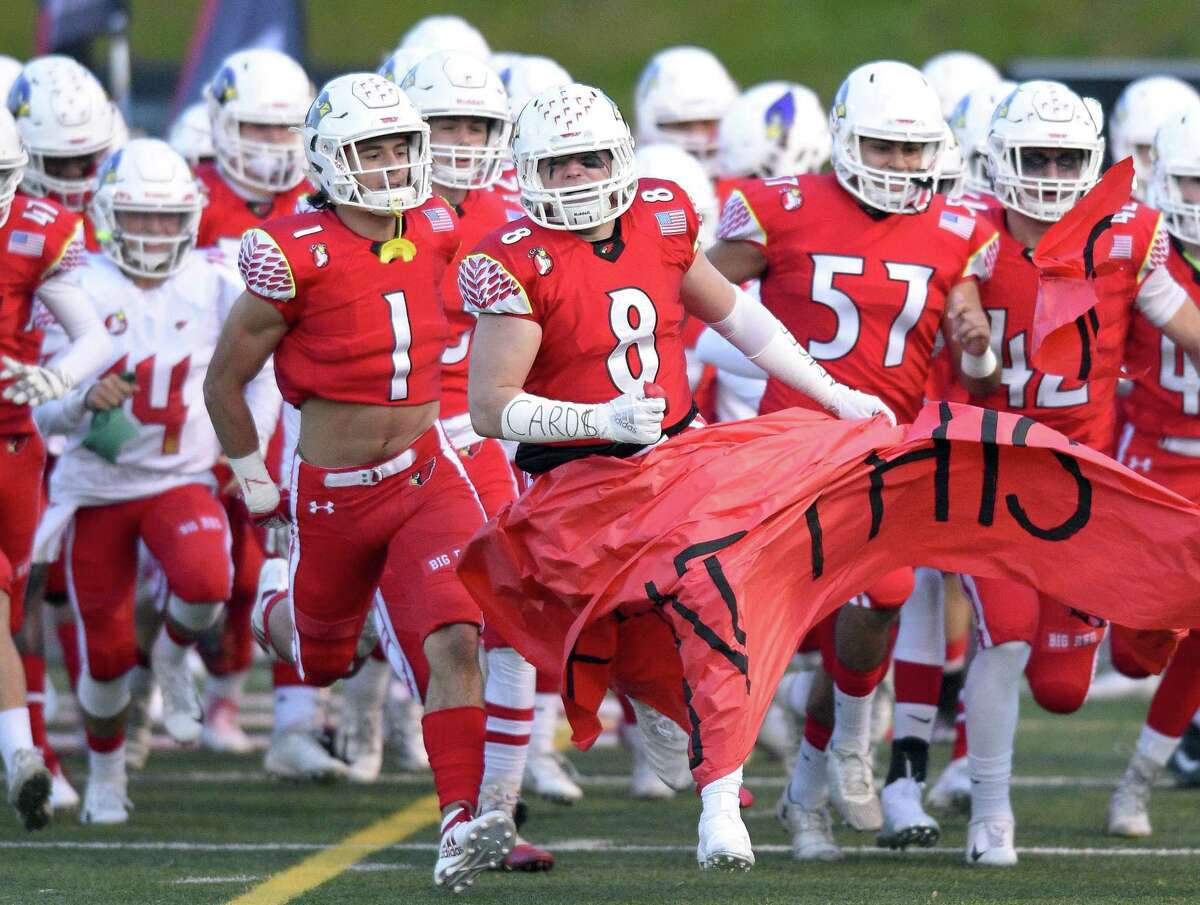 As Greenwich High School football coach John Marinelli stated while discussing his team's upcoming postseason matchup against New Britain, "something has to give at some point of the game."
The Cardinals' balanced offense includes an effective passing attack, while the Golden Hurricanes have made it difficult for their foes to move the ball through the air. New Britain's offensive unit features a potent and punishing running game, while Greenwich's defense has been stingy against the run all season.
So indeed, which squad's strengths surfaces most will determine the outcome of Tuesday's 6:30 p.m. Class LL tournament quarterfinal-round game between second-seeded Greenwich (10-0) and seventh-seeded New Britain (9-1) at Cardinal Stadium.
"It's a tough draw, New Britain is a very talented, very good team," Marinelli said. "Every team you play this time of year is tough. Look at New Canaan, they are the No. 8 seed. That is how highly touted the field in Class LL is. Every team in the playoffs does something well and it's going to come down to whichever team can stick to its strengths the best."
The Cardinals and Golden Hurricanes have not faced each other in some time and are certainly unfamiliar foes. Yet they do share a postseason history. In 2004, New Britain registered a 39-34 win over Greenwich for the Class LL title in a memorable back-and-forth battle.
The 2003 season saw the Golden Hurricanes notch a 20-0 victory over the Cardinals in the state semifinals and in 2001, New Britain captured the Class LL title with a 26-9 triumph against GHS. New Britain coach Tebucky Jones starred in New Britain's 31-15 triumph against the Cards in the Class LL championship game in 1992. Greenwich's victory over New Britain occured in the state semifinals in 2002 (40-21 win).
"Greenwich is a really good, well-balanced team," said Jones, a New Britain graduate, who played for the New England Patriots, New Orleans Saints and Miami Dolphins during his NFL career (1998-2006). "They are good in every facet of the game — special teams, offense and defense — and they have a lot of guys that play one way, which is a bonus."
Led by their imposing defensive line, Greenwich slowed down Staples' running attack in its 29-0 Thanksgiving Day win — a victory that gave the Cardinals an undefeated regular season and its second straight FCIAC title. New Britain clinched a berth in the Class LL playoffs by upending Berlin, 33-14, in its regular-season finale. The duo of senior quarterback Tahje Yopp and senior running back Shawn Robinson wreaked havoc on the Redcoats, rushing for 86 and 190 yards, respectively, against Berlin.
Robinson has amassed 1,486 yards rushing (9.2 yards per carry) and Yopp has compiled 952 yards on the ground (7.4 yards a carry) for the Golden Hurricanes, who expect to see senior running back Kaiyon Gunn (509 yards rushing for the season) back in action Tuesday. He was sidelined with an injury for several weeks. Jones is pleased with how his squad's running game has evolved.
"It's always great when you can run the ball," Jones said. "A lot of teams are into the RPO (run-pass-option), from high school teams, to college teams to the pros. The running game has diminished a little bit. I think if you don't have to throw the ball to be successful, it's a great thing."
Knowing the Golden Hurricanes will look to establish their running game, the Cardinals' defensive front (Mozi Bici, Joe Kraninger, Emilio Camou, Eddy Iuteri) and linebackers (Jack Feda, Larry DeLuca, Evan Weigold) must be primed for the next challenge.
"They have a few guys they hand the ball off to and their quarterback is shifty," Marinelli said of New Britain's offense. "You have to be able to control and contain them, which is a tough task. Their offensive line is huge, they're one of the biggest teams we've faced. They really move people. We have to swarm tackle and get hats on the football. That's one of the keys — we can't miss tackles."
Said Jones: "Greenwich's defensive line gets after it all day. They play with a lot of energy and are non-stop out there. They have a great, all-around defense."
While Greenwich's defense has yielded a mere 41 points in 10 games with four shutouts, New Britain has blanked two opponents, while holding three others to 10 points or less.
Cardinals senior quarterback Gavin Muir (1,678 yards passing) knows the offense must be as effective as possible against the Golden Hurricanes.
"We have watched film on them and we know they're a great team," Muir said. "It's going to be a game of matchups and I think this game will be won up front. Our offensive line has been doing a great job all season. Last year's playoff experience definitely helps our team."
Back in full force last week against Staples was senior running back Tysen Comizio, who along with sophomore Hunter Clark, helped pace the Cards' running game. Achieving balance offensively, would of course, counter the Golden Hurricanes' aggressive defense.
"They swarm to the ball, all 11 guys," Muir said of New Britain's defense. "They are all trying to get in on every tackle and they have a lot of size and athleticism. In a game like this, it's important to not have turnovers and you want to keep the ball for as long as you can to give the defense a rest. Their defense will provide us with one of our biggest challenges of the season."
New Britain is making its first appearance in the Class LL playoffs since 2014.
"The biggest thing with our team is that we had three starters hurt, basically the whole year, and we had young guys step up and fill in in their absence," Jones said. "We also have a group of kids on our team who have played together since they were in eighth grade and they've stuck with it and stepped up."
Who will win the Class LL quarterfinal New Britain at Greenwich?

Greenwich

New Britain

Total Response: 573 Votes

Loading ...