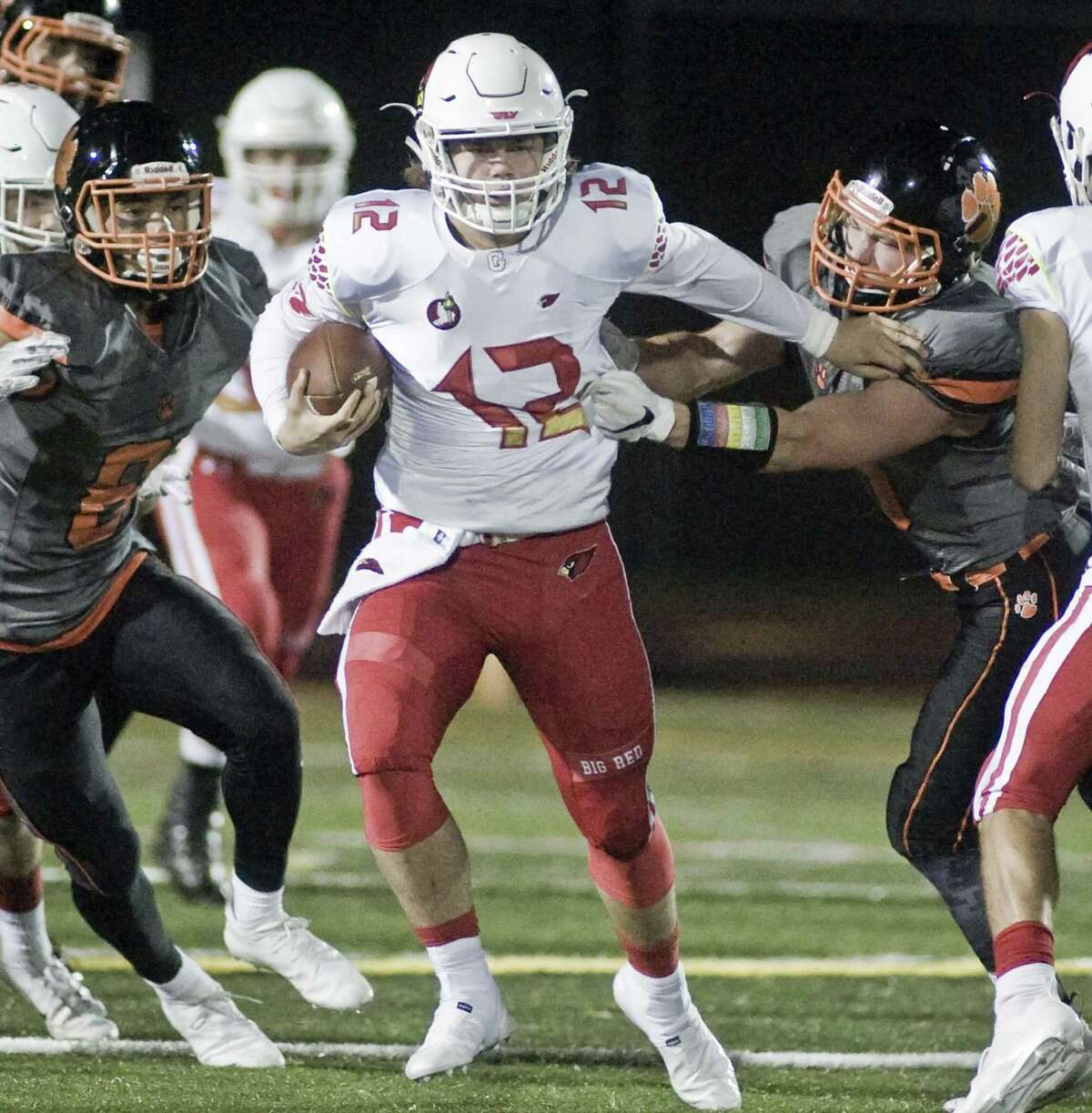 RIDGEFIELD — Greenwich has played seven games and its football foes have yet to solve the puzzle that is the Cardinals' defense.
Yet another opponent had trouble scoring points against the Cardinals' swarming defense, which has made a habit of holding teams out of the end zone.
With Mozi Bici, Jack Feda and a host of others causing havoc on defense, Spencer Hartley and Hunter Clark methodically moved the ball on the ground for Greenwich in its workmanlike 33-3 win over a tough Ridgefield team Friday night at rainy Tiger Hollow Stadium.
The victory upped Greenwich's record to to 7-0, while the Tigers, who played solid defense as well, dropped to 4-4.
Bizi, a senior defensive end, registered eight sacks — which would shatter the state record of 6 1/2 set by two players last season, Westhill's Zaire Ragin and Hillhouse's Prince Boyd — and returned a blocked punt for a touchdown for the Cardinals.
Greenwich led 14-3 at halftime, putting the game out of reach in the fourth quarter.
"Getting those sacks — it felt amazing," Bici said. "My guys right next to me like Eddy Iuteri, they open those gaps for me and make it easier for me to get sacks. Our defense is just tearing it up."
WEEK 9 HS Football Schedule / Scoreboard
Ridgefield, which celebrated its Senior Night, saw junior quarterback Owen Matthews face pressure throughout and come close to helping the home team enter the end zone several times.
"The biggest problem we had with Greenwich was handling their pressure," Ridgefield coach Kevin Callahan said. "If we could have slowed them down a little bit, we could have done more things offensively."
The Cardinals took the lead for good at 7-3 with 59.1 seconds remaining in the first quarter. Senior quarterback Gavin Muir's 12-yard run capped a short scoring drive that was set up by Bici's fumble recovery on a sack at Ridgefield's 24-yard line.
Hartley ran for 12 yards before Muir scrambled into the end zone. Getting the start at running back in place of Tysen Comizio, who is recovering from an injured hand, Hartley helped keep the Cards' offense on the move.
"It was really good to go out there and carry the ball, it was fun, but I want Tysen to come back, we need him," Hartley said. "Our offensive line was insane today. I never got tackled at the line, had open holes to run through and consistently got to the second layer of the defense."
After the Tigers' ensuing drive stalled at the Greenwich 46-yard line on a sack by senior lineman Joe Kraninger, the Cardinals stretched their lead.
Senior wide receiver Lance Large hauled in a Muir pass along the left sideline for a 35-yard gain. Two plays later, Hartley bulled his way up the middle for a 2-yard score, putting GHS ahead by two scores with 9:55 left in the second quarter.
Ridgefield senior kicker Sebastian Gasparo put Greenwich in an unfamiliar situation midway through the first quarter. He converted a 25-yard field goal with 6:43 to go in the first quarter, giving the Tigers a 3-0 edge. The field goal marked the first time the Cards trailed all season.
Bici sacked Matthews three times in the first half, junior Evan Weigold intercepted a pass and Feda, a senior linebacker, made several tackles resulting in lost yardage.
"All season long, defense and special teams have been our two best phases and tonight it showed," Marinelli said. "Coach (John) Woodring does an incredible job with the special teams unit and coach (Bryan) Hocter, what he did tonight against a potent Ridgefield team was incredible."
Senior wide receiver/defensive back Jackson Mitchell had a strong game on both sides of the ball for the Tigers, making several receptions in the opening half, while registering two sacks. Evan Wein, a senior defensive back had an interception in the first half for Ridgefield.
"Defense is something that has led us this year and they continue to get better," Callahan said. "I am proud of the effort they put forward and the way they prepared themselves to face a great Greenwich team."
Bici began the second half with a sack for the Cardinals, who received a 36-yard field goal from kicker Ben Howarth in the third quarter.
The Tigers drove down to Greenwich's 7 late in the third quarter behind a 28-yard reception from Jack Wright. But Greenwich blocked a 25-yard field goal attempt, keeping the score 17-3.
Bici tallied four more sacks in the fourth quarter, and Howarth booted a 33-yard field goal in the fourth quarter.
All over the field, Bici returned a blocked punt for a touchdown in the final quarter for Greenwich, making it 27-3 with 5:17 left to play.
"The kids on special teams love playing special teams, they are hungry," Bici said.
QUOTABLE
"We lost to Darien, St. Joseph, Staples and Greenwich, three of the four top teams in the state," Callahan said. "We've been playing a stout schedule and I like the way we're moving forward and getting better."
MOZI WITH A BIG MOTOR
A high-energy player, Bici is nonstop action on the field.
"He has some motor and he still has a full tank of gas left," Marinelli said. "Kraninger and Iuteri also did a great job on the line, taking on double teams, as did Emilio Camou. Our defensive line was great."
GREENWICH 33, RIDGEFIELD 3
GREENWICH 7 7 3 16 — 33
RIDGEFIELD 3 0 0 0 — 3
R — Sebastian Gasparo 25 field goal
G — Gavin Muir 12 run (Ben Howarth kick)
G — Spencer Hartley 2 run (Howarth kick)
G — Howarth 36 field goal
G — Howarth 33 field goal
G — Bici 10 blocked punt return (Howarth kick)
G — Hunter Clark 10 run (run failed)