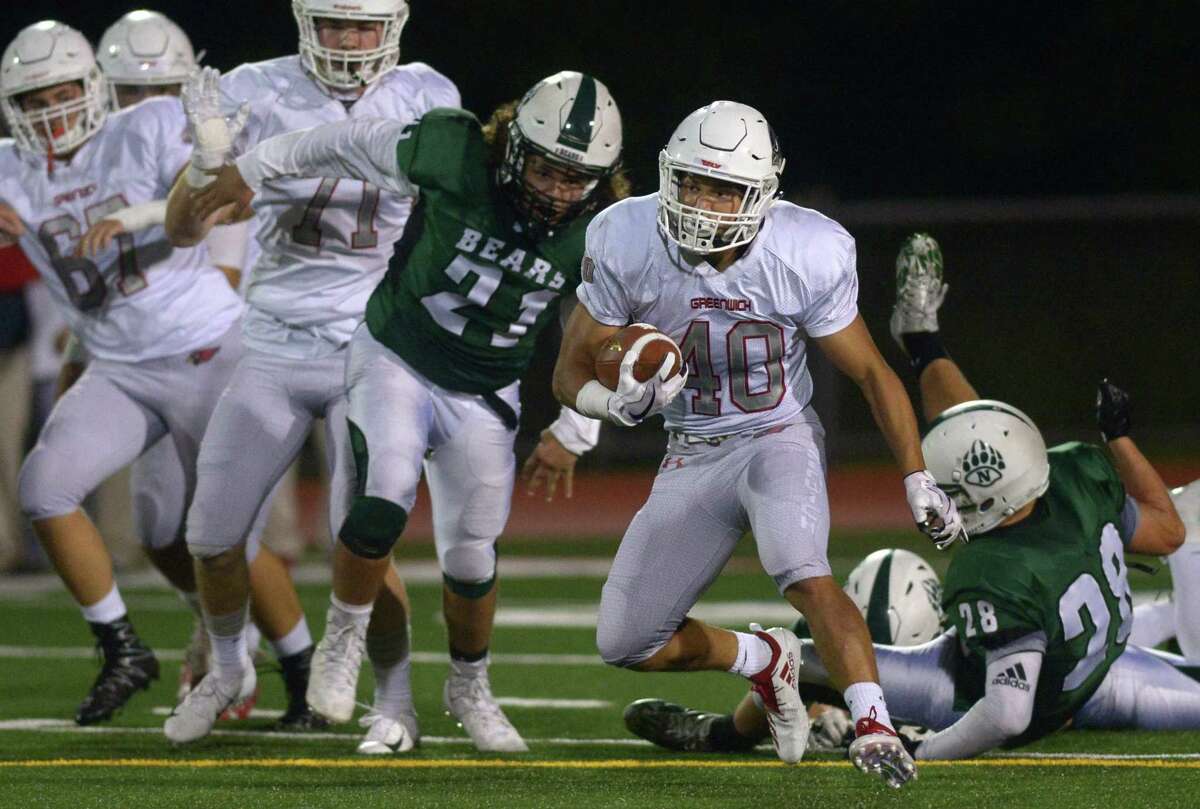 NORWALK — Norwalk scored more than 40 points in each of its first three football games, two of which were victories. Yet the Bears couldn't reach the end zone against Greenwich, whose defensive unit was as stingy as ever Friday night.
Another dominant defensive effort, coupled with a highly efficient offense, propelled the Cardinals to another resounding victory.
Tysen Comizio ran for a pair of touchdowns, Jack Warren scored on a 25-yard scamper and Stephen Bennett caught a scoring strike from Gavin Muir in the first half for Greenwich, which built a 28-point halftime lead en route to recording a 55-0 win over host Norwalk in an FCIAC matchup.
The win raised Greenwich's record to 3-0 heading into next week's showdown against New Canaan. The Bears, who were edged by Fairfield Ludlowe a week ago, 43-42, dropped to 2-2.
Field position wasn't a problem for Norwalk, which had possession in Greenwich territory several times in the first half, but came up empty. Greenwich's defensive line pressured Bears junior quarterback Kyle Gordon throughout, making it difficult to pass to his favorite receiving targets Khalil Eason, Jaki Elliott and Jamal Boyd. The secondary was also on point throughout the night.
"It was definitely a team effort, the coaches put up a great game plan and we executed it," GHS senior safety Charlie Ducret said. "We all played as one unit and were effective."
Greenwich's first score came on its second possession and it took only one play to reach the end zone. Comizio, a senior, took Muir's shotgun snap, ran up the middle, cut left and dashed 41 yards for a touchdown, giving the Cardinals a 6-0 lead with 5:14 remaining in the first quarter.
Norwalk moved the ball into Greenwich territory on two of its first three possessions in the first quarter, but each time its drive was halted. Senior defensive linemen Emilio Camou and Mozi Bici registered tackles for a loss of yardage on the Bears' third drive, which stalled at the GHS 44-yard line.
"We had a couple of dropped passes and with our slot guys and receivers, if one of our guys catches one of those in stride they can score and maybe they don't blitz like they were," Bears coach Sean Ireland said. "We got handled up front, out wide we were okay. Our skill positions — we can match up with anybody — but they were coming after us every single play, they won the battle up front and the scoreboard showed it."
Aided by several Greenwich penalties, the Bears reached the Cardinals' 31-yard line at the start of the second quarter, but the visitors kept Gordon and his offense off the scoreboard.
The Cardinals extended their lead by driving 90 yards in 10 plays early in the second quarter. Backed up on their 15-yard line, the Cardinals got some breathing room when senior wideout Stephen Bennett went 39 yards on a catch-and-run, putting the ball at the Bears' 46-yard line.
Greenwich then relied on the running of Comizio and Warren to finish the drive. Warren capped it with a 25-yard touchdown run. Muir connected with Bennett on the 2-point conversion pass, giving the Cardinals a 14-0 advantage at the 7:27 mark of the second quarter.
Following a Norwalk three-and-out, Comizio broke loose for a 61-yard run, giving Greenwich a first down at the Bears' 4-yard line. The next play, Bennett snared a 4-yard pass from Muir off a slant pattern, making it 21-0 with 9:52 to play in the second stanza.
"We were clicking on offense as a whole," Bennett said. "Our offensive line (led by center Jack McBreairty) opened up lanes for our runnning and passing game."
Bennett's big punt return set the Cards up at the Bears' 27 and three plays later, Comizio ran it in from three yards out, putting Norwalk in a 28-0 hole with 4:13 still left in the opening half.
Ducret and Ryan Raybuck helped lead Greenwich's effective secondary, which prevented Norwalk from getting its potent passing game going.
"Our defense was strong again," said GHS coach John Marinelli, who will coach against his father Lou Marinelli when the Cardinals visit New Canaan next week. "It was a field position game in the first half, as they surprised us with some quick punts, but our defense stepped up."
The second half began with Greenwich driving 59-yards in nine plays for a score. Senior Lance Large caught passes of 26 and 14 yards from Muir on the drive, which was concluded by Comizio's 1-yard run with 9:09 left in the third quarter.
Raybuck intercepted a pass from Gordon, who was shaken up on the play on a big hit with 7:08 in the third quarter, but walked off the field on his own power.
On the ensuing possession, Large scored on a 4-yard pass from Muir, putting GHS ahead 42-0 late in the third quarter. Greenwich led just 6-0 following the first quarter, before tallying 21 second-quarter points.
"I told our guys that's what happens when you work out in the offseason," Ireland said. "They just handled us up front and wore us down. When they run their fast-paced offense like that, it's tough to stop."
ON THE RUN
Marinelli was pleased with what he saw from the team's ground attack, led by Comizio and Warren.
"We did a really good job up front and we took advantage of the matchups we had on the line," Marinelli said. "Tysen and Warren had a great day and we did a good job of running downhill, which was good to see."
GORDON A GAMER
Pressured and hit hard throughout, Gordon left the game late in the fourth quarter and did not return, though Ireland said he could have played.
"We took him out as a precaution," Ireland said. "In terms of gamers, he is up there with some of the best I've coached. He got beat up tonight, but kept getting back up."
GREENWICH 55, NORWALK 0
GREENWICH 6 22 14 13 — 55
NORWALK 0 0 0 0 — 0
G — Tysen Comizio 41 run (kick failed)
G — Jack Warren 25 run (Stephen Bennett pass from Gavin Muir)
G — Bennett 4 pass from Muir (Ben Howarth kick)
G — Comizio 3 run (Howarth kick)
G — Comizio 1 run (Howarth kick)
G — Lance Large 4 pass from Muir (Toby Turnbull kick)
G — Matthew Pilc 34 run (Turnbull kick)
G — Jonathan Alexandre 5 run