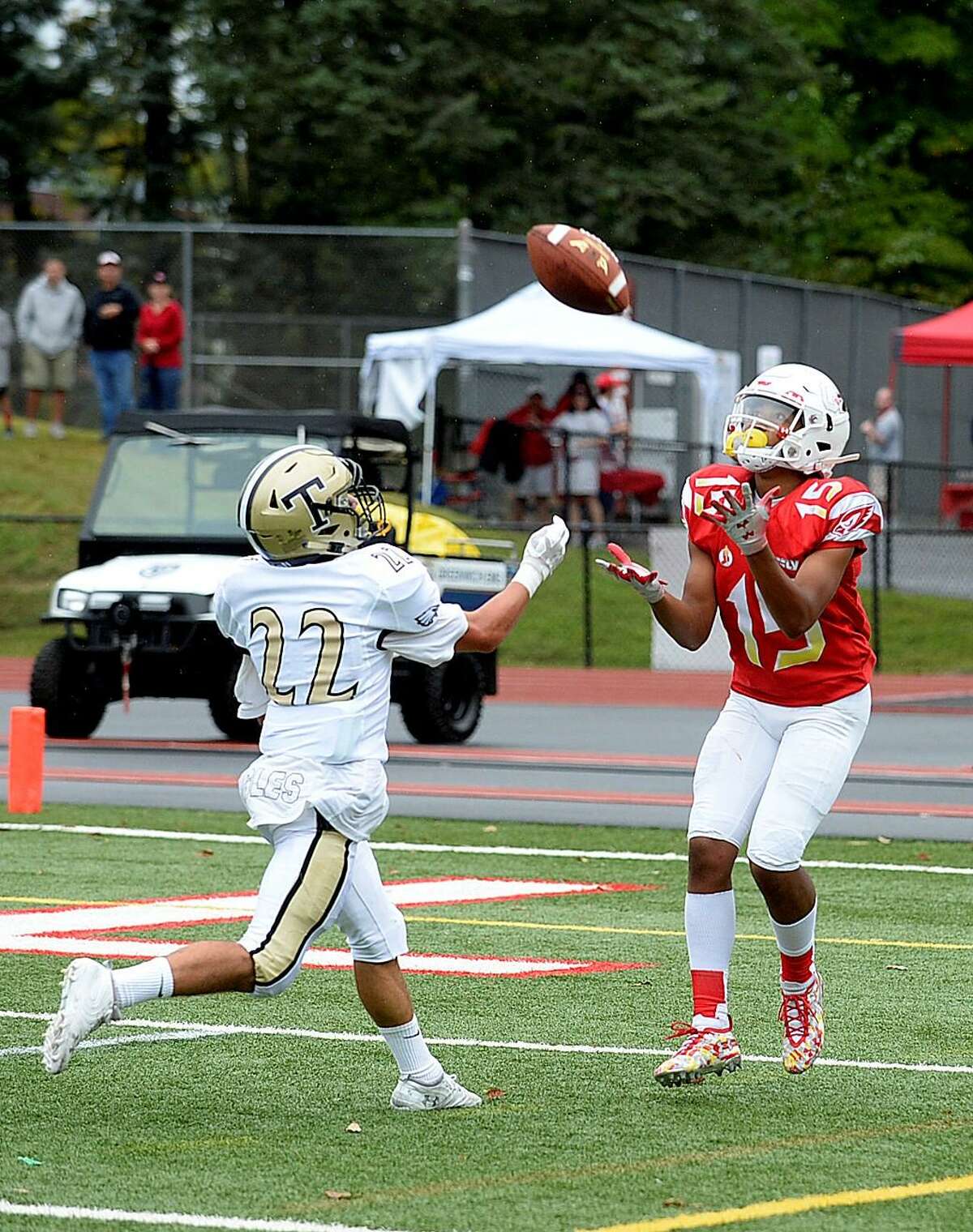 GREENWICH — During the preseason, Greenwich High School football coach John Marinelli mentioned AJ Barber as a receiver capable of stepping up and making plays.
Well, Marinelli was right on in his assessment.
Barber, a sophomore, helped set the tone of the Cardinals' season-opener against Trumbull, catching three touchdowns from quarterback Gavin Muir in the first half.
Those three receptions, coupled by Ryan Raybuck's interception return for a touchdown sparked Greenwich to a 42-7 win over FCIAC foe Trumbull in the season-opening game for both squads.
Muir threw three touchdown passes, and the defense stepped up for the Cardinals, who entered halftime with a 28-7 lead.
Saturday's showdown marked the coaching debut at Trumbull for veteran coach Marce Petroccio, who previously walked the sideline at Staples for numerous seasons.
AJ Barber scores his third TD of the day, making it 28-7 Greenwich over Trumbull just before the half. #cthsfb pic.twitter.com/TyL6PtnfbC

— Sean Patrick Bowley (@SPBowley) September 8, 2018
"We fought and fought and fought," Petroccio said. "It's a long season, this is only one game and that's a legitimate football team, no doubt. We'll go back to the drawing board and do what we have to do."
Eagles senior quarterback Colton Nicholas threw a touchdown pass to junior wide receiver Kyle Atherton for Trumbull's first-half score.
The matchup was penalty-filled, with both teams whistled for infractions throughout the first half. Greenwich was charged with an astounding 14 penalties for 120 yards, while Trumbull was hit with eight for 65 yards in the first half alone.
"I felt like it was a sloppy game on our side, we made too many mistakes in the first half — too many undisciplined mistakes," Marinelli said. "That's got to change and we will change it in practice. Overall, I'm happy with how we came out in the second half, where we had less penalties."
It was also a half full of touchdowns for pound Barber.
Greenwich drove 61 yards in six plays on the game's opening possession, which was ended by a 39-yard touchdown reception by Barber, on a play involving some trickery. Lining up in the wildcat, senior running back Tysen Comizio tossed the ball back to Muir, who lofted a perfect pass to Barber, who got behind an Eagles defender for a touchdown 1 minute, 33 seconds into the first quarter.
Ryan Raybuck takes a pick 53 yards to the house for Greenwich, 21-7 with under 5 left in half… #cthsfb pic.twitter.com/JH67DRhfu2

— Sean Patrick Bowley (@SPBowley) September 8, 2018
"AJ is a special player, he is going to be great for us," Marinelli said. "He has no ego, he comes to work every day and he has a great motor."
Aided by six Greenwich penalties, Trumbull drove 75 yards on its opening possession for a score. Nicholas' 20-yard pass in the right corner of the end zone was caught by Atherton, who ran a go-route on the play, and evened the score with 6:39 to go in the first quarter.
Greenwich took the lead for good when Muir completed a pass to Barber in the right flat for a 9-yard scoring strike with 3:30 remaining in the first quarter. Ben Howarth converted the point-after attempt, giving the Cardinals a 14-7 advantage. Muir's completions to Stephen Bennett (11 yards) and Lance Large (9 yards) helped key the drive.
"The whole preseason he showed what he can do," Muir said of Barber. "He has a lot of speed he can get outside and make defenders miss. We're happy with the win, but not satisfied. There are definitely things we need to clean up. Our offensive line, receivers and running backs played well, but overall, we can play better next week."
After a TD is wiped out, Greenwich comes right back and scores on this Tysen Comizo run. Lance Large made a great catch down sideline to set it up. 35-7 Greenwich early 3 #cthsfb pic.twitter.com/BjBYCfRs8V

— Sean Patrick Bowley (@SPBowley) September 8, 2018
The Cardinals extended their lead in the second quarter by getting defensive. With Trumbull on the move, Raybuck, a senior cornerback, intercepted Nicholas' pass on the left sideline and showcased his speed, sprinting 53 yards down the sideline for a touchdown, putting the Cardinals on top, 21-7 with 4:03 left in the second quarter.
"One of our coverages is where I drop back and the safety comes up to take the flat, but we switched it and I jumped the route," Raybuck said. "The ball was right there saw, I saw an opening and went for it for a touchdown. It was great booster for our team."
Recovering an onsides kick, Greenwich was in business again, taking over at the Trumbull 46-yard line. Three runs netting 20 yards by Comizio put the Cards in the red zone and the drive was capped when Muir tossed a 1-yard pass for a score to Barber at the 1:34 mark of the second quarter.
Large got behind the Eagles' secondary and snared a 34-yard pass by Muir, setting the home team up on Trumbull's 14-yard line on their first possession of the second half. Following a 10-yard run by junior Jack Warren, Comizio ran it into the end zone from four yards out, giving Greenwich a commanding 35-7 advantage.
Meanwhile, Greenwich's defensive line and linebackers imposed their will from late in the first quarter on. Senior defensive end Emiliou Camou, linebacker Jack Feda (senior) and Ben Kraninger each sacked Nicholas, while senior lineman Mozi Bici was active on defense throughout.
"Our defensive line had a heck of a performance," Feda said. "As a defense, we played really well, but we have to work on our penalties. It was our home-opener, but there's no excuse."
Said Marinelli: "I'm happy with our defensive effort. Allowing just seven points was impressive."
Nicholas was pressured for a good portion of the game.
"I thought Colton played very well," Petroccio said. "The interception, that's part of football. He was throwing the ball very well today and he was under duress that's for sure. I was happy with his play today overall."
EXTRA POINTS
Prior to Saturday's game the new scoreboard at Cardinal Stadium was dedicated. The scoreboard/videoboard, which was installed thanks to the Greenwich Athletic Foundation, provided a live feed of the game on its sizable screen throughout the game. … The game, which was scheduled to begin at 4 p.m., started at 4:15 p.m. … Senior defensive back Dan Arganese intercepted a pass for Trumbull. .. Raybuck added a second interception on the first play of the fourth quarter for Greenwich. … Warren scored on a 1-yard plunge late in the third quarter for GHS.
Greenwich 42, Trumbull 7
| | | | | | | | |
| --- | --- | --- | --- | --- | --- | --- | --- |
| Trumbull | 7 | 0 | 0 | 0 | | — | 7 |
| Greenwich | 14 | 14 | 14 | 0 | | — | 42 |
Greenwich: AJ Barber 39 pass from Gavin Muir (Ben Howarth )
T: Kyle Atherton 20 pass from Colton Nicholas (Aidan Clark )
Greenwich: AJ Barber 9 pass from Gavin Muir (Ben Howarth )
Greenwich: Ryan Raybuck 53 interception return (Ben Howarth )
Greenwich: AJ Barber 1 pass from Gavin Muir (Ben Howarth )
Greenwich: Tysen Comizio 4 run (Ben Howarth )
Greenwich: Jack Warren 1 run (Toby Turnbull )
Trumbull (0-1, 0-1)
Greenwich (1-0, 1-0)