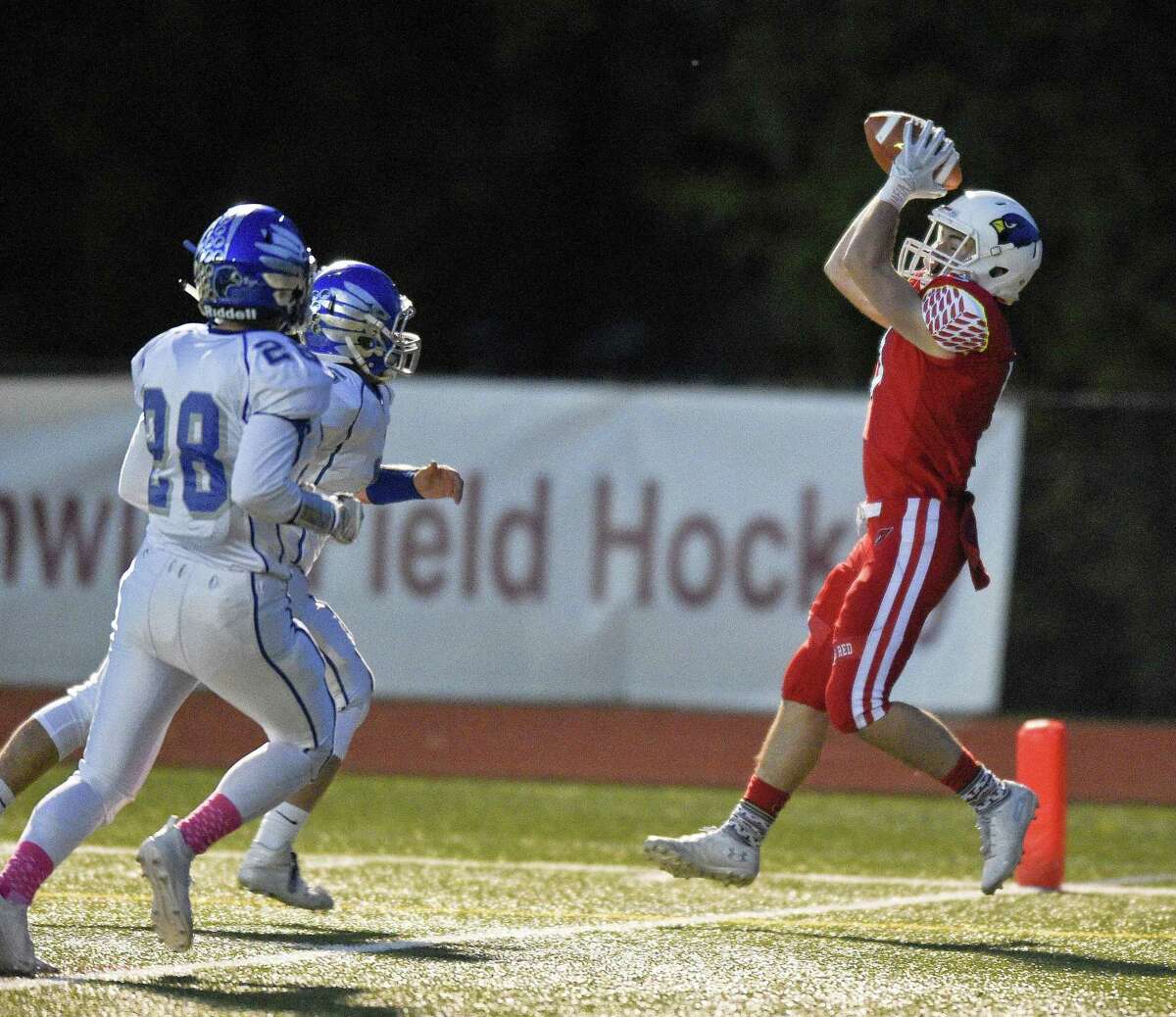 GREENWICH —Fairfield Ludlowe responded to Greenwich's first touchdown of Thursday night's football matchup with a score of its own in the opening quarter.
Yet like the Cardinals' previous foes, the Falcons learned that keeping pace with them is a monumental task.
Effectively mixing its running and passing attack, No. 2 Greenwich lit the scoreboard for 35 first-half points and cruised to a convincing 56-7 Homecoming night victory over Ludlowe at chilly Cardinal Stadium.
The Cardinals ran their record to 6-0 with the win, which saw senior Stephen Bennett catch a pair of touchdown passes from senior quarterback Gavin Muir and sophomore Hunter Clark run it into the end zone twice in the first half. Senior linebacker Jack Feda intercepted two passes, one which he returned for a score for the unbeaten Cardinals.
Thursday's game was orginally scheduled to be held on Saturday, but was switched due to the inclement weather that is supposed to hit the area.
"I am proud they didn't let the game time phase them, they were like okay let's play," GHS coach John Marinelli said of his squad. "They adjusted accordingly, credit to the kids for not letting anything get to them."
The 5-2 Falcons, who had no trouble at all putting points on the scoreboard over their first six games, received a 48-yard touchdown reception from sophomore wideout Collin Fleming in the opening half. It was a challenge for them to consistently move the ball against Greenwich's speedy and swarming defense.
"They are a very good team, they are the first or second best team in the state and are very strong, very quick and very tough," Ludlowe coach Mitch Ross said. "We had very little time to throw the ball, everything had to be quick and we did that. But once we get to 2nd-and-20 due to penalties, we were in trouble. We were without three starters on our line and four starters, so that was tough."
CARDS STRIKE EARLY, OFTEN
After Greenwich took a 7-0 lead on Muir's 27-yard scoring strike to Bennett with 6:48 remaining in the first quarter, the Falcons tied the score with their best drive of the half.
The visitors drove 66 yards, capped by senior quarterback Colin Wilson's 48-yard touchdown pass to Fleming at the 4:21 mark of the first quarter.
It was all Cardinals from that in the opening half. Greenwich took the lead for good at 14-7 on Clark's 44-yard dash to the end zone with 2:48 left in the first quarter.
Following a Falcons' three-and-out, Greenwich extended its advantage when Bennett snatched an 11-yard pass from Muir for a score, making it 21-7 with 1:28 to go in the opening stanza.
"Our offensive line is strong and our running game is strong, so we were able to build off of that," Bennett said. "Everything is clicking, everyone is working together and even when we make mistakes we bounce back."
REMAINING ON THE RUN
Senior running back Tysen Comizio did not play in Thursday's Home with a hand injury, so the Cards relied on Clark, Spencer Hartley and Jack Warren to pace the running game.
Clark gained 92 yards on just three first-half carries. Hartley added a 5-yard touchdown run and Clark broke loose for a 40-yard scoring run in the second quarter.
"We are so deep at the running back position, so it's the next man up," Bennett said.
"Running back depth is one of our strengths," Marinelli said. "We have Tysen Comizio and Jack Warren, who everyone talks about, but we also have, Spencer Hartley, Hunter Clark and Teddy Bacon."
Clark gained 92 yards on just three first-half carries.
DOMINANT DEFENSE
Wilson went to the air a lot in the first half, completing 19 of 39 passes for 160 yards. Fleming was the leading receiver for Ludlowe in the first half with 78 yards. James Bourque and Dylan Fragomeni caught several Wilson passes for the Falcons, who entered halftime facing a 35-7 deficit.
"Colin Wilson did very well, he was under a rush all day, I don't think he ever had two seconds to throw the ball," Ross said. "I thought he had a good game, considering how much time he had to throw."
Said Marinelli: "What a difference a year makes, Mitch is doing a great job. They moved the ball pretty well their quick passing game was good."
Senior defensive end Mozi Bici registered a first-half sack for GHS, which saw it's defense extend its advantage in the third quarter.
"They came out with a lot of formations and we practiced a lot of formations," Bici said. "He (Wilson) knew how to get rid of the ball, so we had no time to get to the quarterback. We saw what they were doing, went to the sideline, made some changes and adapted."
Feda, who along with junior Evan Weigold and senior Emilio Camou helped pace the Cards' strong defensive play, returned a Collins interception more than 30 yards for a score in the third quarter.
"That was the first time I got a pick six in my Cardinals career — it doesn't happen often," Feda said. "I never had two interceptions in one game. When I got the interception, I'm thinking, just run and don't get caught from behind."
Greenwich's defense has allowed just 28 points so far this season.
GREENWICH 56, LUDLOWE 7
LUDLOWE 7 0 0 0 — 0
GREENWICH 21 14 14 7 — 56
G — Stephen Bennett 27 pass from Gavin Muir (Ben Howarth kick)
FL — Collin Fleming 58 pass from Colin Wilson (Victor Cunha kick)
G — Hunter Clark 44 run (Howarth kick)
G — Bennett 11 pass from Muir (Howarth kick)
G — Spencer Hartley 5 run (Howarth kick)
G — Clark 40 run (Howarth kick)
G — Jack Feda 30 interception return (Howarth kick)
G — Bennett 27 pass from Muir (Howarth kick)
G — Teddy Bacon 1 run (Howarth kick)