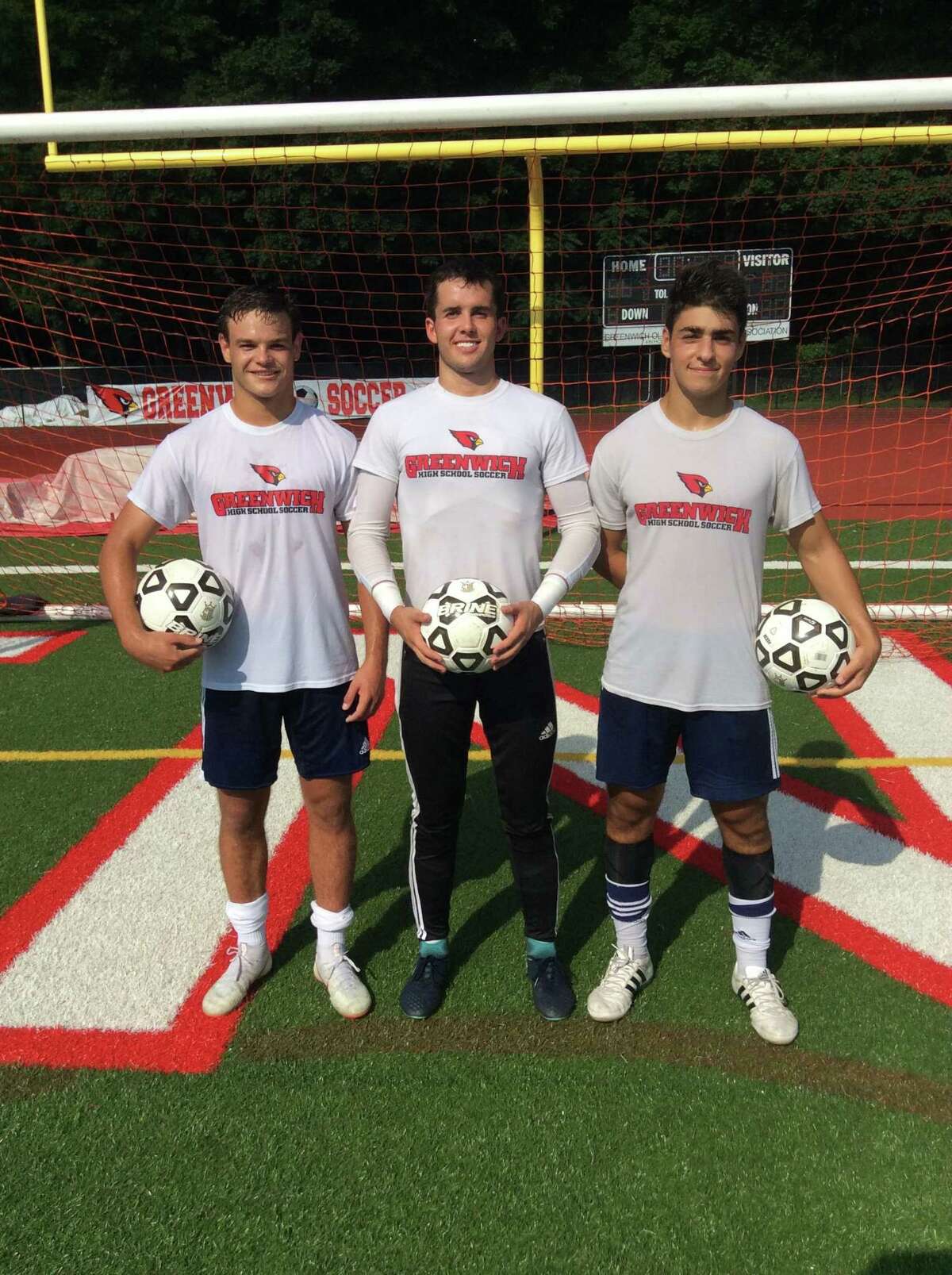 Depth, experience, a championship pedigree — these are all aspects the Greenwich High School boys soccer team has in its favor.
And that's bad news for its opponents.
The two-time defending FCIAC champion Cardinals boast 33 players on their roster, 26 of whom are seniors. Many of the upperclassmen were a part of the Cardinals' 2017 squad, which captured the FCIAC title and registered an overall record of 15-5-1
"A lot of our players understand the expectations of our team and the work ethic involved in having a successful season," GHS coach Kurt Putnam said. "The guys coming up from JV to varsity are also bringing a lot to the team. This is probably the deepest team I've had in a long, long time."
Greenwich, which posted a 1-0 win over Trumbull in last season's FCIAC final, has appeared in the conference tournament's championship game four of the last five seasons, claiming the title three times. Ranked No. 1 in the FCIAC Coaches' preseason poll, the Cardinals have skill and depth at each position.
"One of the biggest reasons we played so well and had a good season last year is because of the way the team came together at the beginning of the season," GHS senior goalie/tri-captain Jimmy Johnson said. "The way all of the older players on the team made the younger players buy into our culture and team attitude helped us get as far as we did."
The Cards' experience of competing in postseason games is indeed, valuable.
"Having so many seniors is a good thing, because we have a lot of strong players in the program," Johnson said. "The amount of depth we have position wise is a benefit to us. We have four or five options at each position, so if someone gets injured, we have good players coming off the bench."
With Johnson beginning his third season as the squad's starting goalie, senior captains Francisco Liguori and Ben Rifkin will help anchor the midfield and defense, respectively, both of which should strong areas for the Cardinals.
"Our goal is to get back to where we were, so we know we can't slow down and I think this group realy embodies that belief well," Rifkin said.
Last season saw 11th-seeded Greenwich drop a 1-0 decision to sixth-seeded Farmington in the Round of 16 of the CIAC Class LL Tournament. Farmington wound up losing to Glastonbury in the finals.
"We're so hungry to have a great season," Rifkin said. "We know we let ourselves down in states and our seeding didn't define us. So we're hungry get the seeding we want we want and to get far in states."
Said Liguori: "We definitely want to win the FCIAC championship again win and our main goal would be to win states, which hasn't happened in a long time."
Putnam and his Cardinals are well aware that they will get each opponent's best effort.
"Greenwich has a circle around it on other team's schedules," said Putnam, whose team opens its season Saturday with a road game against Brien McMahon. "No one is going to take it light on us."
AT THE HELM: Since taking over as coach of Greenwich in 2001, Putnam has guided the team to FCIAC titles in 2005, 2007, 2013, 2016 and 2017. The Cardinals have been one of the premier teams in the FCIAC and state under Putnam's watch.
Ray Marschall is back for his 10th season as an assistant coach. Greenwich's rivals include Staples, Trumbull, Norwalk, Danbury and Ridgefield.
WHO'S GONE?: Midfielder Martin Garcia, an First Team All-FCIAC selection in 2017, who was named the MVP of the FCIAC title game, graduated. Federico Irigoyen (All-FCIAC First Team selection in 2017), who scored the game-winning goal against Trumbull in the FCIAC final, also graduated. Fermine Mendive, Bennett Tiedy (All-FCIAC West honors), Adam Juszcyk, Michael Berzolla and Nick Glass, were also among some of the graduates. Junior Thomas Lewis, a defender last season, is also a standout swimmer and has decided to concentrate on swimming this season.
WHO'S BACK?: Liguori, a First Team All-FCIAC selection last fall, will be relied upon to help ignite the squad from the midfield, along with senior Christopher Cruz and junior Davi Pedreiro. Senior Lucas Jordao is also one of the returning midfielders
"In the midfield, we look for short passes and we try to get the ball to our wingers, so they can penetrate in open spaces," Liguori said. "We have some key midfielders back from last season."
Rifkin, who earned All-FCIAC West Team honors in 2017, anchors the backline, with senior Sasha Burnett and senior Thomas Streiff. Woojin Quak (senior), Shoki Araki (senior) and Bryan Lopez (senior) can help the squad offensively and play multiple positions.
Johnson, who earned All-FCIAC, All-State and All-New England team honors a year ago, is primed for his third season as the squad's goalkeeper. Junior Padraig Colligan, senior Luis Estrada and Danny Acebo (senior) provide depth at the goalie position.
STRENGTHS: Scoring was a problem for the opposition last season and with Johnson back in goal and depth in the backline, that could be the case this season. The Cards should be formidable in the midfield and at the forward positions.
"We have players who can move the ball and make it hard for other teams to score," Putnam said. "Our mantra is to out-work other teams."
CAPTAIN'S COMMENT: "What I saw my freshman and sophomore years and how I bonded with the older guys has helped make me a leader on the team today," Johnson said.
"We are out to show we are one of the best football teams in the state," Rifkin said.