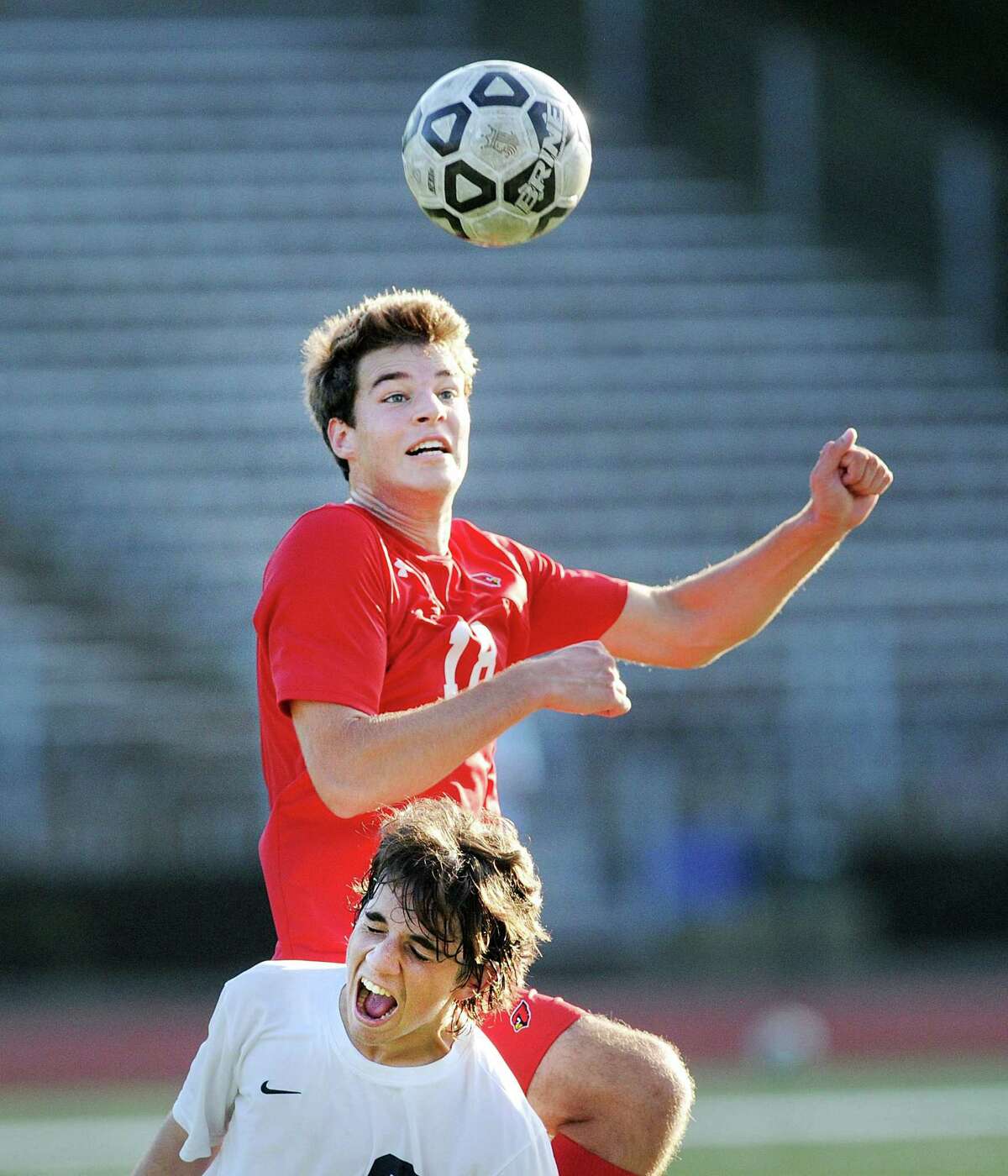 GREENWICH — Rivals typically bring out the best in each other and Greenwich was certainly in top form in its showdown against boys soccer foe Staples on Wednesday.
Consistently applying pressure, the Cardinals generated a pair of penalty kicks in the first half against their nemesis — and they capitalized on both.
Scoring on two penalty kicks made the difference in this duel, which saw Greenwich post a 2-0 victory at Cardinal Stadium.
With the significant win, the Cardinals improved their record to 4-1-2 overall, giving them 14 points in the FCIAC standings. Staples' records stands at 4-2-1 (13 points).
Senior Shoki Araki and junior Davi Pedreiro each converted penalty kicks to lead the Cardinals, who extended their winning streak to four straight games.
"We stuck to our game plan, we played a little bit more direct than we usually do," said Greenwich coach Kurt Putnam, who guided the Cardinals to the FCIAC title last fall. "We tried to put their backline under pressure. Today, we asked them to go back and play like we did against Ludlowe (a victory)."
The Cardinals outshot the Wreckers, 8-5, and held a 6-1 advantage on corner kicks. The victors' defenders marked their men tightly throughout and were effective in winning the 50-50 balls.
"Playing Staples is a huge game in our season, it's always a lot of fun to play against a great team like that," said Cardinals senior goalie and captain Jimmy Johnson, who made two saves. "It was a good win for us. We got off to a rocky start, but we had a few good wins coming into this game and we know we have to get our season going in the right direction."
Senior Ray Cohen turned in a stellar peformance for the Wreckers, making six saves.
"Greenwich did not allow us to execute our game plan and when a team does that to us it's tough," Staples coach Dan Woog said. "We got caught up in their style of play. You always want to dictate the play and we did not do that."
A Staples' foul in Greenwich's box resulted in a Cardinals penalty kick in the 17th minute. Araki booted his penalty shot past a diving Cohen inside the right post, giving GHS a 1-0 lead. The Cardinals' midfielder went low with his shot.
In the 36th minute, Staples was called for a hand ball in Greenwich's box, giving the home team another penalty kick. This time, Pedreiro converted the shot, making it 2-0.
The Cards continued to keep the pressure on with Bryan Lopez and Woojin Kwak leading the charge. In the second half, the Wreckers tried to gain the momentum, but were thwarted when they attempted to penetrate into the Cardinals' box.
"We did do a better in the second half and we kept the ball on the ground," Woog said. "We dug ourselves a hole and didn't get out of it. It was Greenwich's game, not ours."
Senior captain Ben Rifkin helped spark Greenwich's effective defensive effort.
"We knew they were determined to come out and beat us," Rifkin said. "But I felt we outworked them in every facet of the game and it showed in the result."
Said Putnam: "Staples and Trumbull bring out the very best in us in terms of work rate, desire and determination."
dfierro@greenwichtime.com