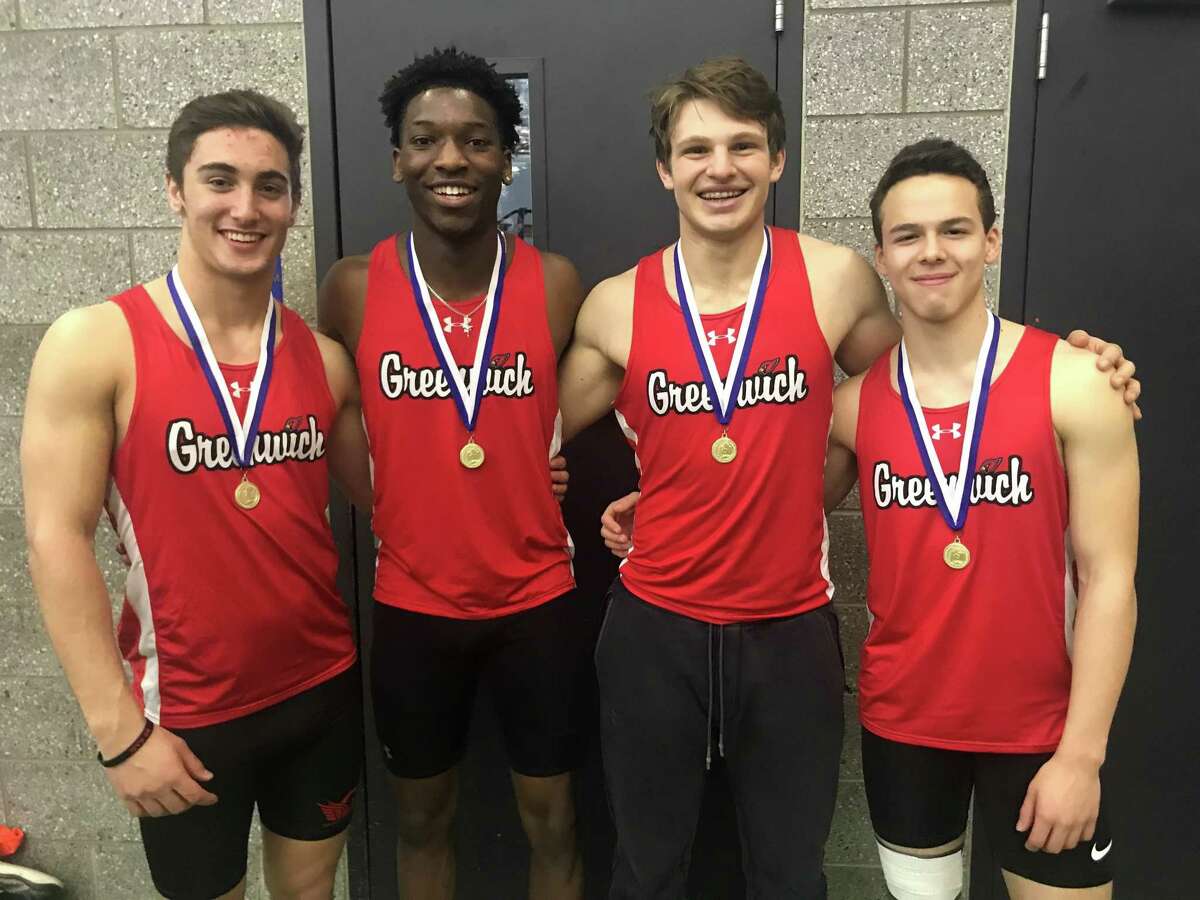 After winning the 4 x 200-meter relay at the FCIAC finals, the Greenwich foursome of Lance Large, Christopher Wint, Hunter Clark and Zane Nye were at the head of the class at the Class LL Indoor Track and Field Championships.
The Cardinals' speedy 4 x 200 relay squad won Class LL title in the event, registering an eye-opening time of 1 minute, 33.49 seconds at Hillhouse High School's Floyd Little Athletic Center.
Large and Wint, both of whom are seniors, and sophomores Nye and Clark are heading into Saturday's State Open Indoor Track and Field Championships seeded first in the 4 x 200.
"That was an unbelievable effort by my teammates," Nye said. "We won the FCIAC championship, which was nice, so our teammates really pushed me and we push each other every day on the track in practice. The look on everyone's faces when we finished first at the LL finals was wonderful."
Large led off the race for Greenwich, putting the squad in good position, finishing his split in 22.9 seconds. Wint ran well, putting the Cardinals in third place, narrowly behind the leading teams. Clark held Greenwich's position with a solid leg, while Nye ran a split of 22.4 seconds and used an opening on the final straightaway to pass Hamden and Hall high school for the victory.
"They gave him an opening on the last 50 meters and he (Nye) went on (the) inside lane, played it well and it worked out," Greenwich coach Jeff Klein said. "He ran it intelligently and we won."
Greenwich is looking forward to showcasing its skills in the 4×200 event at the State Open.
"Teams with the six fastest times are going to be there, it is going to be a great race between all the teams," Nye said.
Added Klein: "There is going to be a lot of competition at the State Open and it is going to be very tight. We certainly have a chance to be Open champions."
Also scoring for the Cardinals at the Class LL Championships was the 4 x 400 relay team of Anthony Hill, Akash Molekudy, Large and Nye. Hill led off with a time of 54.5, followed by Large, whose split was 52.6 seconds. Molekudy, running in the event for the first time, produced a solid third leg, before handing off to Nye. Running his fastest 400 of the season, Nye clocked a 52.1, as GHS finished the event in 3:35.80, good for fifth and a quarter-second off the school record set earlier this season at the Yale Invitational.
The quartet earned a spot in the State Open.
"They ran very impressively, it was of course, great to see them advance," Klein said.
Senior Owen Bianchi also scored points for Greenwich at the LL finals, placing sixth in the high jump (5-feet, 8 inches, tying his season-best)
The long jump saw Bianchi place ninth (19-3). In the 55 meter dash, Nye placed 11th (6.77 seconds). Alexander Bein ran his second-best time in placing 15th in the 3200-meter run (10:03), while teammate Aidan Brock was just off his personal-best time, clocking in at 10:19. Hill ran his second-fastest time in the 55-meter high hurdles, placing 9th in 8.55 seconds. In the shot put, Sam Chard closed out his standout season (36-9.5 21st).
In relay action, the 4 x 800 team of Alex Kosyakov, Brock, Molekudy and Stephen Burke were seventh with a time of 8:39. The Cardinals' sprint medley relay team of Hayden Witmer, Tyler Bacco, Kosyakov and Zach Jelinek placed 18th in 4:07.
"Our 4 x 800 team were a close-knit group the whole season and did well in all their meets throughout the season," Klein said. "That was a very good finish for them."
dfierro@greenwichtime.com