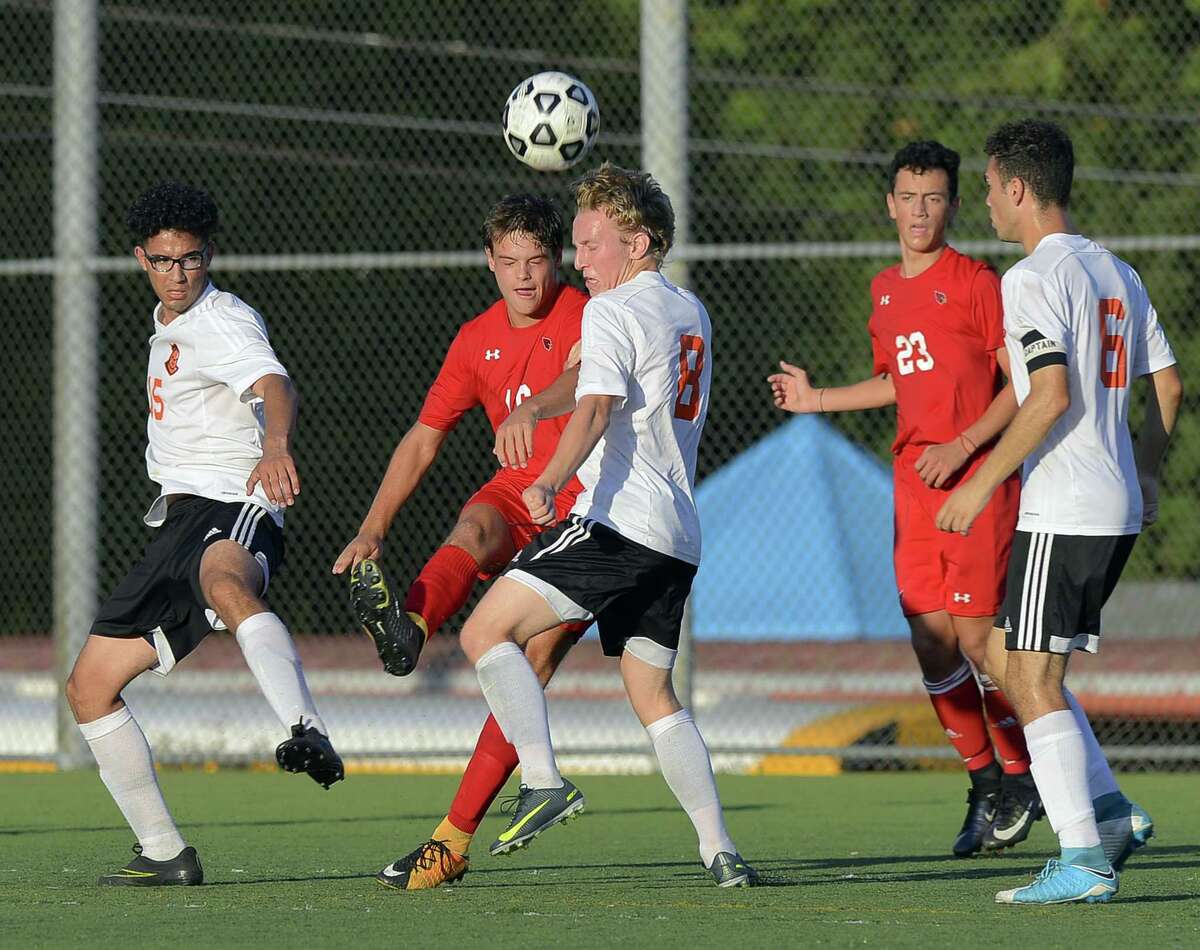 STAMFORD — It will be an interesting battle for the Stamford city boys soccer title in 2018.
Stamford High is a bit younger than the Black Knights were in 2017. Westhill is a bit older and wiser this season. Trinity Catholic's program is looking to take another step forward on its Gaglio Field artificial turf complex.
STAMFORD HIGH
Stamford High's veteran coach Mario Caminiti saw 16 seniors graduate from the 2017 squad that was 11-4-1 in the FCIAC and was the league's No. 3 playoff seed.
However, the Black Knights lost 1-0 to Norwalk in the FCIAC quarterfinals as well as 1-0 in OT to Staples in the first round of the Class LL tournament.
This 2018 season is about opportunities and seizing the moment.
Senior captain Josh Labkoff will key the defense. Senior captain Mamadou Diallo will run the midfield.
Stamford's offense has great potential with weapons that can attack with speed, especially on the Black Knights' home artificial turf.
Replacing graduated goalie Alex Grabar is perhaps the biggest question to be answered.
"We're young but happy. We had a good turnout in terms of numbers," Caminiti said. "I see promising talent that will grow given time. It's about developing chemistry right now."
WESTHILL
Veteran coach Joe Andrews feels the Vikings can move forward in 2018 after posting a 6-6-4 mark in FCIAC play in 2017.
"It's a great group. We had some graduation losses but we've promoted some new faces up from last season's junior varsity," Andrews said. "The kids have been dedicated since Day 1 of practice. It's a huge plus when the coach walks on the field and everybody is there and working hard."
Seniors Vincent Manginelli and Lucas Goldfluss will bring experience and leadership. Sophomore Nataniel Aybar is among a trio fighting for playing time as goalie.
Seniors Vincent Balaj, Chris Matrullo and Julien Matrullo will spearhead the defense.
"The group has a great attitude, great work ethic and good chemistry. Patience and time will take us along," Andrews said. "These kids love to compete."
TRINITY CATHOLIC
Sam Byrnes, an assistant coach in 2017, has been promoted to head coach for 2018.
So the culture and foundation that Byrnes helped Mike Martino build during the Crusaders' 3-12-1 FCIAC campaign is intact.
Leadership will come from senior captains Alexe Apostolidis, David Broughton, Michael Smolak and Alex Romancuzk.
"We started out well last season. We had a tough finish due to FCIAC teams we closed out the schedule with," Byrnes said. "We did well compared to the past but it was clear there was more work to do. The kids realize the potential in the group this season with their added measure of experience. They believe in themselves."
Other key Crusaders for 2018 include senior defender Gianluca Magnifico, senior forward Zachery Therrien, sophomore goalie Luke Thomas and newly-added junior midfielder Andres Rivera.
KING
King's veteran coach Enzennio Mallozzi is bullish on the Vikings this upcoming 2018 season.
There is a core of returnees from King's 2017 squad that was 4-4-5 in the Fairchester Athletic Association.
Defense will be the priority. Senior Dean Pigott is back as goalie. Seniors also dominate the defense with tri-captain Josh Figueroa, Cam Raker, Jack McOsker and Santiago Silvani.
Senior tri-captain Thomas King will direct the midfield. Senior tri-captain Luke Nascimento leads the group of forwards.
"Experience, especially on defense, is the foundation of this team," Mallozzi said. "This group is three years in the making. Many of them started together as freshmen and sophomores. Their opportunity is here now. It's their turn to shine."