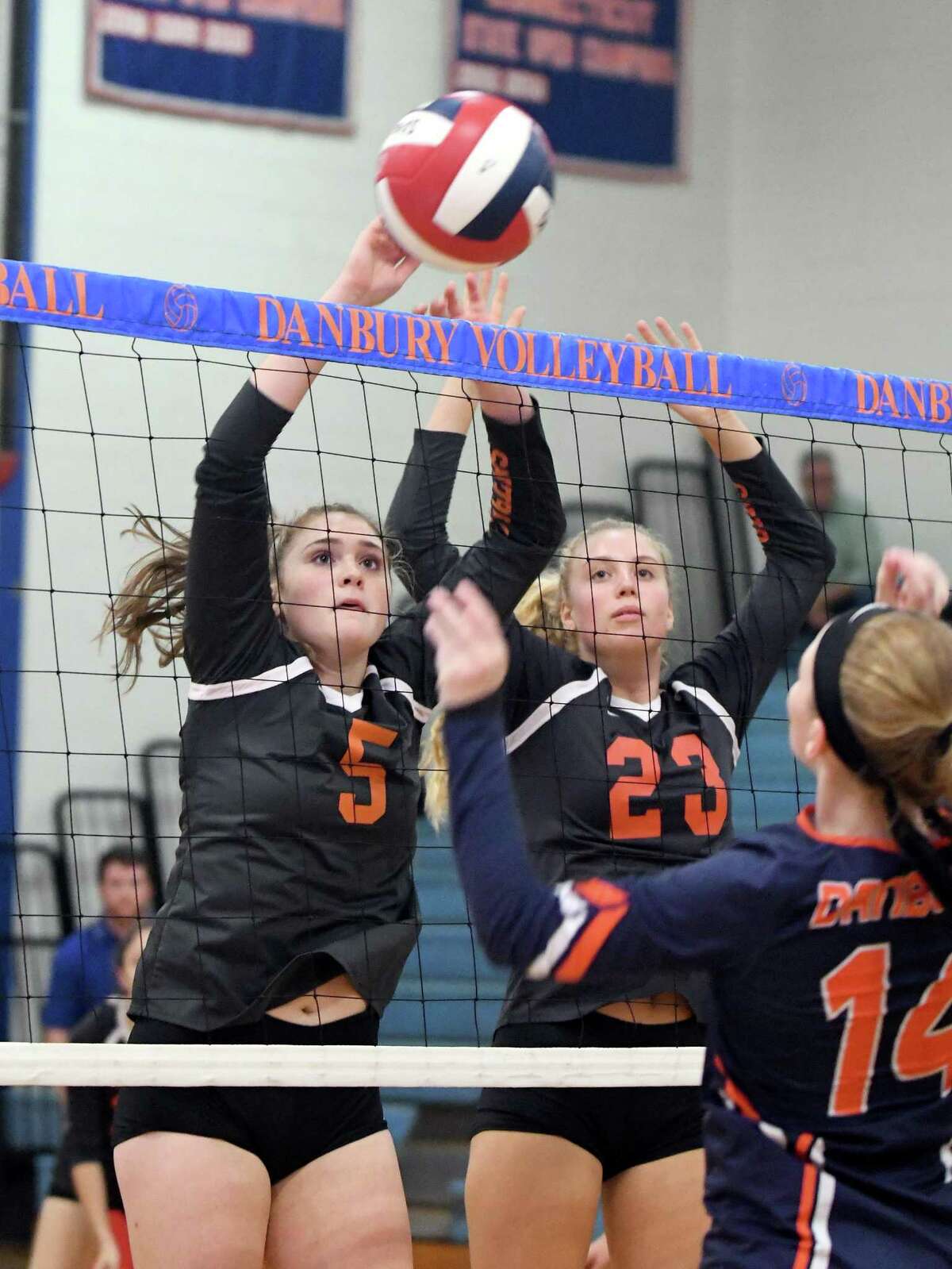 DANBURY — The Ridgefield girls volleyball team hasn't skipped a beat this season after graduating eight seniors from the squad that reached the Class LL state quarterfinals last year.
In fact, in what would have been a rebuilding season for many programs, the Tigers have jumped right back into contention in the loaded FCIAC with a relatively young team this fall. They defeated Danbury 3-0 Monday afternoon to improve 5-3 overall and 4-1 in the conference.
"We had a miscommunication or two and a few mishaps here and there, but overall, we played together," Ridgefield coach Lidania Cibere said. "Every time we step on the court, we're getting better, which is important, because we're a young team.
"I can't wait for practice, because in practice we're learning a lot, and then we get to see the results in the games," Cibere added.
With each victory, the Tigers gain a little more confidence and a little more swagger.
"It's a really good team," Ridgefield senior outside hitter Mackenzie Wanicka said. "We work really hard in practice, and we try to focus on everything we have to do on the court. We've bonded a lot, which is good."
The final score isn't really indicative of the back-and-forth battles in all three sets. Ridgefield won by scores of 25-19, 25-23 and 25-18. Danbury led the second set 19-15 before Ridgefield closed with 10-4 run to win. The Hatters (2-4, 0-4 FCIAC) led the third set 11-8.
"We have a lot of heart," Danbury coach John MacMillan said. "We put all our effort into every ball. We just have a lack of experience and a lack of height, so we're not able to put the ball away. We compete, but it's tough to get a ball down when we need it."
Wanicka led Ridgefield with 11 kills, while Julia Kocsis added four kills and two aces. Sophomore setter Isabel Voellmicke who was called up from the junior varsity team and pressed into action due to an injury, chipped in with 22 assists.
For Danbury, Ryan Hicks tallied 21 assists, Hefferon and Abbie Gumpright each had five kills, and Kathleen Cummings and Shannon Quinn each added four kills and one block.
TURNING POINT
In a seesaw volleyball match such as this one — where every point was hotly contested and neither team really took a commanding lead — there were no less than a dozen turning points. The final turning point, however, seemed to come roughly midway through the third and final set. A kill by Joelene Hefferon extended Danbury's lead to 11-8, but it didn't last. A kill by Wanicka sparked a 10-0 Tiger run with Norah Meneece at the service line that left Ridgefield ahead 18-11. The Tigers cruised from there.
"We've been in every game, every match, all year long," MacMillan said. "We don't quit, so it's a fun team to coach."
SIMILAR SITUATIONS
Just like Ridgefield graduated a large senior class last year, the Hatters graduated six seniors of their own, meaning some new faces have taken over in key places.
"They never give up on the ball, and they play with so much heart," Cibere said. "Kudos to them. They play great defense and they pass the ball well."
Ridgefield 3, Danbury 0
| | | | |
| --- | --- | --- | --- |
| Ridgefield | 25 | 25 | 25 |
| Danbury | 19 | 23 | 18 |
Ridgefield (5-3, 4-1 FCIAC)
Mackenzie Wanicka 11 kills; Isabel Voellmicke 22 assists; Julia Kocsis 4 kills, 2 aces.
Danbury (2-4, 0-4 FCIAC)
Ryan Hicks 21 assists, 2 digs; Shannon Quinn 4 kills, 4 digs, 2 aces, 1 block; Kathleen Cummings 4 kills, 1 dig, 1 block; Joelene Hefferon 5 kills, 4 digs, 2 aces; Abbie Gumpright 5 kills, 2 digs, 1 ace.