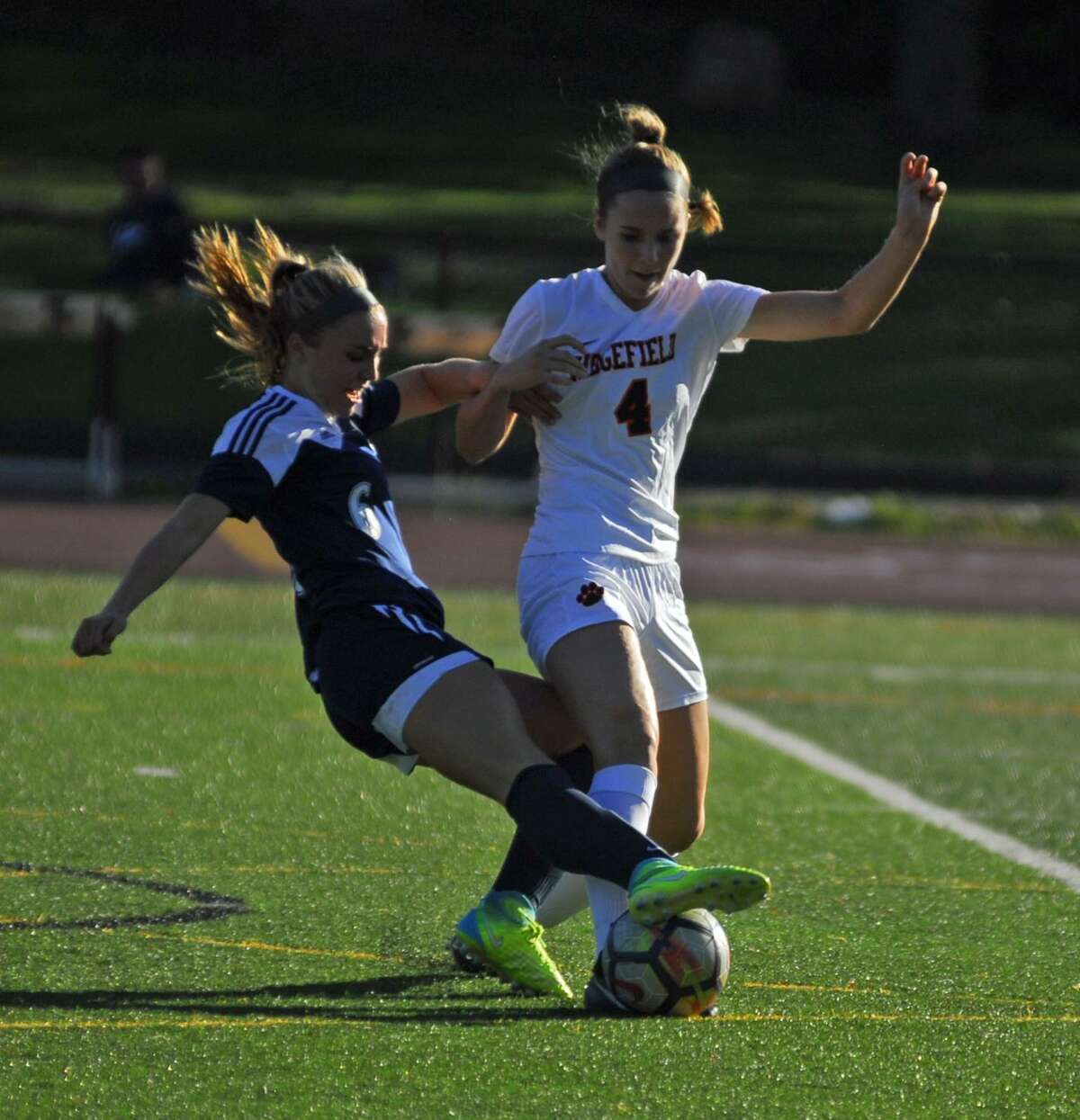 At some point the Ridgefield girls soccer team is going to concede its first goal this season, likely turning the streak into a footnote of another deep run in the playoffs.
Well probably, anyway.
The defending Class LL champions have constructed a fortress in defense that refuses to yield quality chances, a strength that's been a staple of Iain Golding's tenure with the team. Ridgefield is 7-0 after a rain-soaked 3-0 win over Brien McMahon on Tuesday afternoon at Tiger Hollow.
Ridgefield has outscored opponents 27-0 thus far.
"We're playing very well as a group," Golding said. "We're defending very aggressively and limiting opponents' chances to score so that's very pleasing. It's just making sure we're in the right positions, making sure they're limiting space and denying teams the opportunity to get behind them."
Almost 600 minutes have elapsed since allowing a goal in the Class LL final against Staples in November. The Tigers graduated several starters from that afternoon, but as previous years have shown, transitions continue to be seamless.
"The defense is definitely playing well together and (goalie Lauren Castle) is making some key saves, but I think it can also be attributed to the hard work all over the field," said senior defender Claire Middlebrook. "Everyone's defending, everyone's working hard and we defend when we need to, but overall we're good on offense as well."
At least one commanding center back has been the common thread to the success at Tiger Hollow. Middlebrook could be the best defender in the state and leads a group that has been tinkered with by Golding, with the same results.
Castle is in her second season as varsity starter, while sophomore Kelly Chittenden has kept the shutout streak intact as a reserve.
"Definitely having a year under my belt is more of a confidence boost, but it still gets a little nerve-wracking at times," Castle said. "(I'm better) at being more confident and coming out a little bit more."
Ridgefield quickly became one of the top programs in the state over the past several seasons, as two FCIAC titles and three straight state final appearances can attest.
"It's about the program, and the players coming into the program understand what it means to be involved," Golding said. "Right now everyone is understanding that, and the players that are here are carrying that forward."
Caitlin Slaminko, Faith Arnold and Meredith Clifford have provided the scoring punch on offense, as long periods of possession can be a defense's best friend. But it's clear the Tigers are as comfortable without the ball as with it.
"We're pleasantly surprised," Golding said. "Obviously to go a few games and not conceding any goals is awesome; it just shows we're working hard as a cohesive group. We're just making sure everyone knows their responsibilities."
Last season Ridgefield yielded 11 goals in 22 games en route to the state championship, the first for the school in the sport. The year before, the Tigers allowed just 10 goals before falling 4-1 to Glastonbury in the Class LL final.
"The program has always been good defensively and we have a very experienced back line," said Middlebrook. "Our coaches make it clear that we have the responsibility of leading the team and we all take that very seriously."
The schedule does ramp up in the coming weeks. Darien, Wilton, Staples and St. Joseph are consecutive opponents by the second week of October. That stretch will provide clarity in the Tigers' chase, whether or not they concede.
"I'm like trying not to think about it too much, trying not to jinx it," Castle joked.
"We're not too concerned about if we let in a goal," Middlebrook said. "It's more about how we play and if we win. That's what matters at the end of the day."
rlacey@bcnnew.com, twitter.com/ryanlacey11