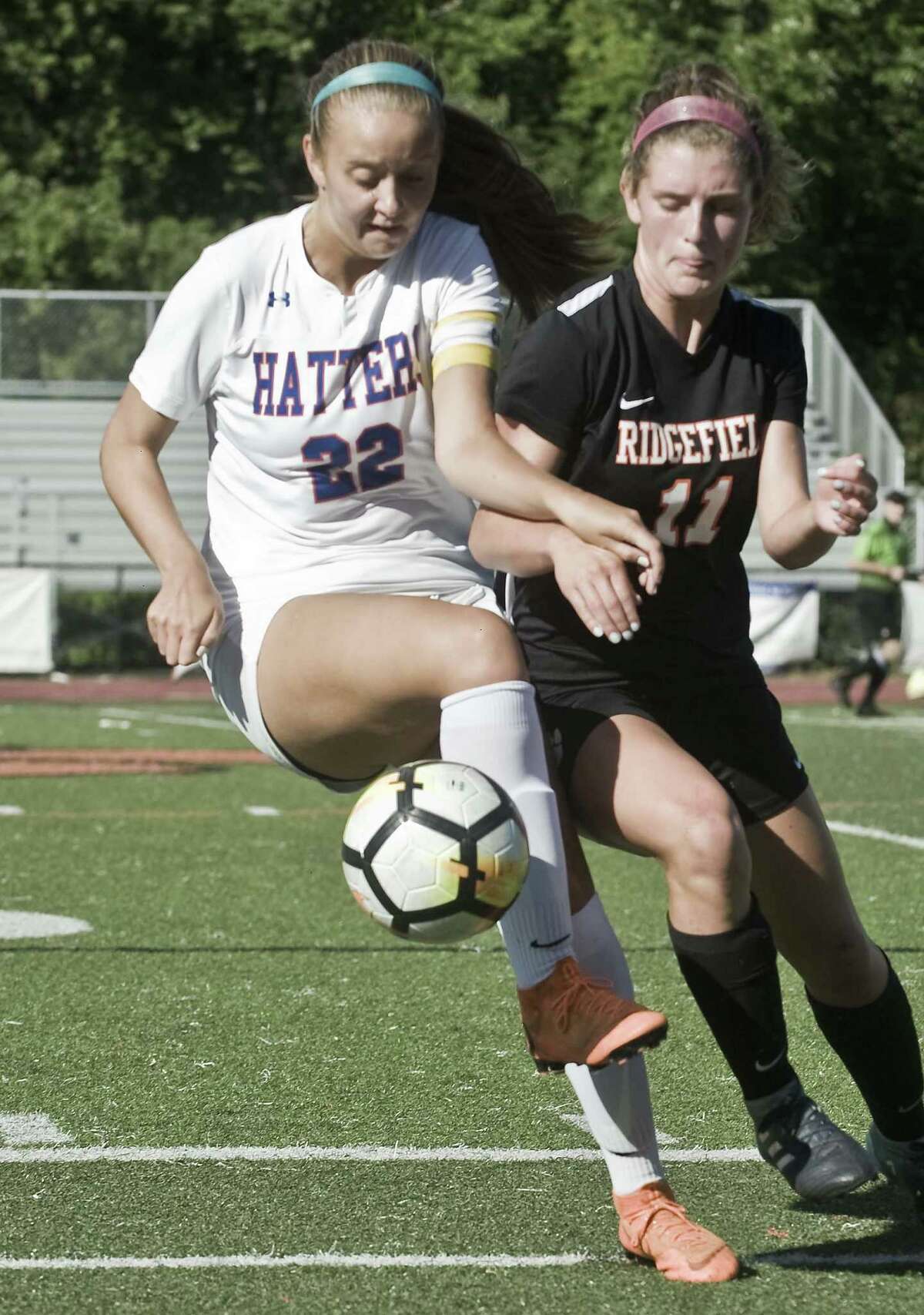 RIDGEFIELD — The Ridgefield High School girls soccer team seems to have picked up right where it left off last season — which is good news for the Tigers, who finished last season with a victory in the Class LL state championship game.
The Tigers have won their first four games this season, including Saturday's 6-0 victory over Danbury, and they still haven't allowed a goal. Ridgefield has outscored its first four opponents — Trinity Catholic, Stamford, Trumbull and Danbury — by a combined total of 20-0.
"So far, we haven't conceded a goal, which is awesome, and obviously we're scoring some big goals," Ridgefield coach Iain Golding said. "The girls are working hard, so I can't ask for anything more."
Solid team defense has been a key to Ridgefield's success. Perhaps even more remarkable than the four consecutive shutouts is the fact that the Tigers' goalkeepers haven't had to break much of a sweat. In Saturday's win, Kelly Chittenden preserved the clean slate with one save as Ridgefield's 10 field players combined to bottle up the Danbury attack and keep the Hatters pinned in their own end for long stretches.
"A strength of this team is our chemistry," senior Claire Middlebrook said. "We always defend together, and everyone is working hard. On the back line, we're very solid and we all know how to play. We've always had a strong defense in Ridgefield, and that's a tradition we're set to follow."
SHARING THE WEALTH
Six different players scored goals for Ridgefield on Saturday: Faith Arnold, Meredith Clifford and Julia Bragg all scored in the first half, and Grace Michalowski, Middlebrook and Caitlin Slaminko all scored in the second. Arnold assisted Middlebrook's goal with a nifty corner kick.
With a stout defense and such an assortment of weapons on offense, the Tigers appear tough to beat — just like in last year's state tournament, when they won four straight games, including two shutouts, to win the title after falling short in the title game each of the previous two seasons.
"We've started off really strong," Middlebrook said. "The freshmen are helping, the underclassmen are strong, everyone has one more year of experience, and we're ready to compete."
ROCKY START
The Hatters, meanwhile, have lost four straight to start the season by a combined score of 17-2. they had a particularly tough schedule to start the season, as along with Class LL champ Ridgefield, Danbury has also faced Class LL and FCIAC runner-up Staples, Class L quarterfinalist New Canaan, and Fairfield Ludlowe, which was knocked out of the Class LL tournament in the second round by Staples.
Such is life in the rough-and-tumble FCIAC.
"The teams we've seen so far, they're good," Danbury coach Jessica Halas said. "The majority of the teams in our league are good teams. We've got a lot of new faces this year. We've been working hard. We're still trying to sort some things out. For us, it's a day-to-day goal to improve."
Goalkeepers Ty'Lynn Ith and Jenna Ferrandino stood their ground admirably in the face of nearly constant pressure. Ith made 11 saves in the first half and Ferrandino made three in the second half.
"I'm proud of the kids' effort," Halas said. "They played for 80 minutes and played through the last whistle regardless."
The Hatters had their best scoring chance of the afternoon roughly halfway through the second half when Siara Pittman streaked down the right wing and uncorked a quick, low shot toward the near post. Chittenden dove to her left and corralled the shot to protect the shutout.
Ridgefield 6, Danbury 0
| | | | | |
| --- | --- | --- | --- | --- |
| Danbury (0-4-0) | 0 | 0 | — | 0 |
| Ridgefield (4-0-0) | 3 | 3 | — | 6 |
Goals: Ridgefield: Faith Arnold, Ridgefield: Meredith Clifford; Ridgefield: Julia Bragg; Ridgefield: Grace Michalowski; Ridgefield: Claire Middlebrook (from Faith Arnold). Ridgefield: Caitlin Slaminko. Shots: Danbury 2, Ridgefield 24. Saves: Danbury: Ty'Lynn Ith 11, Jenna Ferrandino 3; Ridgefield: Kelly Chittenden 1.