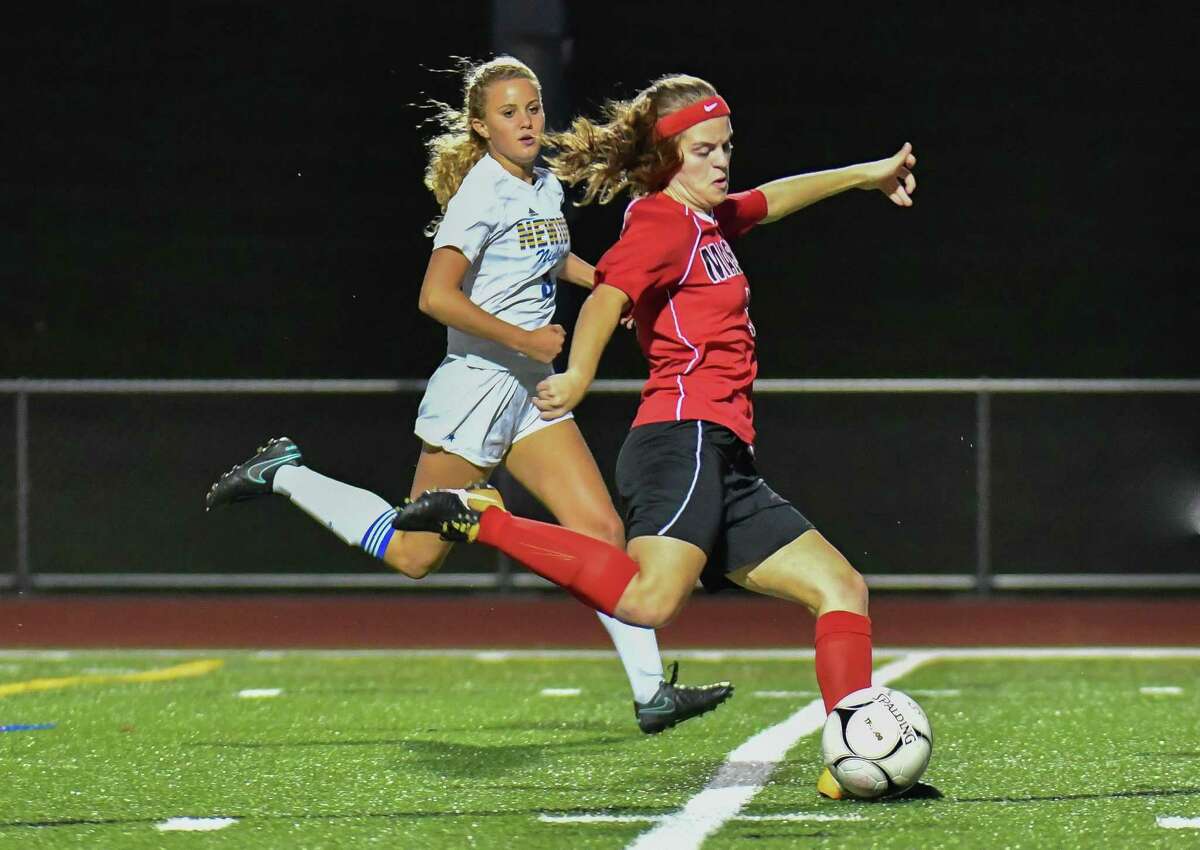 MONROE — Keeping both Kacey Lawrence and Gia DeLorenzo off the scoresheet seems like a near-impossible task, but it was objective No. 1 for Newtown girls soccer coach Marc Kenney ahead of his team's matchup against the dangerous pair from Masuk Thursday night.
A strong defensive effort by the Nighthawks was equaled at the other end by the Panthers, and two traditionally potent offenses each earned a point in a possible postseason preview.
Two of the top teams in the SWC played out a 0-0 draw at Benedict Stadium as quality chances were tough to come by for each squad thanks to the defensive efforts of both.
Stavola does well to save low on shot from Lawrence #ctgsoc pic.twitter.com/JKhqBKmwE2

— Ryan Lacey (@RyanLacey11) September 21, 2018
"That was our goal, to stop those two from scoring," Kenney said. "I think (defender Keeley Kortze) did an amazing job on Kacey with that today; my other backs kept an eye on Gia and made sure she didn't get space to get into."
It was a tale of two halves in terms of possession as the Panthers created several openings early — including a shot from Lawrence less than a minute in before Newtown sprung into life in the second half.
"They doubled Kacey and I, which is usual for us," DeLorenzo said. "But we held through; that put a damper on us but didn't hold us back from (earning a tie)."
Best chance so far for Nighthawks who have started second half well 0-0 with 27 min left #ctgsoc pic.twitter.com/bgcVoURfTy

— Ryan Lacey (@RyanLacey11) September 21, 2018
The Nighthawks are working several key offensive components back into their lineup, and were missing Class LL All-State forward Emma Curtis Thursday. Newtown (3-1-2) has scored six times in six games so far this season.
"It's a work in progress until Emma Curtis comes back," Kenney said. "We're getting kids back in pieces so it's definitely a work in progress. The second half I think is an indication of what we're going to see over the next few weeks; I was super impressed."
KEY MOMENT
The best chance of the match fell to the feet of Lawrence, but Nighthawks goalie Julianna Stavola dove low to keep out a shot headed towards the back of the net with 25 minutes remaining. Neither team created a quality chance down the stretch.
NEW ERA
New Panthers coach Jay Golesky took over for Eleanor Brainard — who led the Panthers for 22 years — in the offseason and added that the transition is still ongoing despite the positive 4-1-1 start so far.
"It's a new coaching style and philosophy, and new coach," Golesky said. "It's a new team for me and new coach for them. We're working through a lot of kinks because I have a different language than maybe coach Eleanor did."
PLAYERS OF THE GAME
Keeley Kortze, Newtown: The senior defender was one of several to marshal Lawrence as she marauded all over the field in search of space.
Emma French, Masuk: Playing in front of the defense, French was key on the ball in helping the Panthers escape from trouble.
QUOTABLE
"Newtown is one of our big rivalry games and we knew that coming into it," DeLorenzo said. "We knew we had to put in 110-percent effort; we could have come out with the win but we played well and we'll see them again."
MASUK 0, NEWTOWN 0
NEWTOWN0 0 — 0
MASUK0 0 — 0
Goalies: N—Julianna Stavola (4 saves); M—Madison Kobza (3 saves). Records: Newtown 3-1-2, Masuk 4-1-1.